Landlords and tenants ask us this all the time. "How long will it take to process my application" or "How long will it take to approve a tenant."
Tenants also ask, "Why is it taking so long for my application to be approved."
First, let's look at the biggest delay in processing tenant application.
THE BIGGEST MISTAKES TENANTS MAKE THAT DELAY THEIR RENTAL APPLICATION TO BE PROCESSED
Not supplying their property managers email address for the current rental property.

Not providing the property managers email address of the previous rental property.

Absence of the email address of whom they currently work for.

Unavailability of the email address of whom they previously worked for.

Not using the agency's preferred application process. e.g., 1Form

Not providing details of all the applicants.
Do this, and your application will probably not even get processed, because lots of other applications have been supplied with all the information being correct.
I hear this a little too "Just call me if you need anything else? It's possible; I won't call you. I often see where we need the email address for property managers or employees; tenants put "I don't know." Which is a big mistake they really need to find out? Make some calls and get the correct address, and include it.
So why don't we just call their employees and past property managers? We are busy, super busy. If we have 10 applications and 6 ensure perfect filling, they receive processing first, and we have no reason to process others.
We use 1Form for all our applications, and sometimes tenants ask for an old manual version, which we can supply them, but when they get sent in, they get put to the bottom of the pile, because we are geared to use the 1Form system which auto emails the past property managers and employees, etc.
GET A HOLD OF THE TENANT APPLICATION PROCEDURE
Have you collected tenant rental application form & submitted the rental property application? Waiting for its approval? Typically, most applications take around 48 to 72 hours for processing and ensuring approval. However, there are some cases in which the rental application process might even take longer. Whatever might be the reason, it is imperative for you to understand the application process for the ease of renting a property. Unless you have managed property on your own or been a property manager yourself, you will not know what is happening in the background of the tenant application process.
UNDERSTANDING THE TENANT APPLICATION PROCESS
Depending on the specific property that the real estate agent is managing for you, it might be even as little as 24 hours for getting your tenant application's approval. In case this happens, the real estate agent would contact you to start the process of signing the lease agreement. However, in other cases, it takes around 48-72 hours and even longer for the entire process.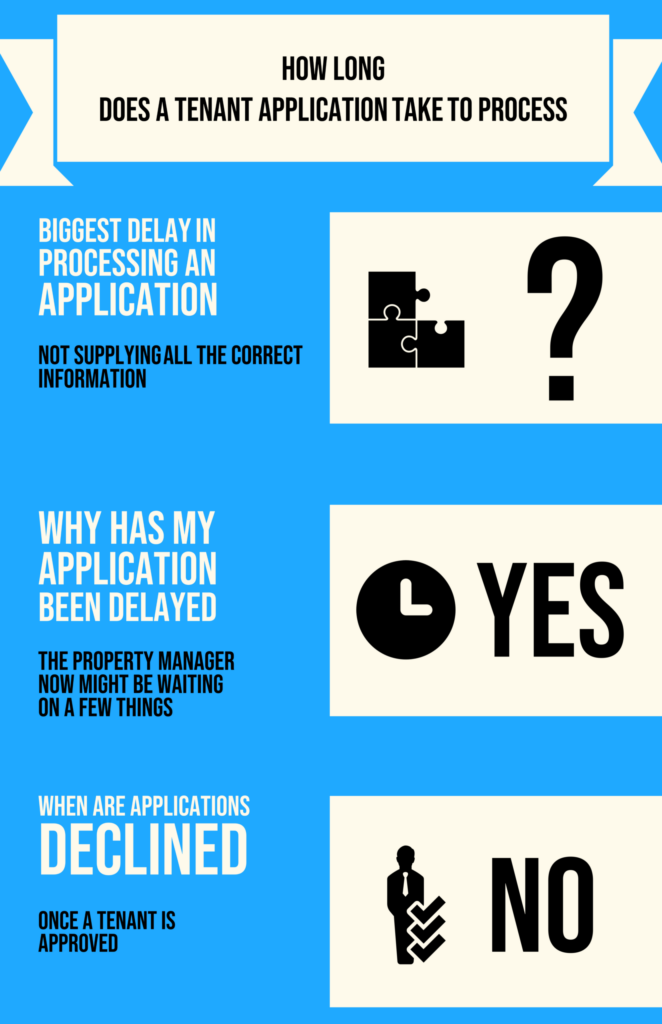 THE PROCESS OF TENANT APPLICATION'S APPROVAL
It might appear for a long time. However, it is important to note that there are several checks that take place in the background. This implies that your application would take around 48-72 hours to be processed and approved at the same time. Some of the factors on which the overall duration of your tenant application process depends are:
Going through default databases of the relevant tenancy such that there is awareness about any discrepancy related to property damage in the past or delayed rental payments.

Assessing whether or not you can afford the property based on the rent amount and your annual income.

Double-checking that you have fully completed the

tenant application form qld

–scanning all the attachments and documents that are required for the process.

Verifying previous arrangements with respect to living –even when you were living with the family.

Checking and verifying the employment status (in case of your employment) or providing a constant flow of payments.
Checking for emergency contact details. This step serves to be crucial for the agents in case your

tenancy agreement qld

would end, and you are not providing any forwarding address for the mail.

Checking for your references. In case your application is taking longer than 48 hours, there might be a reason that it could be because of some issues in contacting your references.
Once all these checks are complete, the agent is responsible for submitting relevant & shortlisted applications to the owner with the respective suggestions on finding the best tenant for the given property. The final decision with respect to who is the right fit for the rent depends on the landlord of the property. The ultimate key here is to be patient.
When the application for tenant rental property receives acceptance, you can easily receive a note from the agent stating your application's approval successfully. With success, the agent would not ask you to assure that you have received the desired documents related to tenancy application to advance with the process.
WHY IS THERE A DELAY IN MY APPLICATION?
So you may have applied, and you have everything correct. The property manager now might be waiting on a few things
Waiting to hear back from your current or past employer.

Hearing back from your current or past property manager.

From your personal references.

Awaiting a few more applications processed, so the landlord has a few applications to consider.
WHY MY TENANT APPLICATION FORM IS REJECTED?
We have a policy to only decline applications with tenant application rejection letter once we have a tenant approved. We do this because often, we will approve a tenant to then find the approval elsewhere, and we need to go back to other applications to consider. So this, too, will create a delay for tenant's applications. They may not have been chosen, but we are not able to notify them of this yet until the approved applicants have accepted the property.