We are going to look at self managing your investment property vs using a property manager. Check out Property Manager vs Self Manage.
I get it. As an investor, you want to build wealth, and a way to build wealth is to reduce costs, and property management fees are a cost. You might be able to go without, and if you can, it's helping you maximise your return.
WHAT DOES A PROPERTY MANAGER COST?
If a property is rented for $500 a week. A rough guide of yearly fees inc GST would be;
$2,225 property management fees
$66 technology fees
$605 letting fees
$250 marketing
$3,146 in GST TOTAL Yearly Fees
So when you self manage, you are saving around $3k in fees. Nice. Or is it? The big mystery is, how much is the cost of self property management? Cost. What cost? I'm talking about lost rent if the property sits vacant, lost rent if the wrong tenant is placed, additional wear and tear because the tenants don't look after the property, which are all things I come across on a regular basis.
PROS AND CONS OF PROPERTY MANAGER VS SELF MANAGE
There is no denying the fact that rental properties serve to be a great source of investment. Whether you have invested in a rental property already or looking forward to purchasing a property for becoming a landlord, you might be intrigued for the next step. Once your rental property is completely ready, you should figure out the challenging task of managing the property.
When it comes to managing property, there are two main options –either self-managing the same or hiring a professional property manager to do the task for you. The option that you choose out of the two would help in deciding how you will be executing the day-to-day operations at the given rental property. As far as the overall task of managing a rental property is concerned, here are some of the essential aspects to look into:
Advertisement of the property
Compliance
Lease preparation
Determination of the rental rates
The screening process of the tenants
Rent collection
Ensuring preventative & maintenance steps
Ensuring repairs
Lodging or resolving complaints
Resolving issues between the tenants
Lease enforcement
Eviction of the tenants whenever necessary
Searching for new tenants when the need arises
When you have a list that is this long, it is imperative for you to decide upon the property management aspect. While the process of self-management is known to help you save money significantly, hiring a property manager to manage the property will help you in saving time as well as efforts. Based on your preferences, you can consider going for the option of self-management or property manager.
You can see our comprehensive article here.
WHAT IS SELF-MANAGEMENT?
With the term "self-management," it is implied that when you are the landlord, you do not own the given property, but you are also in charge of the entire maintenance tasks. As the landlord & self-manager at the same time, you should monitor & manage day-to-day operations that take place in the rental property. Upon self-management, the tenants will look up to you when they have to interact with anything related to the property –like paying the rent or addressing specific issues that might arise.
PROS OF SELF-MANAGEMENT
Improved control: With self-management, you are able to exercise increased control over your property in comparison to hiring someone to manage the same. As the landlord of the property, you will be responsible for making important decisions regarding the property.

Closer Relationships with the Tenants: When you are the direct point of contact, you can expect a closer relationship with the tenants.

Improved Savings: One of the major factors that allow you to go with the option of self-managing your property is that it enables improved savings. Using a property management company, you should pay a specific portion of the total rental income.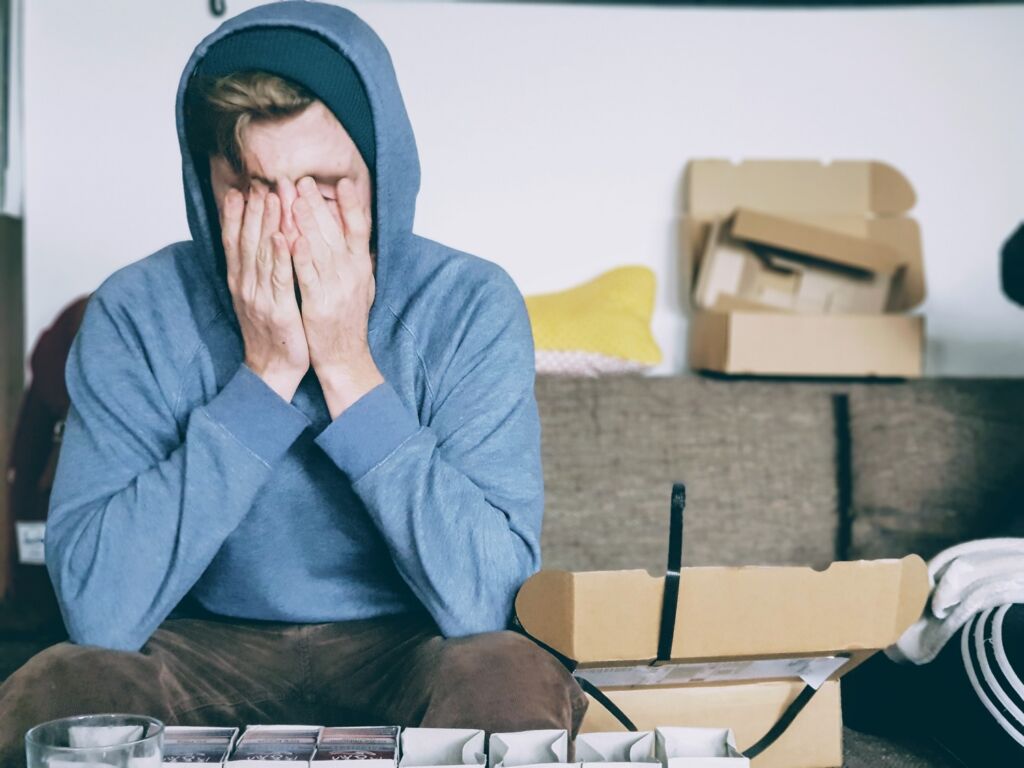 CONS OF SELF-MANAGEMENT
Additional Requirement of Time: Once you look at the comprehensive list of responsibilities that you should carry out as a landlord while self-managing the property, you would realize that most of it would take considerable time. Moreover, if you tend to have multiple properties, your responsibilities only get multiplied.
Stressful Task: As you take up the abundant responsibilities on your part, it might become a stressful situation on a day-to-day basis. For instance, if a tenant requires emergency services at the peak of the night or morning, you are required to take up the call without any option.
WHAT IS PROPERTY MANAGEMENT?
Property management implies that someone else is responsible for managing your rental property on a daily basis. The respective property manager that you hire is responsible for day-to-day handling tasks –whether big or small. When you opt for the property management route of managing your property, it allows you to hand over the major tasks of property management to someone else while being stress-free at the same time.
With hiring a property manager for your rental property also, you can expect some pros & cons.
PROS OF PROPERTY MANAGEMENT
Greater Access to Time: One of the biggest advantages of going with the option of hiring a professional property manager is that you get access to more time for yourself. Once the long list of property management responsibilities is off your shoulders, you can look forward to being stress-free about your property & the tenants at the same time.
Experience of the Property Manager: Another major advantage of hiring a property manager for handling your tenant property is that you get access to the expertise of the professional. There is no denying the fact that property managers have gained ample qualification as well as expertise throughout the years of service in the given field. Therefore, you should be in the assurance that you are in the best hands as far as experience is concerned.
Ease of Searching for Potential Tenants: Once your property gets vacated by the residing tenants, it becomes a challenging task to search for new candidates for the property. Most of the property management companies are known to follow a strict screening process to search for the best tenants for your property.
CONS OF PROPERTY MANAGEMENT
Lack of Personal Experience: While property managers have relevant expertise of their own, you can still feel the lack of personal experience when it comes to handling the property.


Expensive: Giving out a portion of the rental income to the property managers might turn out expensive on your part.
Depending on your personal requirements for handling the tenanted property, you can choose between the available options.
WHY I MEET LOTS OF PROPERTY INVESTORS WHO NO LONGER WANT TO SELF MANAGE THEIR INVESTMENTS PROPERTY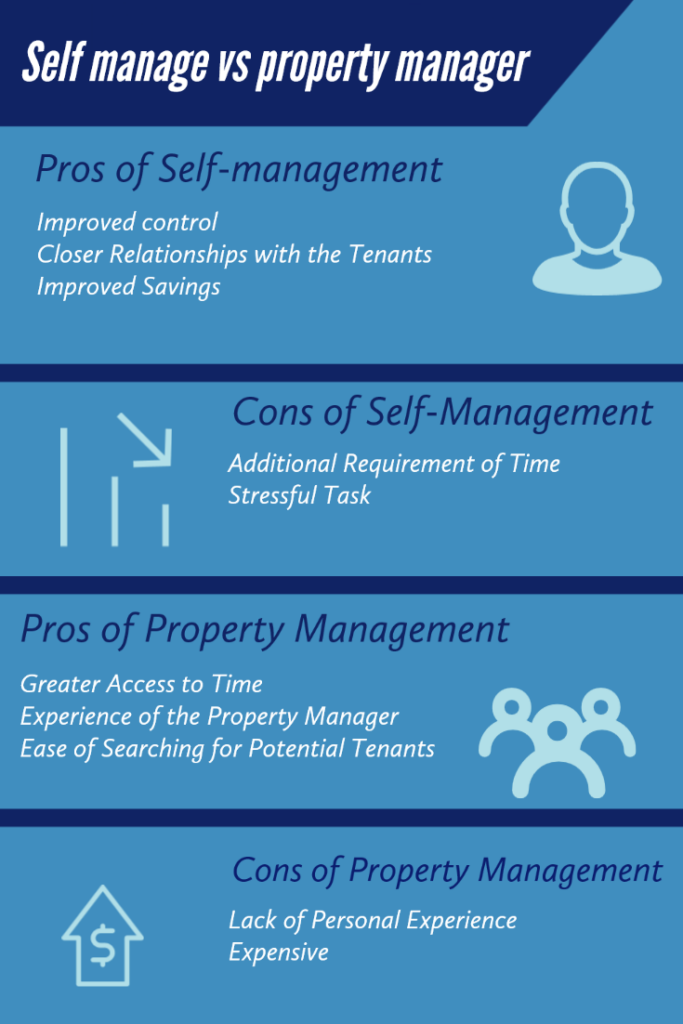 I meet a lot of property investors who no longer want to self manage. They tried it and realised it could be a mind field. To much trouble, exhausting, painful, difficult tenants, the place is unkempt, compliance issues. The list goes on.
PROPERTY SITTING VACANT
I friend of mine self manages. Recently his tenant moved out, so he's now on the lookout or a new one. The property has now been vacant for 6 weeks. Rental is $450 per week. So he has now lost a staggering $2,700 in rental income. That is almost what a good property manager cost in total would be for an entire year. I know what you are thinking. It might have sat empty for that long with a property manager too. Sure, that's true. But not with a good property manager. With the properties we manage, we know when tenants are moving out, we advertise weeks prior and work hard to have a tenant found, approved and place to move in just days after the old tenant moves out. It sounds like common sense, but people just don't know how to go about it.
Recently I spoke to another investor who was considering using our services, then changed his mind because he had 3 tenants looking at the property. What's concerning about that is even if the 3 like the property and apply, they may not be suitable to place in the property.
COMPLIANCE
Smoke alarm compliance, gas compliance, pool certificate compliance. Most people that have a self managed rental property, then come to us, said they look after the smoke alarms, and we found them not to be compliant. It's massive, and dangerous risk investors are taking managing them out smoke alarms to try and save some money.
LEGISLATION
What's the law? What're the tenant's rights and the owners? I've found many owners who self manage don't really understand the legislation. A simple example is 24 hours notice and a Form 9 entry notice is important to attend to maintenance. Often tenants will tell an owner, sure just pop in tomorrow so they do with no official notice. Which is fine until something goes wrong and they end up at Qcat. Then the tenant turns and uses that the owner is always attending the property with no official form 9 notice. I've seen his happen plenty.
PLACING THE WRONG TENANT
How can a self manage investor does a rock solid reference check on a tenant? We are successful because of the number of tenants we reject. We know what to look for, know what questions to ask, what checks to make, because we manage hundreds of tenants. Plus, we know if we place the wrong tenant, it's on us to then manage them out. But if a self managed landlord placed the wrong tenant, it can be a nightmare. We took over a property where the tenant used it as a meth lab and had holes in walls, holes in the kitchen benchtop, etc. When we took it over, 6 neighbors came and hugged me.
TOO SOFT ON TENANTS
When you give a tenant some slack with late payments, it can become a habit and snowball. But when you are soft, they can also leave the property uncared for, or even have lots of friends stay for extended periods of time, which puts more wear and tear on the home.
NO ROUTINE INSPECTIONS
We do 4 a year. Most properties we take over that were self managed they do 1 or 2 a year or even none & it shows on how poorly the property is kept. Self managed landlords often don't have the experience to understand what's acceptable.
BREACH NOTICES
Self managed owners need to send these often. We do. 8 days in arrears, they get a breach. Do a routine inspection, and we see mould they get a breach, etc.
LEASE RENEWALS
The biggest danger of not having your tenant in a lease is they can leave with 2 weeks notice. I see most self managed landlords have let the lease expire, and the tenant is now on periodic. Which is fine if you don't mind the property sit empty for a period when they move out, and you have no new tenant. But hang on a minute. Isn't that why you are self managing to save money and maximise your return? Having a tenant on a periodic is the fastest way to go backward.
MAINTENANCE
We have a constant stream of maintenance. I believe all investors need to jump onto maintenance as it happens, but it seems when we take over a property that was self managed, there is a big maintenance list. It is hard to get quality tenants who will pay more if property maintenance is not proper. But guess what. We don't charge extra to coordinate property maintenance. It's all included. Plus, we've tried all the bad tradespeople and only use good reliable ones that are fair with their pricing.
RENTAL INCREASE
We've taken over managements where the tenant was paying $220 a week, and it should have been $400 PW. It seems when a self managed landlord gets a tenant in, they find it hard to increase the rent to market value over time. This is a crucial part of building wealth and protecting your investment.
So after the brief discussion on self manage vs property manager, yes, self manage can save around $3k PA in property management fees? But you need to think, are you really saving? Or in the long term, losing?