The Sunshine Coast here in Qld has always been popular place for people to rent. Recently its been even more popular for tenants to call home. We are finding many people are now missing out and have to apply for as many as 20 homes before they finally secure one. So here I try and give you my best tips for getting your rental application approved.
You might even find what my advice is for having your rental application approved a bit of a surprise.
WHAT'S THE NO. 1 BIGGEST MISTAKE YOU CAN MAKE WHEN APPLYING FOR A RENTAL PROPERTY?
We get lots of rental applications on every rental property we market. While we get a lot of applications, it can be easy to stand out. The biggest mistake that I constantly see people make is to simply not complete their rental application in full. I'll tell people its important to completed the application in full. They will tell me they have. Then when I have a look through  the rental  application, important information is missing.
People probably think that missing information on a rental application is no big deal. Because the property manager can just chase it up, but thats not what happens.
HOW AN INCOMPLETE RENTAL APPLICATION CAUSES DELAYS
We have two lists. The first is applications that are fully completed. The second is applications with information missing. So if we get 20 applications. 5 that are fully completed. We process these first. Often if we find good applications in the 5 fully completed rental applications we have no need to spend time, looking at the other 15 applications where the information is incomplete. As an applicant you need to be in the first list.
If in the fully completed rental application list we don't find anyone suitable. Then we need to reach out to the other applications where information is not completed and try and get the information we need. We usually do this by contacting the tenant to ask for the information they have not supplied. This usually creates delays as they don't have it  and need to go searching for it.
So as you can see a fully complete application has a huge advantage. Whats really important to realise is don't assume you will be contacted for more information as this is really unlikely. If you are contact for more information you need to also understand that while you are getting that back to us other applications are moving forward before you.
Its a shock to us how many people apply with information missing in their rental application.
WHAT GOES ON YOUR RENTAL APPLICATION?
Different agencies have different forms, but we all need basically the same information, We now use realestsate.com.au Ignite online application.  Its a fairly common online process. The biggest advantage for tenants is once your information has been added to Ignite you can use it over and over again with many agencies. Some people say that completing Ignite is time consuming. But its time you need to invest to get it right .
100 POINTS WORTH OF IDENTIFICATION
Some things that are worth ID points are a birth certificate, driver's license, or a Medicare card. Right here is a handy link to a comprehensive list of what can make up your 100 (or more) points of ID. Unless you are very confident about your forms of ID, the best way to ensure you supply at least 100 points and therefore a complete application is to submit 200 points of ID. Surprisingly to me, many people submit their applications to us and upon review we find that their various forms of identification are worth less than one hundred points. This is one of the most common missing or incomplete pieces of information that causes an unnecessary back and forth.
An easy example of how to get to 100 points is with a birth certificate and driver's license. A birth certificate (or passport) is worth 70 points. It's important to remember that a birth certificate and passport together are not worth 140 points. Either is worth 70 alone but not respectively when put together. The driver's license is worth 40 points. These together are 110 points which is sufficient for our requirements. Congratulations! However, if you don't have those exact documents it can definitely be a little confusing. That's why we recommend to just submit 200 points, because you can't have too much ID and having too little throws a wrench in the process. We also highly recommend to use the list we referenced to be sure of how much everything you submit is worth. Don't forget to read the details for each!
PROOF OF INCOME FOR YOUR RENTAL APPLICATION
You need to show proof of income so we need to know ; 
Annual Income
2 recent pay slips
How long you have worked at the current place
Where you worked previously
Previous annual income
How long you worked at the previous place
We need to know both as if you have work at one place for a very long time and a previous place for a very long time it shows stability. Compared to if you have worked for several places for  very short times shows instability.
What id you are applying and you are self employed ?
Thats fine too. We would need
BAS Statements
Tax returns
Letter from accountant
Basically we need to see proof of how much income you earn
How long you have been self employed
Who you worked for previously
Previous income
Retired ?
We need to see
Retirement income
Bank Statement
Unemployed ?
We need to see
Just sold a home and moving  into the Sunshine Coast ?
Link to the house you just sold
Sales agents email and phone number
sales contract
Copy of bank account statement
Simply you need to show evidence of how you will fund thew payment of rent & the more information you supply the more confidence you will give us.
PROOF OF EMPLOYMENT
As part of the screening process, we are going to want to contact your employer as a reference and proof of employment. To do this, we will need the name, email address, and phone number of your current employer. If you do not know the email address, please get it or we will consider the missing email address as an incomplete application and this incompleteness will delay the timely processing of your overall application. This is an easy way to stand out and have your application processed in a more timely manner.
DO NOT KNOW
1Form has a the option to tick DO NOT KNOW if a tenant does not know the email address or mobile number of a reference they can just choose "Do not know". Please DO NOT USE THIS. Ha. Because it will put you in the wrong list. If we can't email your employer, your past employer, your current property manager, or your past property manger you will be in the information missing list anfd your application may not even get processed.
PREVIOUS TWO LANDLORDS OR PROPERTY MANAGERS
It's surprising how often the information supplied on rental applications is wrong. I should have mentioned earlier, while complete information is important, accurate information might be even more important. The area for previous landlords and property managers is the most common area for information to be present but incorrect.
We need there Names and eMail addresses. If these are missing your application will go onto the wrong list & your application will stall.
We will need you to list your two most recent landlords or property managers as references. Without this information, we can't approve you, thus preventing your progression from potential tenant to current tenant. If you've previously only lived at home, we will need your parents' details. In the case you've previously lived with friends, we would need their details. If you just sold a house or are in the process of selling your house, then we would need your sales agent's details. As with your current employer, for any of these people we will need their names, phone numbers, and email addresses so we can call and email them as needed.
DO YOU HAVE PETS? INCLUDE THEM ON THE RENTAL APPLICATION
Any pets you have or plan to get, you will want to include their species, age, sex, and breed. It is important that landlords or property managers have this information, as many homes only permit certain types and sizes of animals or may not permit any animals at all. Omitting this information is not smart and will only lead to problems in the long run.
CO-APPLICANTS' INFORMATION
If you are applying with other people all of their details will need to be included on the rental application, too. This means their ID, proof of income, proof of employment, and references from their last two residences. Missing information of this type will ultimately prevent the application from being processed as quickly as possible, wasting valuable time in getting the home you want the most.
WHY IS THE PROCESSING OF YOUR RENTAL APPLICATION DELAYED?
Usually, the main reason an application will be submitted but not processed is that information is missing or incomplete. (Shocker, ha!) The second most common reason for a delay in processing is that we are waiting to hear back from a past property manager. The last common stop in the application review process is for the property owners to view the potential tenants' applications and this step can take some time and will delay any decisions from being reported.
HOW TO GIVE YOURSELF THE BEST CHANCE OF BEING CHOSEN?
Supply a complete application from the get-go (avoid the biggest mistake). We need all your references email addresses.
Have a move in date that is sooner rather than later – landlords and property managers want to avoid vacancy above many other things as this is a huge money-waster
Inspect the property fast once you get the chance
Consider paying rent in advance if possible. Eg. 1 month always in advance to indicate that you are serious about moving in and can afford the rent.  You can't legally be asked to pay rent in advance, but you can offer it. e.g. 12 months would help.
Consider offering a little more than the advertised amount, as this will set you apart and could be the deciding factor if it's between you and someone else in the final review. This is especially effective if you are applying for a very high-interest home. Again we can't legally ask you to do this.
Offer a 12-month lease, as this offers security to the property manager or landlord and helps to prevent their biggest fear: vacancy
Ask the property manager what would they like to see from you to be selected – this shows that you genuinely care and want to fit in with the home
Apply for homes in your budget and suit your needs to prevent wasting yours or the property managers' time. The RTA has a handy article about that here.
if you offer to pay 12 month in advance and more than  the advertised weekly rent will that get you approved ?
So first. In Qld we can't legally ask you pay rent in advance and we can't legally ask you to pay more. But you can offer this if you feel you need to. What's important to realise is this still does not mean you will get approved. You may offer this but your application may not be complete. If your application is not complete you will still be on the wrong list. Or you may may not have an ideal rental history.
Recently I had a tenant offer over the advertised price. They where not approved because their application was not complete. We did contact them for more information. They stated they should not have to supply anything els3e and instead we should run around and chase all that up ourselves. At the same time other applicants had also offered to pay more. When we asked them for more information they happily accommodated us and where really easy to deal with. The first one missed out simply because they thought it was up to use to make calls to collect what we needed. Interestedly when they where declined they then put in a complaint to us how shocked she was not no be approved when they had offered more. Unfortunately for them its not always about paying more. Its about how easy potential applicants are to deal with during the application process and how they choose to handle out requests. It can be a glimpse into what they would be like as a tenant.
Loading your Application into Ignite
Here at Asset Agents we only take rental applications via Ignite. The main advantage for you is that all your data is nice and neat in one location and you can use it across multiple agencies. I would recommend you load everything onto this now if you're in the market to rent a new home, so you have it all ready to go and can ensure nothing is missing.
Why we need all your references email addresses ? IMPORTANT
For us Ignite allows us to quickly press 1 button and it will send an email to your current property manager, past property manger, current employer &  past employer. So very easily we can contact them all requesting references. If you only supply there phone number, We can't do this so you go into the application not completed list . Which is the naughty list you do not want to be in.
COMPLETING A RENTAL APPLICATION WITH NO RENTAL HISTORY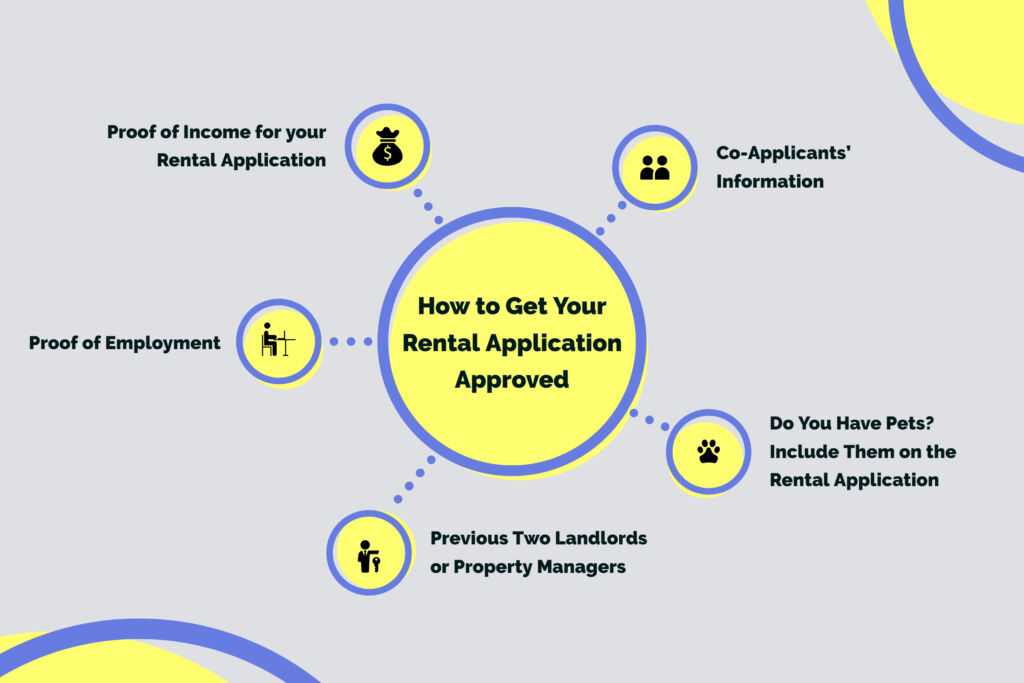 OK, I know a few of you will not like this, but it has to be said. When people apply with no previous rental history, it makes it very hard for those people to be chosen against people that have references with a history we can check up on and who can provide evidence of their ability to make rent payments.
Even with history with a private landlord, though, it can be harder because private landlords are rarely as detailed as a professional property manager. So, you might ask, how can young people secure a rental property with no history of renting successfully? Have your partner's go guarantor, or start renting through a private landlord first and be an exceptional tenant to them for 6 months before applying to a professionally managed property. You can also list additional references on your rental application and offer to pay additional months of rent up front, as previously mentioned.
OTHER OBSTACLES TO FINDING A HOME TO RENT
If you've previously fallen behind in rental payments, this will inevitably make it harder for you to be chosen for a rental. Alternatively, if you have ever had a notice that you breached your lease or if you did not get your full bond back from your last home, you may have more trouble finding another property manager to rent from. You always want to get your full bond back when you leave a home after renting.
If you have changed jobs a lot or not stayed in a job long, it may be difficult to provide a convincing proof of reliable employment.
Lastly, if you plan to have a lot of people living in the home you hope to rent, landlords may consider you less seriously. Lots of people boils down to lots of wear and tear.
The bottom line is you need to submit a complete rental application, pay your rent on time, look after the property and get your full bond back. It's really that simple. If you don't have any past rental history, you can have your parents or guardians be guarantors. Once you start renting and start to build a good reputation, securing a home becomes much easier.