The longer your investment property sits vacant the more money you are losing, which can quickly add up. It makes sense to place a tenant fast but you also need to make sure its the best tenant. Here are a few top strategies to get the most tenants view your property, so you've got the best chance at securing the very best tenant. Let's have a look at these 12 smart ways to find your next tenant:
GET GREAT PHOTOGRAPHY
It's so tempting to take some photos with your phone and get the property online. You need to realise your property is competing with lots of other rental properties at the same time,  so you need to ensure it stands out & is marketed in a way that makes potential tenants keen to inspect. The best marketing can attract the best tenant & the best tenants tend to pay more and stay longer. Great marketing starts with great photography. You can hire good photographer that specialises in property photography for much less than you probably realise. You just need to google it or you can go straight to top snap which have franchises in many areas here
Now if your investment  property is empty in addition to having it photographed also have virtual furniture placed into a handful of the images. Virtual Furniture is now such high quality and it give potential tenants a perspective of furniture placing and creates a mood for what the space would feel like to live in. You can see an example of virtual furniture here at the top snap web site.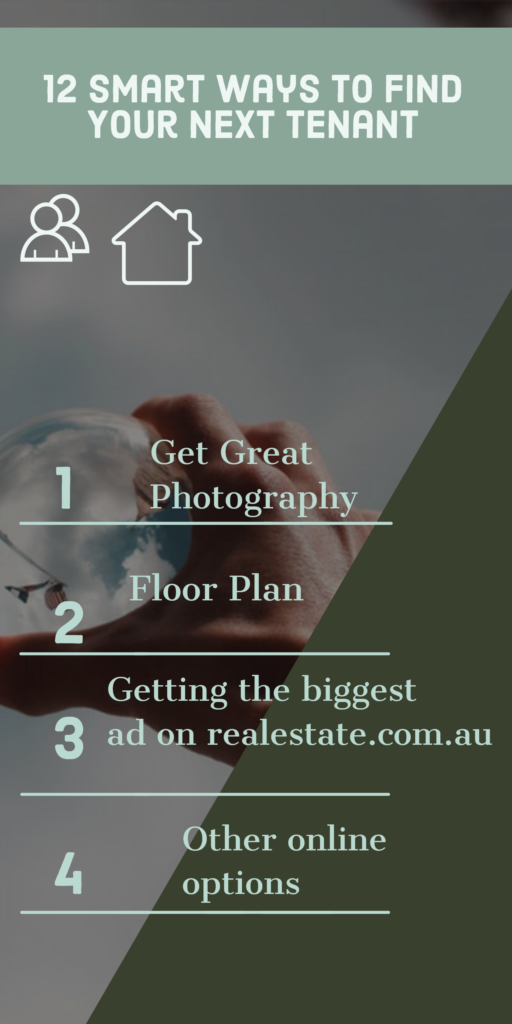 FLOOR PLAN
In the late 1990's people started to use floor plans when marketing a property for sale. Buyers love them. They get to see the layout of the property, the room sizes so they can see if all their furniture will fit. Asset Agents has now been doing this with most of our rental properties now for years and  we've noticed an increase in enquiry but also an increase in people wanted to tenant the property "site unseen". Property floor plans are also very affordable & will certainly attract more tenants, you can see an example of a good quality floor plan on the top snap web site
GETTING THE BIGGEST AD ON REALESTATE.COM.AU
Not many people realize that realestate.com.au has more than one ad size. Get the biggest, it's not too much more money and a considerable amount more tenants will see your property.
OTHER ONLINE OPTIONS
If you want to do more than realestate.com.au, facebook and gumtree are both free and now surprisingly effective at finding tenants, you can also use domain.com.au
CHECK YOUR COMPETITION
Your property is competing with all the other properties currently for rent. So how does it compare ? Can tenants get a better property for less ? Is yours priced to be competitive with the other rental properties that are available at the same time ? If your property is worth more, is the reason why it's worth more obvious in the marketing ?
PRESENTATION
How does your property present ? If its empty is it clean & are the gardens done ? If its occupied is it tidy with not too much furniture. All this will make a big difference to tenant interest and the potential rental income .
CAN YOU VALUE ADD
Today tenants expect some basics. They expect fans in every room and a dishwasher in the kitchen & fly screens on key windows.  If your carpets are tired it's surprisingly affordable to get new carpet laid. All this helps. A fresh lick of paint also make a huge difference but painting can add up. If you have an outdoor deck it's surprisingly affordable to stain the floors.
All this will help your property get inspected by as many tenants as possible so you get a choice of applications allowing you to choose the most suitable.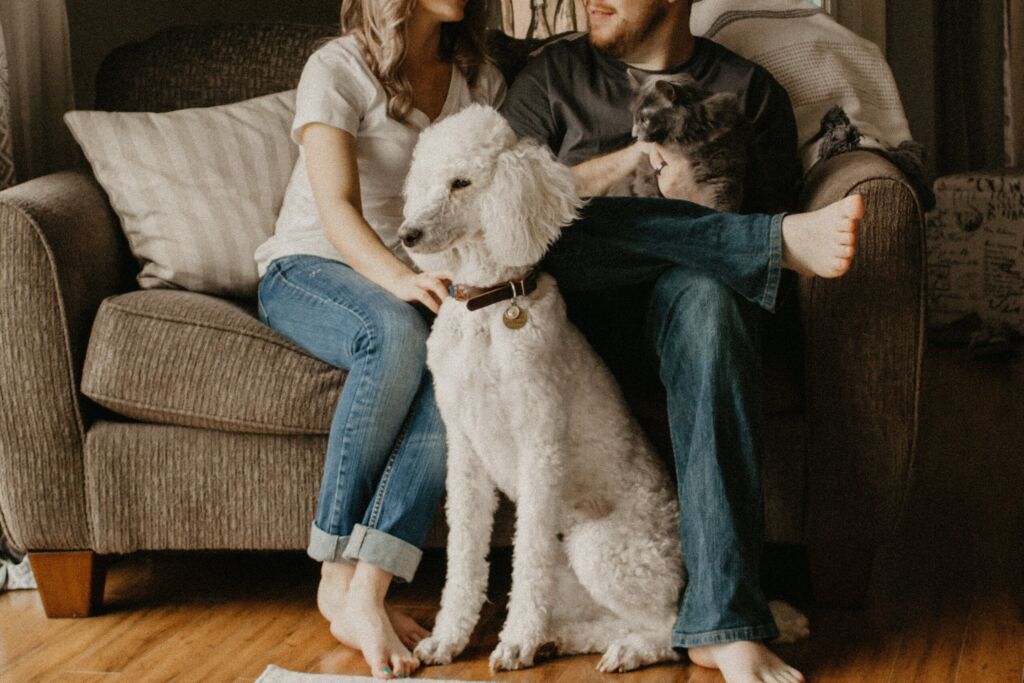 ALLOW PETS
We like to advertise all our investment properties for our landlords  as "Pets on application", as while some of our landlords strictly do not want pets at all. Sometimes we may get tenants with very old small dogs with their own very good references. Sometimes these tenants are also prepared to pay a bit extra for the pet to be approved.
As you can see the words "Pets on application" leaves things very open.
Something like 62% of Australian households now have some type of pet, which you can read more about on the Qld RTA site here.
TAKE APPLICATIONS SIGHT UNSEEN
Sounds scary, doesn't it. Some tenants who live overseas or interstate are often happy to take a property before they even see it. You do need to be super careful though as photography can't show tenants everything . When we have a tenant that wishes to lease a property prior to them seeing it we have them sign a disclosure form to protect us legally, if you'd ever like a copy of this get in touch and I'll send it to you
BE FLEXIBLE WITH RENTAL TIME FRAMES
People talk about 6 month or 12 month leases. But what about a 7 month or 10 month lease. You can choose and you can also choose to be flexible with the tenant. Tenants prefer a lease at least 12 months long as they never like moving. Its best practice to start with a shorter lease around 6 months to conform you are happy with them, then after that trial period give them a longer lease. Whatever you do, don't lock a tenant into a 2 years lease. Its simply just too long and you may miss out on potential rental increases, plus if your circumstances change you may need to sell.
USE 1 FORM
1 Form is this wonderful online application process. What's so great about it, is once tenants entire in all their information, they can use that to apply for multiple properties so it makes things very easy for them.
ENGAGE A GREAT PROPERTY MANAGER
Hey we are in the property manager business. But I truly believe that an investor is much better of investing in the services of a good property manager, instead of trying to handle things themselves. We service the entire Sunshine Coast Qld, but if you're investment property is not in our area, use google to track others down and see how they can assist you.