HOW LONG DOES IT TAKE TO CHANGE YOUR PROPERTY MANAGEMENT COMPANY?
How to change your property management company is a surprisingly simply process. You need to give your current property manager notice but the amount of notice will depend on what agreement you signed with them. If you've been with them for many years , it's very possible you signed what's called a Form 22. If you have you need to give your current property manager 90 days notice. Yep that's a fairly long time. You can of course request they agree to end the management sooner but they may not agree.
If you've signed a Form 6 agreement, you only need to give 30 days notice for changing property managers. Which is a much fairer time frame. So the first thing to do is check what agreement you signed. If you are unsure, simply give them 30 days notice and if this is not acceptable your currently property manager will surely bring this to your attention how much notice they need for changing property managers.
HOW TO CHANGE YOUR PROPERTY MANAGEMENT COMPANY: GIVING NOTICE
You just need to send your current property manager a simple email explaining that you have decided to no longer use their property management services. . Property managers get these fairly often for all sorts of reasons so the request is usually handled professionally.
Here's an example of an email ;
SUBJECT: Termination of management agreement
Dear John,
I've decided to change property managers and would like this email to be the official 30 days notice. So the last day of you managing my property at 1 Smith St, Maroochydore will be on Sept 4th 2019.
The new property manager will be in touch and I would like to thank you for the service you've offered me.
Regards
Elivis Presely
It's good practice to BCC your new property manager into this email. Once your new property manager knows notice has been given they will make contract with your old property manager to organise everything.
GETTING EVERYTHING FROM YOUR CURRENT PROPERTY MANAGER
The only thing you should need to do for changing property managers is send the email with notice. If your new property manager is a good one. They'll do all the rest. If they are asking you to get involved its possible you've chosen the wrong property manager to move to.
Your new property manager should make contact with your old one, sending them a list of everything they'll need like ;
Copy of the lease
Tenants contact details
Keys
Any breach notices
Rental ledger
Maintenance in progress or overdue
Your new manager will ensure on the day of handover all this is supplied and the tenant is informed that from that date rent is now to be paid to them.
But wait. Before you flick the switch lets have a look at why you'd want to change property managers.
WHY CHANGE PROPERTY MANAGERS?
How to change your property management company is simple , you need to be certain you are making the move for a good reason. Below are some of the main reasons property investors change property managers.
FEES
You may have realised you can get a better rate with another agency. But agency rates are fairly similar and this is probably one of the single reasons not to move. Saving a few dollars on a slightly better rate can quickly become expensive if the property is then miss managed and sits vacant or rent is not increased or poor tenants are placed that cause damage etc. In fact you are better off paying a higher rate and getting better services which will save you money in the long run. You can see what Asset Agents fees are here.
ROUTINE INSPECTIONS
If your current property manager is not doing regular routine inspections, or are not doing very good quality inspections then this is certainly a very good reason to change property managers. I'm surprised how many landlords move to Asset Agents because they thought their property manager was doing routine inspections and they either were not or where doing very poor ones.
So how do you know if your property manager is doing them ? First find out when the last one was done and when the next one is due. Ensure you get a copy of the routine inspections. Make sure you make the time to look at the report in detail. Ensure the report includes photos of the property. Then ideally call your property manager and chat to them about the reports, the tenants and the condition of the property. Ask yourself when was the last inspection done, did I get a report and did I look at it. Your property manager should do between 3 to 4 inspections a year.  You can read more about routine inspection on Qld's RTA site here. 
ARREARS
The interesting thing about arrears is due to legislation a tenant could be as much as 14 days late with rent before real action can take place. That's shocking to hear isn't it. Without getting into it too much. We can only breach a tenant for rental arrears on day 8 giving them 7 days to pay their rent up to date. It's also a myth that tenants need to pay rent in advance. They only need to have their rent paid up to date.
What we do at Asset Agents is every morning we call tenants that are in arrears. Every morning. So leading up to the 8th day where we can breach them they have heard from us a number of times. It's a lot of work for us but important work.
If you have a tenant in arrears, you need to find out what has your property manager done about it & what do they plan to do about it in the future.
Good tenants sometimes have issues. They lose their job, or get sick or have an unexpected bill. But no matter what the tenants situation is your property manager needs to have zero tolerance for rental arrears and the tenants number one priority needs to ensure the rent is paid on time.
So certainly if you have a tenant who is in arrears and your current property manager is not taking enough action I can see why you would be asking how to change your property management company. But you'd also need to clarify with the new property manager what would they do differently and also ensure the new property manager is fully aware of where things are at. There is a great article on Qld's RTA site here.
VACANCIES
You can potentially loose $2,000 in lost income if your $500 per week investment sits vacant for 4 weeks. This is something that can happen fast. If your current property manager is unable to tenant your investment property and its sitting vacant this is a very good reason to change property managers. But before you do try and understand why the current property manager has failed. Is the rent too high, does your investment property present badly or could the marketing be better. A good property manager would have addressed all these things quickly to minimise your losses. You can read my article here about ways to find the best tenant faster.
MAINTENANCE
Legislation states that its the landlords responsibility to keep the property maintained for the tenant. It's also better for a landlord to deal with maintenance as it arises instead of having a huge expense for multiple maintenance issues all at once.
If your current manager isn't bringing maintenance to your attention or checking for maintenance at routine inspections you need to be concerned and it's certainly a good reason to look for a more diligent property manager.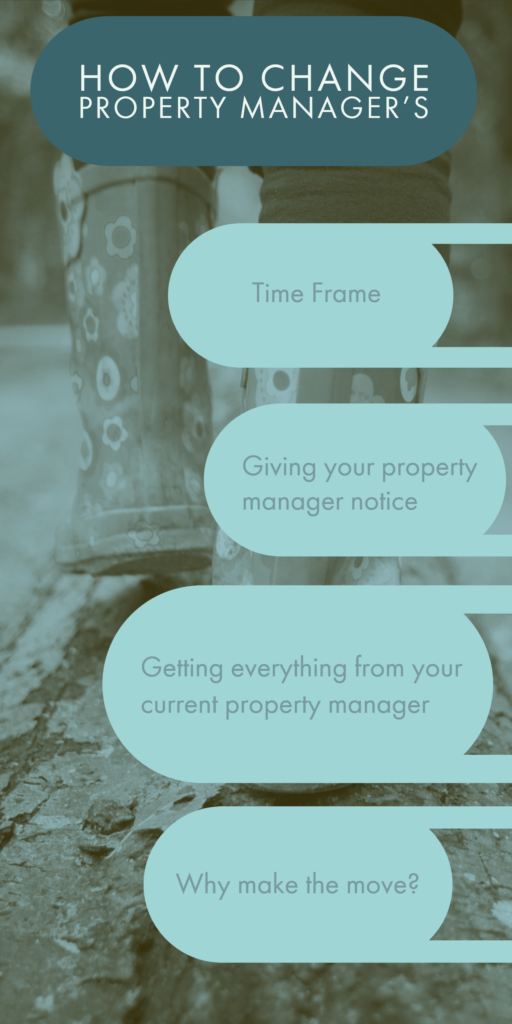 BAD TENANTS
Bad tenants can be avoided with very comprehensive tenant reference checking. But sometimes good tenants turn bad. Sometimes people lose their jobs or they have a relationship breakdown.
When you have a bad tenant you need to get them out. A bad tenant will take a huge effort for your property manager to manage. The tenant can do damage, have additional people stay in the property, not maintain the gardens and of course not pay rent. But they are also protected by their lease, so it's not as easy as asking them to leave. They need to be breached and given a chance to rectify the breach. Only then if they don't can you give them a notice to leave.
Certainly if you get a bad tenant you are better working with your property manager to have them vacate. But you also need to ensure your property manager is doing enough. Have they been breached, have they been followed up, how often and how have they been followed up. When can a notice to leave be issued and will the tenant leave on the date of the notice.
If your current property manager is unable to handle these type of tenants then yes you need to move to a property manager who has the skills to handle the situation.
AVAILABILITY
If your current property manager is slow to return emails or not returning your phone calls you really need to wonder how are they looking after your investment property. The answer is probably very badly. If you've sent an email try sending a them text and leaving a voicemail. The bottom line through is while all property managers are very busy they have no excuse not to be available to you and it's certainly a good reason to change property managers if this is the case.
While changing property managers is surprisingly easy and above I have outlined the main reasons why property investors do. Before you make the switch at least let your current property manager know what you would like to see dealt with differently and see if they can improve. Then if they don't. Yes hit the go button and send that email.