Is my property manager doing a good job – Several years ago, I met a guy through a business network group and became his client. Over time I learned he had an investment property on the Sunshine Coast here in Queensland. Asking about it, he explained he has a great property manager who has been looking after the property for years, and he's very happy. While I would have loved loved loved to have him as a client, especially since I was his client, I certainly didn't want to push the issue.
Sometime later, Bruce called me. He explained that his property manager wasn't as good as he had thought. The tenants were behind in rent, and the property had been trashed. So I stepped in and helped Bruce get back on track. Walls had to be patched as well as painted, the kitchen bench replaced, and lots of other issues. The cost was over $10,000. But we worked quickly, and before long, we were marketing for a new tenant. When I was showing the property six, yes, six neighbors came over and gave me a hug to thank me for getting rid of them while I was not the one to do that I was happy for the cuddles.
A good property manager will be the difference in your financial position in the next ten years. So how do you know if you have a good property manager or not? Read on to find out.
TENANT PLACEMENT
What is their process for placing a tenant? Did they involve you – the landlord? Is the current tenant good, and how do you know they are good?
For this, your property manager should have both experience and expertise in the real estate field. A property manager is responsible for finding and screening the tenants. Also, a good property manager should have a comprehensive reference checking process, speak with past property managers, employees, personal references. Checking Google, Facebook and TICA.
LEASE TERM
A good property manager creates the General Tenancy Agreement with clauses to protect the landlord. This process also includes the ensuring 4 weeks bond is lodged with the RTA.
Is your property manager doing 6 or 12-month leases? What about 10 or 11-month leases to ensure the lease ends in a peak period?
You're property manager should be setting 12 month leases that end in peak periods.
You can read more about General tenancy agreements here.
ENTRY CONDITION REPORT
Did you get a copy? If not, you should. If your property manager has provided you with a copy, make sure to see how comprehensive it is. It should include a considerable amount of photos and also detailed notes on each room and area of the property.
This is all included in the job of a property manager. Before renting the property or apartment, your property manager should take enough photos and videos, which should be used as proof if any situation with the tenants occurs.
ROUTINE INSPECTIONS
How many a year do they do? Legally we can only do four a year. Do they do 4? They should. But when they do, do they give you a copy so you can see for yourself. What areas of the property did they leave out? For example, the lawns and gardens, side of the home, etc.
Additionally, the property manager is accountable for managing different employees on the property, including security personnel or concierge. If they are not performing their job properly, the manager can fire them. So, before you hire a property manager, make sure to ask him if he performs routine inspections. And, also what all things he would be inspecting.
YEARLY INSPECTION
Does your property manager invite you to inspect the property once a year so you can see for yourself? A suitable property manager will also ask you to visit your property at each routine inspection so you can also get an idea of its condition and the tenants.
You can't legally do 5 inspections a year. So it's important you attend one of the 4 routine inspections. You are welcome to attend more than 1 it just needs to be planned as the property manager will have several to do on the same day in a very short time frame.
ARREARS
Does your tenant get behind in rent? If yes, how often are they in arrears and by how many days. A good property manager makes sure the tenants are not in rental arrears. If a tenant is late in paying the rent, the property manager should know how to handle the situation professionally and proceed with the situation.
Also, if the tenants ever get eight days behind in paying the rent, your property manager should send them an official breach notice. Not on day 9, 10 or 11. But on day 8.
WATER INVOICES
Does your property manager charge for excess water, and are those invoices paid on time by the tenant?
This is included in the responsibilities of a good property manager, and they should not charge you extra for this. If you are paying additional money to your property manager for this, I think it's time to hire a new property manager.
WEEKLY RENTAL INCOME
To know whether your property manager is good or not, you should pay attention to your weekly rental income. What is your weekly rental income? Is it market or below the market rent? When was the last you had an increase? Along with this, a property manager can increase the rent every 6 months, here in Qld Australia.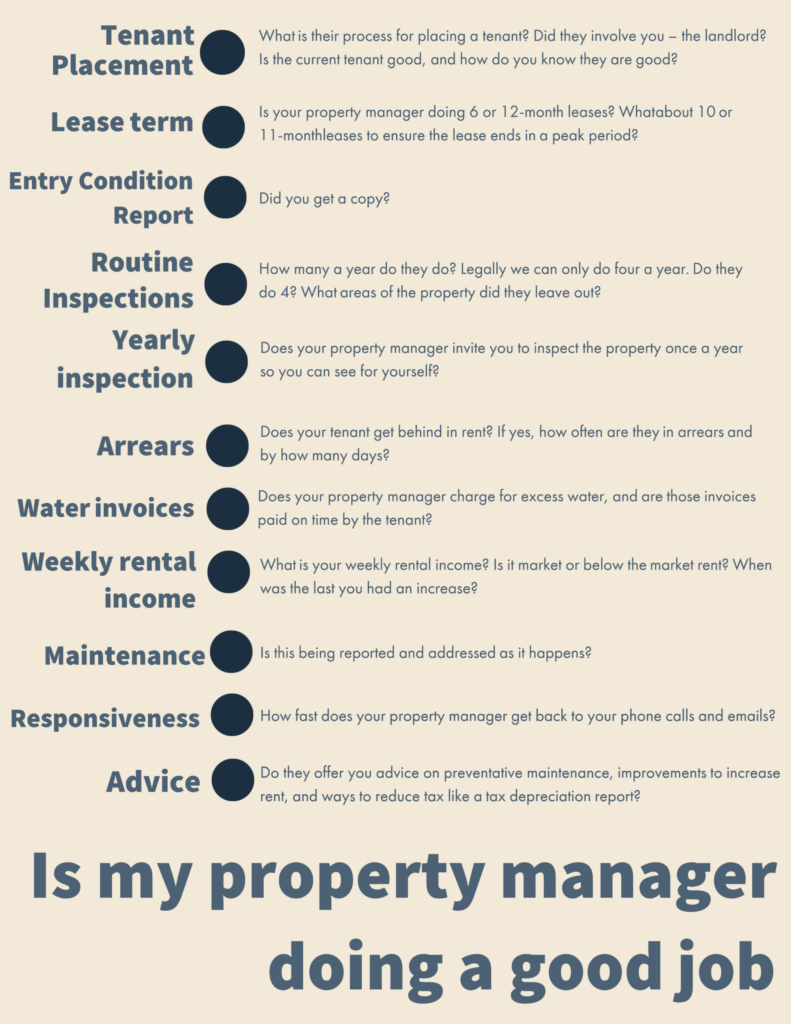 It's important to ensure your rental income increase with the market. You can read more about rental increase here.
All these things play an important role and reveal the performance of your property manager.
MAINTENANCE
Is this being reported and addressed as it happens? It's much better to deal with maintenance as it happens than to later learn about ten things that all need to be done at once.
Keeping the property safe and in the habitable condition is the duty of the property manager. Also, they are responsible for the physical management of the premises.
If there is a maintenance issue, your property manager should report this immediately so a plan can be made to rectify it.
Legislation states that the landlord is responsible for maintaining the property. You can read more about it here. Our agency has a small team of reliable electricians, plumbers, and other contractors who will fix the issue as soon as possible. Unless it's expensive, then a quote will be supplied.
Ideally your property manager should be getting maintenance done and keeping you in the loop as it happens. Asset Agents system emails our landlords when jobs are crested and then keeps them updated through the entire process.
RESPONSIVENESS
How fast does your property manager get back to your phone calls and emails? Property Managers are busy people because there is a lot to mange on each property as things arise. It's important to have a property manager that can move quickly to keep on top of things. A good property manager will truly keep you the landlord in the loop at all times..
Our system tracks our email response, and at the time of writing over the last four weeks, our average response time was 6 hours, which is good considering we can't reply to emails through the evening. Plus, we work hard to return calls fast too.
If you work with us, you can rest assured that you get people that care, are passionate and solid customer service.
ADVICE
Do they offer you advice on preventative maintenance, improvements to increase rent, and ways to reduce tax like a tax depreciation report?
A good property manager will also pay attention to close details that protect both tenants and landlords as they are aware of all the laws and regulations related to real estate.
Another great quality of a property manager is to think outside the box. They can manage serious issues easily and give you the right advice at the right time.
CONCLUSION
If the answer to all of the above is yes, then you have a great property manager. Congratulations!
But if some of these are a 'no,' then you need to consider how much could this property manager cost you, and you do not even realize it. It's important you are maximising your investment return. Additionally, your property manager should be flexible enough to handle any situation easily and can be professional enough to deal with the sudden changes in an appropriate manner.
If not, I'd recommend looking around for alternatives. If you don't want to go through the hassle of finding the perfect property manager, you can get in touch with us at any time. Our agency will make sure you have the best property manager, so you don't have to deal with tenants yourself.