As I write this article for property management fees comparisons, about 2 hours ago, a new client of ours told me he was getting $280 PW paid monthly, and with the tenant we placed today, he is now getting $350 PW, paid weekly. We had been talking to this owner for about 6 months, and I had forgotten he had told me $280 was his current weekly income. We had simply prepared the marketing for new tenants and done research around what we felt was achievable in the current market based on other properties we manage in the area. It's fair to say this investor thinks our fees are cheap. Over the next 5 years, he will earn around an extra $18,000; he wasn't expecting. The thing is we hear this all the time.
SO, HOW MUCH DOES PROPERTY MANAGEMENT COST?
When a new client comes to us, most usually want to know what our property management fees and charges are. Also, if we can do better, which is fair enough because that's how our society is conditioned & investors want to maximise their investment return, after all, they have invested in a property to build wealth, and its ability to return is a big part of that. Our fees are not the most expensive, but they are also not the cheapest, so I suppose they are about average. For us, we think our property management fees here in Qld are very fair.
Investors really should be asking what our results are, what type of return do we feel we would be able to give them over the next 5 years. How will we protect their investment and help their investment grow?
Another simple example is a client who came to us about 6 months ago had her $565 PW investment sitting empty for 6 weeks. Once she engaged our services, we tenanted it in 14 days, but she had already lost a staggering $4,520 in lost rental income by using the wrong property management agency, in the first place. To rub salt in the wound. She had to pay a termination fee of $565 when she left.
We focus on placing quality tenants as fast as we can, maintaining our client's investment properties, and doing market rental increases to ensure our clients are getting their maximum return.
I've lost count the number of properties we've taken over that has been under rented between $20 to $100 a week.
TYPE OF PROPERTY MANAGEMENT FEES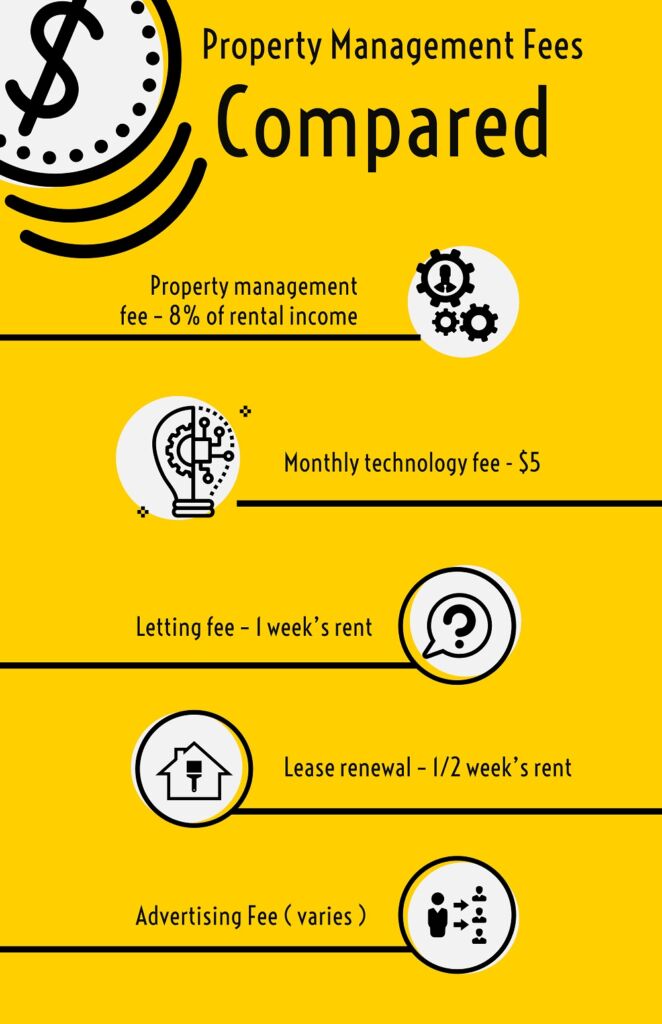 PROPERTY MANAGEMENT FEE – 7.7% OF RENTAL INCOME
This is our fee to manage the property inc GST. We collect the rent, pay bills, disburse the income to you. Ensure all legislation is met. Deal with maintenance, perform routine inspections, etc. It's surprisingly more work than people realise.
LETTING FEE – 1 WEEK'S RENT + GST
This covers our time to prepare the marketing, handle tenant inquiries, show the property, process tenant applications, which is very, very time consuming, draw up the lease, have its signed, lodge the bond, prepare the entry condition report, etc. Its surprisingly time consuming.
ADVERTISING FEE (VARIES)
Realestate.com.au charge us around $165 for every property we put onto their site as a rental. At the time of writing, we are offering our clients are free marketing pack, which includes, photography, floor plan and the realestate.com.au ad-free of charge. The ad we use is the largest offered which we use as we find it attracts better quality tenants, who will often also pay more. 
But the good news is that's it. Unlike some agencies, we do not charge end of financial year statement fees, or termination fees.
Keep in mind our fees are tax deductible, but we also pay our clients weekly so they can access their earnings fast too.
Last week we took over management that was rented for $575 PW. We've now increased it to $650 PW. But the previous tenants had not cared for the gardens of the house. The owner was shocked when she saw it. Yes, they have bond being held with the RTA, and most of that will be needed to get the property back to how it should be, but property managers doing proper routine inspections should have picked this up long ago, so it didn't happen.
HOW DO PROPERTY MANAGEMENT FEES COMPARE?
Property management fees on the Sunshine Coast vary from as low as 5.5% inc GST to as much as 11% inc GST. Our property management fees average is 8.8% inc GST. Can we do it for less? Not really. Our clients have one property manager that looks after their property but behind that manager is a team of other people that do lots of other things to ensure our clients investments are protected & returns are being maximised.
[table id=4 /]
WHAT ARE THE ADVANTAGES OF ENGAGING A DISCOUNT PROPERTY MANAGEMENT AGENCY?
I figure investors want to maximise their returns. So it makes sense they can do that by engaging a property manager with discount fees. But this can soon become very expensive if rent is not increased, or the property is not looked after, or if the property sits vacant, the savings property investors think they are making is soon swallowed up with all the other costs.
With property management fees for rentals, where the rent is $550 PW, a discount agent with 5.5% fees would be charging around $30 a week  for the property management fees,  compared to our 8.8%, being around $48, which is less than $20 more. That extra $20 is like an insurance policy  to ensure the property does not sit vacant, that the condition of the property is looked after & that the rent is continually increased to keep up with the market. Generally our clients find our fees cheap due to how we ensure their investments are looked after. 
Another example of a property we've  now managed for some time. We took over when the rent was $420 PW. Its now $580 PW and its cash flow positive. We were able to achieve this for the owners by ensuring the property was being maintained and the rent was increased consistently over a few years. It's now due for another small increase, which we are reviewing as the tenants are particularly good, and being cash flow positive, the owners are super happy with the return now. We may leave it of $580 PW and do an increase in 12 months time, of around $20 per week.
Discount agencies may not have the resources or foresight to ensure increases like this happen & its certainly my experience with management we take over its doesn't seem to happen either.
OTHER ARTICLES THAT YOU MAY FIND HELPFUL ARE: