Our centrally located offices enable us to be reliable property managers on the Sunshine Coast. We manage properties all over the area, in suburbs including:
Glasshouse Mountains, Beerwah, Landsborough, Maleny, Pelican Waters, Golden Beach, Caloundra, Little Mountain, Currimundi, Wurtulla, Meridan Plains, Birtinya, Palmwiew, Glenview, Mooloolah Valley, Warana, Parrearra, Kawana Island, Buddina, Mountain Creek, Sippy Downs, Mooloolaba, Buderim, Palmwoods, Hunchy, Woombye, Maroochydore, Bli Bli, Nambour, Burnside, Twin Waters, Mount Coolum, Coolum Beach, Yandina, Peregian Springs.
THE ASSET AGENTS DIFFERENCE
Asset Agents are trusted managing properties across the Sunshine Coast. As you familiarise yourself with our agency, you'll realise our service is different from 'normal' agencies. To start with, you get direct access to me, the owner: Byron Miller. Call me at any time about your property management needs on 0435 493 661. While I'm fairly busy, have you ever heard the saying, "If you want something done, give it to a busy person"? If you can't get me on my phone, please leave a message or shoot me a text, or email of course, and I will get back to you.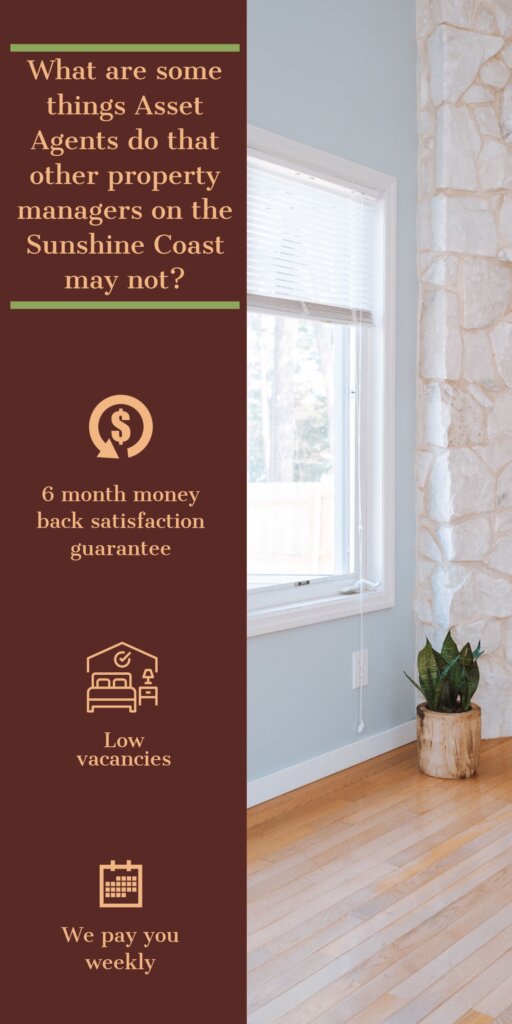 Not all property management agencies are the same, and Asset Agents are proof of that. Some manage very large portfolios with loads of staff, while some rental property managers sunshine coast just work on their own from home. An investor will need to decide what type of agency they want to align themselves with. But whomever you choose, the main thing is you want to ensure they are capable of managing your investment and maximising your return. But how will you know who you choose is going to do the right thing? Sadly, not all property managers in Sunshine Coast will look after your investment as they should. It's common for routine inspections to get a miss and for tenants to fall behind in rent, or for rental increases to be miss.
There are a lot of things that make a property management agency different. Here's just a few of the benefits Asset Agents can offer beyond what other agencies can provide.
1. 6-MONTH MONEY BACK SATISFACTION GUARANTEE
While we aren't perfect, we are certainly better than many other agencies. We take managing properties very seriously, and we are constantly checking in on ourselves and fine tuning our systems and procedures. We want new clients to come on board with no fear or concern, so we make this offer. If you are not happy with our service in the first six months, we'll refund our property management fee back to you.
Now, of course, with a claim like that, some conditions need to apply, but they are fair and realistic. For example, the fees we would refund to you are for the property management fee portion of our Property Management Services on Sunshine Coast, not any let fees or monthly technology fees. Of course, your request for a refund needs to be valid too. We just need to hear why you aren't happy, and of course, we'd love to hear from you prior to the refund request to give us an opportunity to fix any concerns you've had. Now the good news for you is we can also make this offer to you because we have very rarely had to give any money back.
2. LOW VACANCIES
At the time I wrote this article, I checked on our site, and we only had one vacancy & it's new management the owners still live in and are moving out of soon. Of course, sometimes we can have, say 6 properties that we are marketing, but the point is this: we are very aware of the true cost of an investment property sitting vacate. $500 a week in rental income can quickly add up if you have no tenant paying. So we work super hard to get properties marketed & tenants placed as fast as we can.
We seem to have a knack at placing tenants fast. We call it a knack, but it's probably because of our dedication and marketing to get the job complete. Now just because we work hard to get tenants fast doesn't mean we just place anyone; at Asset Agents, we have a grueling tenant application process where we do a string of checks starting with employment check and income.
3. WE PAY YOU WEEKLY
Every Friday, we pay our landlords any rent we are holding in our trust account. It's a big commitment for us to sit down and process this every seven days, but it's something we feel important. Often, investment loans are structure so that the more frequently money is put onto the loan, the more interest is reduce. If your loan is structure like that, you'll love looking out for Fridays.
4. HIGH END MARKETING
We originated from a marketing background, so it's fair to say how we market our investment properties to tenants is effective. We start by ensuring your property is professionally photograph. Plus, we organise a colour floor plan. Now, if the property is vacant, instead of photos of empty rooms, we organise to have virtual furniture installed into some of the images. The end result is so good we've had people ask us where the owner bought the lounge from. We told them they got it online. Then, in addition to that, when the property goes online, we invest in an ad upgrade. All this means the property is exposed to more tenants, oftentimes these are better tenants who can pay more.
The time to get serious about professionally marketing rental properties has arrived. You are now probably wondering what does all this cost? Well, first consider it an investment, the professional photos can probably be used for the next 5 to 7 years. The floor plan forever. The total investment after the ad upgrade is around $500, but at the time of writing this article, we were offering this for free to new clients. So ask us if its something we can still offer now.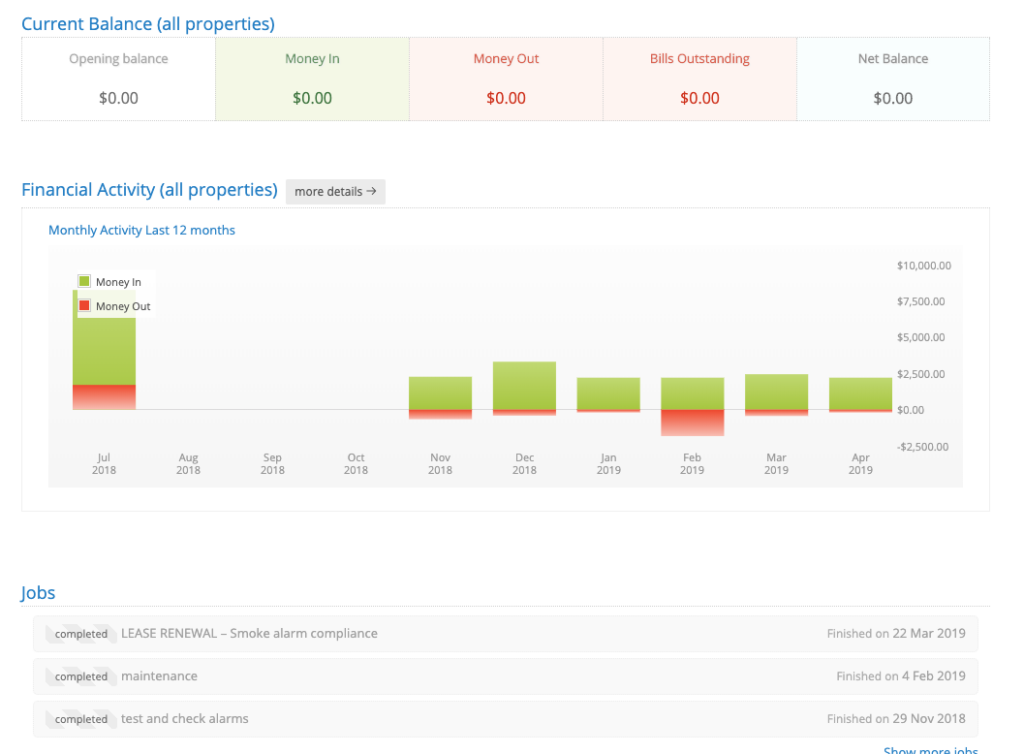 5. 24/7 ONLINE ACCESS
OK, so this is getting more and more common. We will give you a login to our property management portal. It's the software we use to manage your property. Its incredibly transparent, and transparency is what we are all about. It allows you to see if the rent is pay up to date, any maintenance creates statements, see lease end dates, and, very importantly, see routine inspections. It's accessible from your computer, tablet, or phone. When you come on board with us, set you up with is one of the first things that we do.
6. SYSTEMS
Be good at property management is the ability to do a lot of very small things well. Sometimes things do slip past us, but as property management experts, we are very system focused, so we have systems, procedures, and checks to ensure we are being proactive, not reactive. Part of this, too, is we try and call our landlords with updates instead of hiding behind emails. Unless, of course, email is your preferred method of contact.
7. GARDENS
Many of the properties we manager now have garden maintenance built into the weekly rent. The thing is, while its the tenant's responsibility to care for lawns and gardens, it has some grey areas, so it's very common for gardens to slip. The alternative is to have the lawns and gardens cared for by a professional and build that additional cost into the weekly rent. We do this a lot now. The tenant's love has the gardens and lawns always looking lovely, and the best part is the owners know the gardens are being look after, which protects their investment.
You can read more about garden and lawn maintenance on the QLD RTA site here
8. ROUTINE INSPECTIONS
We do these with an iPad, using the built in feature of our software for property management sunshine coast Australia. After the inspection, our owners are automatically notified the inspection has been done. They can then log in, access the report, & see all the photography that's been taken. The routine inspection reports are also all conveniently accessible in one location since this process is integrated with our software which is for Property Management on Sunshine Coast.
9. CMA ON LEASE RENEWALS
When a lease is due, we send our owners an updated rental CMA. This includes vacancy rates on the area, average rental prices, and our recommendation on if the rent should be increased. The CMA allows our owners to research our recommendations to ensure the rent keeps up with the market.
One of the biggest things we see when we take over management is: they have been under rented. Commonly by around $40 a week. Occasionally, we've taken over management where the property has been under rent by as much as $100 a week. When you do the math, that's $5,200 a year in income the owners had been missing out on.
10. DIRECT PHONE ACCESS
Call us anytime. You get my mobile number, Kath (my wife's) mobile number, and your personal property manager's mobile number. When you need us, we are there for you. Just give any of us a call. In fact, it's very common for tenants to give me a call about various things. I'm always happy to get involve and help whenever need it.
We do a lot of other things, too. It would be a very long article if I listed them all here. Some of these things are: coordinating maintenance, routine inspections, leases, exits, entries, tenant applications, smoke alarm compliance, rent collection, and more. It takes considerable work to do this well. One of the reasons we offer a guarantee is so landlords can try us risk free.
These are reasons why we are the best property managers Sunshine Coast. If you have an investment property on the Sunshine Coast and you want a manager, please get in touch.
OTHER ARTICLE YOU MAYBE INTERESTED IN
12 Things to Look for Hiring a Best Property Managers Sunshine Coast in Australia
Costs Of Buying An Investment Property Exposed