Recently I was asked, besides the purchase price, what is the cost of buying an investment property? I thought this is probably a common question for anyone who has not gone through the process of buying an investment property before as it can be difficult to calculate the total cost. So, I came up with an outline of what I know to be the costs. Keep in mind, while I am a licensed real estate agent and deal with this daily, I'm not an accountant or financial advisor. For this reason, I recommend you do your own independent research & get other professionals' advice.
DEPOSIT TO PURCHASE AN INVESTMENT PROPERTY
Not a cost, but still money you need to start investing in property. On a $500,000 purchase, you will need a 20% deposit which is $100,000. You also need funds to cover all of the various other costs of property management. Now you may not have saved up $100,000, but you may have this in equity from another property you already own that you have not yet realized.
You can get an idea about the equity in a currently owned property by speaking with your local real estate agent; however, it's common for an agent to give price indications higher than what a bank would provide. So it's smarter to skip this step and instead have a bank valuation done through a finance broker, as this is ultimately what will matter. I've had clients who were confident that their home would be worth over $900K, only to find that the bank would only value it closer to $700,000.
WHEN MORTGAGE INSURANCE IS NEEDED TO BUY AN INVESTMENT PROPERTY
If you have access to the $100,000 through saving, equity in another property, or a mix of both then you won't need mortgage insurance. Yay. But if you are a bit short, for example: you have $60,000, you still have the possibility of buying an investment property for $500,000 with this amount, but the bank will charge you for mortgage insurance. My advice would be to pay the insurance and get into the market, as it's very likely that by the time you would obtain the additional $40,000 for the full 20% deposit, you would have covered the cost of mortgage insurance with the capital growth you would've made by buying your investment property sooner. 
STAMP DUTY
This varies depending on the state the investment is located. Because I am based in the Sunshine Coast in Qld, I am going to base this on a Qld Investment Property. On a $500,000 investment property here in Qld, the stamp duty you'll need to pay is $17,461
You can access a handy FREE online calculator here, to put in different purchase prices to see how this will change based on the price of the property you invest in 
BANK FEES
Banks are going to charge you a fee for processing your loan. My advice around this is not to go straight to a bank. Instead, use a mortgage broker. They will work for you for free & help you find the most suitable bank and loan for investing in property, ensuring you get the best value. 
Recently, I was doing some refinancing & the bank wanted to charge a $600 fee, so we asked about it and they adjusted the fee to $300. Just like that. 
Using ANZ as an example this link shows you loan options and fees
BANK LOAN REPAYMENTS
The good news is at the time of writing, interest rates are at a historical low. You can now get loans where the interest rates are below 3%. The amount of interest you pay will depend on the loan amount, if you're paying interest only or interest and principal, the bank you use, & of course the interest rate you receive. More reason to use a mortgage broker, to ensure you are getting the best deal possible when buying an investment property.
Using this calculator, if you bought a $500,000 investment property, with a $100,000 deposit with an interest only payment, your monthly payments would be $1,220 or $282 paid weekly based on an interest rate of 3.66%
We know an excellent broker called Julie who you can connect with here.
THE COST OF TIME IN BUYING AN INVESTMENT PROPERTY
Sure, it's important to invest time researching where to buy an investment property. There are certainly areas of Australia where investing in property can ruin you. However, most suburbs on the Sunshine Coast Qld, where I am located, you can't go wrong, especially with the infrastructure planned here over the coming years. You can read more about that in another blog of mine, here.
You can also research for too long.
If 12 months ago you decided to buy an investment property, but it took you 12 months to get organised, it's just cost you a considerable amount in capital gains. In the last 12 months, the average capital gains on the Sunshine Coast was 5%. So, if you plan to buy an investment property for $500k, you would've made $25,0000 in capital gains if you had bought the same property 12 months ago. Time is money.
I've met investors who are still looking after 2 years and wonder what's taking them so long and how much it has cost them.
LEGAL FEES
Once you've found, negotiated, & signed a sales contract for your investment property, you'll then need a solicitor to handle the legal side of the sale. Qld law is very different from other states so you'll need a Qld solicitor. You see I said you'll need a solicitor after you signed the sales contract. That contract you signed states that you should have your solicitor view it first. However, most buyers don't bother as they are simply agreements and licensed agents in Qld are trained to prepare these on your behalf. 
Not all solicitors are geared to handle property purchases. I can highly recommend Gordon from By the Rules. He is based here on the Sunshine Coast and does an excellent job. His fees to handle the purchase will be $975 inc GST if you use Gordon. You can access Gordon's details here
You'll also need to pay a settlement agent $55.00, plus around $340 for search and inquiry fees on the Sunshine Coast.
Gordon says the most important advice he can give a buyer is this:

'The single most critical advice I can give to any buyer is to remember that the purchase is often one of the most important transactions during their lifetime. As such they should seek advice very early in the transaction, take the time to read all the correspondence sent by the Conveyancer thoroughly, and be prepared to pick up the phone and discuss anything they are not completely sure of with their Conveyancer. Unfortunately people are way too busy these days and are getting too used to cryptic messages. Communication is vital for a happy purchase."
BUILDING AND PEST
Your offer when buying an investment property should be subject to financing, but also subject to having a building and pest inspection done. For many of our sellers, we are now having them do these so the buyers don't have to. If the seller does not have one, you need to get one done which will cost you around $513.
Sunshine coast building and pest reports do a good job and you can connect with them here
INSURANCE
You need to insure the building & some of the components like carpets, floating floors, curtains, dishwasher, etc. The tenants will insure their contents like TV's, the fridge, clothes, and jewelry. You can also consider landlord insurance at the same time. Insurance is one of those things that you will probably never need, but in the unlikely event you need it, you'll be glad you had it. 
Assuming your $500,000 investment is a free-standing house in Maroochydore on the Sunshine Coast with a weekly rent of $500 per week and you'd like to insure the replacement cost of the building for $350,000 and include your share of the contents for $60,000, landlord insurance through Terri Sheet would be $1525.
Recently, I sold a property and within 4 weeks there was a fire. Luckily the owner had insured it. What's intriguing about Qld law is they expect you, the purchaser, to have the property insured the day you put the property under contract. However, your contract is subject to your ability to obtain financing, so you may not even proceed with the purchase. This unique regulation can be a barrier to becoming a landlord and buying your first investment property, but don't let it deter you from making the jump.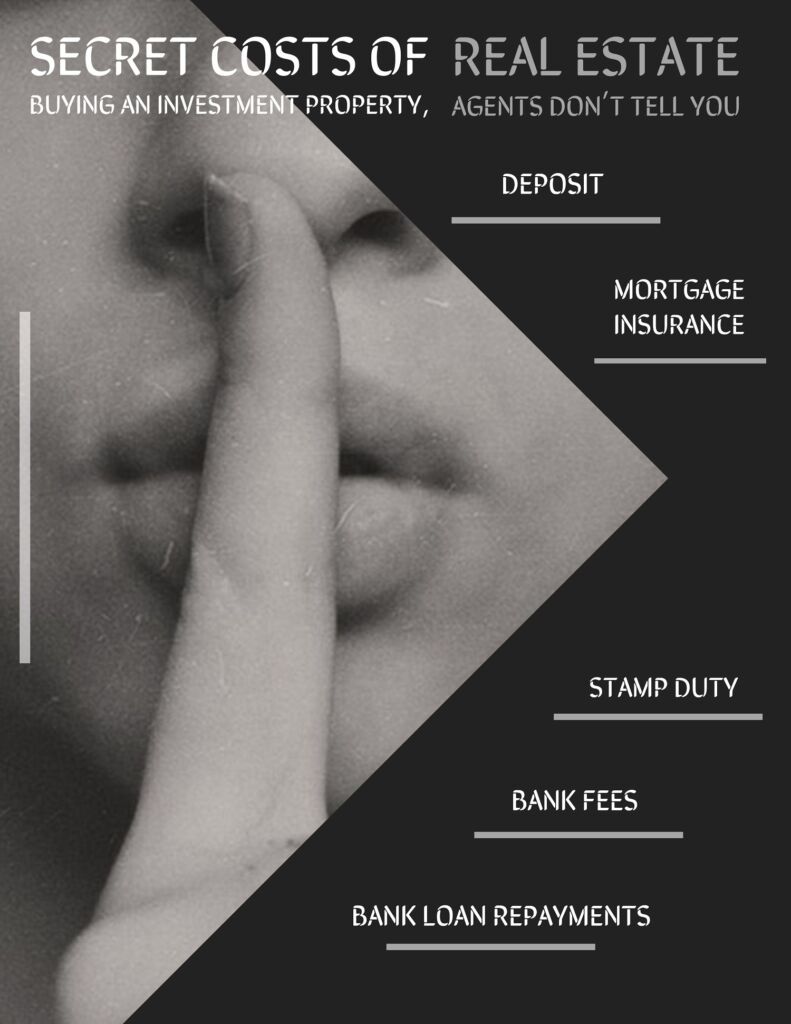 TAX DEPRECIATION REPORT
People buy investment properties to build wealth, part of this is maximising your tax deductions. A tax depreciation report will help with this. Even if the property you buy is old, you will still save considerably with depreciation deductions. So, it's a myth these are only suitable for new builds. Around $500 you should get in tax deductions within the first 12 months and the report you pay for can be used for years to continue to maximise your tax deductions.
PEST AND TERMITE PROTECTION TO BUY AN INVESTMENT PROPERTY
This is Queensland. You can't avoid having an annual pest spray and termite inspection with being on the Sunshine Coast. In 2019, we had a client where we found some tiny damage on a routine inspection in a window architrave. We had it looked into further. Entire walls had been eaten by termites. The tenant had to be given a notice to leave and the property was vacated. Then it sat empty while entire walls where pulled down and re-built.
BOND CLEAN
When a tenant moves into a property, they'll need to return it in similar condition when they leave. The thing is, if they move in and it's slightly dirty they can hand it back dirty and we have no way, as landlords or property managers, of gauging if it's dirtier. So the solution is to supply the property to them squeaky clean. Super clean. Bond cleaned. This way they need to return the property just as clean. The moment you let this slip, after a few tenants leave it dirtier and dirtier, over a few years it can cost a considerable amount to clean it back up again.
The cost of a bond cleaning varies depending on the size of the home and how dirty it is. Budget between $550 to $750, but we've had small 3 bedroom homes cost as much as $1,200 to bond clean because of how dirty they were.
MAINTENANCE TO CONSIDER WHEN BUYING AN INVESTMENT PROPERTY
Does everything in the property work? If not, once a tenant moves in, the maintenance requests will start to flow. Tenants expect everything to be working. So when possible, address any maintenance concerns.
WATER WISE CERTIFICATE
If the property is water efficient, you need a certificate which will cost you around $85. If it's not water efficient, you'll need a plumber to replace toilets and taps to make it efficient; I would budget around $500 for this. 
SMOKE ALARM COMPLIANCE
Here on the Sunshine Coast, we work with Sunstate Compliance. They charge $99 once a year and will ensure your property is compliant. They will even replace alarms for no extra cost, if needed. You can access their details here.
COUNCIL RATES
You can't charge this to your tenant, so this bill is yours. Here on the sunshine coast, as an example, a standard size block of land with a home in Buderim the rates are currently around $2,200 each year.
WATER BILL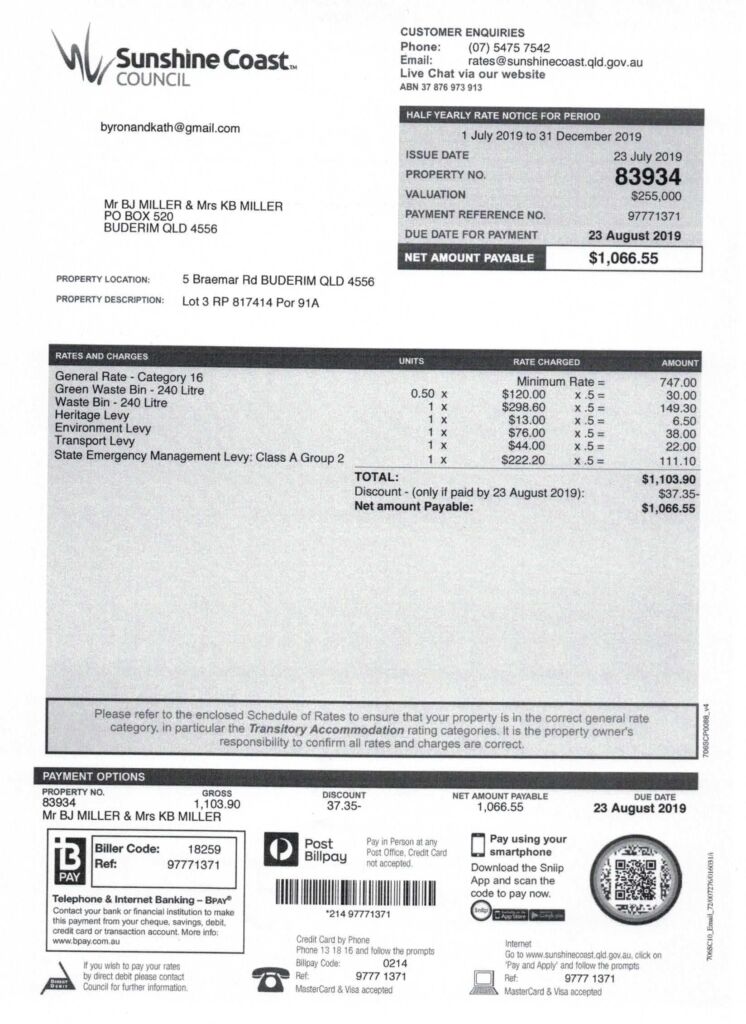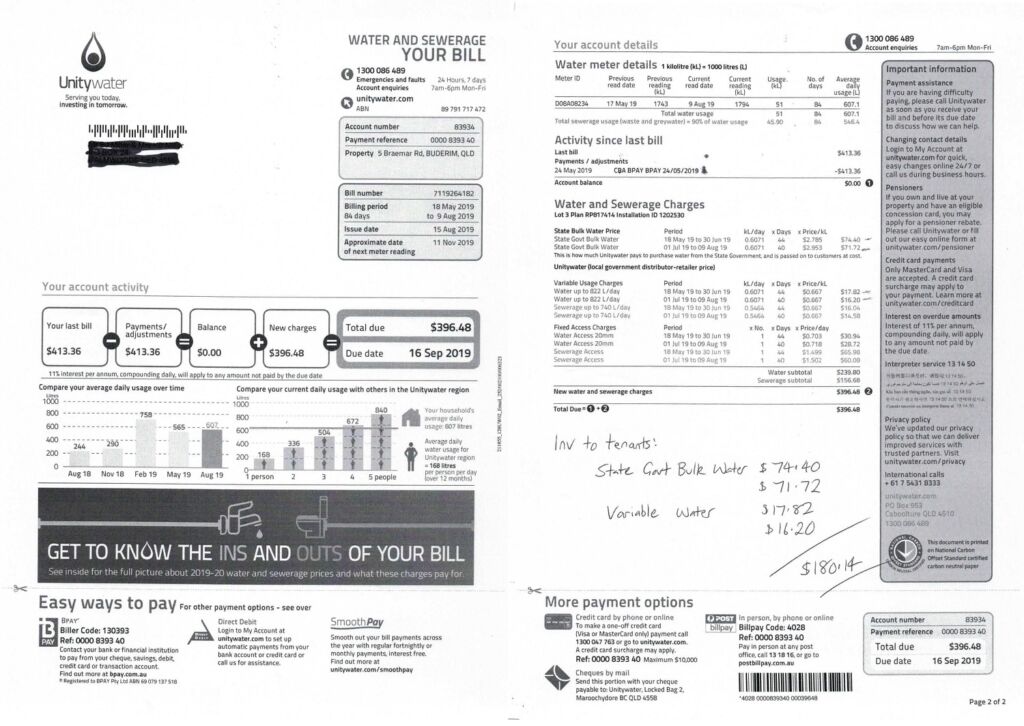 While this bill is yours to pay, if your investment property is water efficient you can oncharge some of this bill to the tenants. Most of our clients have the bills arrive directly to us either by email or post so we can immediately oncharge the part the tenant is responsible to cover. Again for an investment property in Buderim a typical bill is around $400 a ¼ of that the tenants will pay $180. So as you can see it's worth having the property water efficiency so this can be oncharge to the tenant
THE COST OF VACANCY
If your investment property sits empty for 4 weeks, you've just lost $2,000 in income. The cost of a vacant property is far higher than any property management fee you'd pay.
PROPERTY MANAGEMENT FEES FOR BUYING AN INVESTMENT PROPERTY
Here, we are finally at what we charge. Property management fees vary. Recently we took over a management account from another property managing agency and I was shocked to see their fees. They charge over $500 to terminate their agreement, $55 a year for an annual statement, $85 an hour for QCat preparation if needed, and the list of fees just went on and on.
HOW MUCH DO WE CHARGE FOR PROPERTY MANAGEMENT FEES?
We try and keep our fees as simple as possible
8.8% inc GST property management fee
1 week's rent plus GST for leasing a property
½ week's rent plus GST for a lease renewal
$5.50 inc GST a month technology fee
$150 to advertise on realestate.com.au
That's really it for our fees. What's intriguing, is investors get caught up on what property management fees are, but they are fairly insignificant to all of the other various costs. 
I'm sure I missed a few things, like I said earlier I'm a real estate agent not an accountant or financial adviser. But let's now look at a summary:
TOTAL PROPERTY INVESTMENT COSTS BEFORE A NEW TENANT MOVES IN:
$100,000 Deposit 
$17,461 Stamp Duty
$600 Bank Fees
$1,370 Legal Fees
$500 Building & Pest Report
$1,525 Insurance – Building, Contents and Landlord
$500 Tax Depreciation Report
$750 Bond Clean
$85 Water Wise Certificate
$122,791 Total Cost before tenant moves in. 
TOTAL PROPERTY INVESTMENT COSTS ANNUALLY AFTER A TENANT MOVES IN:
$99 Smoke Alarm Compliance
$2,200 Council Rates Yearly
$1,200 Water Bill
$513 Pest Spray and Termite Inspection
$500 Let Fee
$2,146 Property Management Fee
$14,640 Loan Interest Repayments
$21,298 Total Annual Cost of an Investment Property, After a Tenant Moves in

It's not possible to cover every single thing. I've left out pool certificate, gas certificate, maintenance, etc. But I certainly hope my list is comprehensive enough to give you a solid idea about the total cost of an investment property. Get a good accountant too, as all these costs are tax deductions and a good accountant will ensure your deductions are maximized as fully as possible. A solid accountant can also help advise you if possible additional costs and fees that aren't covered here, as well. While a true total cost is impossible to calculate based on estimation, the information given here is a great place to start in your journey to buying an investment property.
OTHER ARTICLES THAT YOU MAY FIND HELPFUL ARE:
12 Things to Look for Hiring a Best Property Managers Sunshine Coast in Australia
10 Things Asset Agents Does Differently To Other Property Managers on the Sunshine Coast