How to get your bond back in Qld
You're moving out, and you enjoyed your stay, but its time to move on. One of your biggest priorities needs to understand how to get your bond back in Qld. Once you have moved out, you are going to want your bond back. Well doh. And of course, we want to give your bond back from your rental bond refund— all of it. It's just well sometimes we can't. You see, as property managers, the owners pay us to manage their investment property and ensure its being looked after. We also understand through bond money is a lot. Here on the Sunshine Coast Australia, it's 4 weeks' rent. Legally we can't ask you to pay more.
In this guide, we will outline what you can do to ensure getting your refund of rental bond back in full every single time.
First, what is a bond ?
In Qld Australia, we can legally ask a tenant for up to 4 weeks rent as bond. So if a property is leased for $500 PW, that's a $2,000 bond. But we legally also need to lodge the bond with the RTA. Just recently, tenants now have the choice to lodge the bond directly with the RTA or have the property manager do it for them.
What is the bond for ?
It's to cover any unpaid rent or bills, cover repairs and damage made, and clean.
Why you always want to get your refund of rental bond
Not only should you have a solid understand of how to get your bond back in Qld, you also need to realise the importance of always getting it back in full. Suppose you lived somewhere in Queensland and you want to live else where. In there, you had rental bond refund Qld. When you move on, if you are still renting and reference checks are done, the new agency will ask your past agency.
Did they get all their refund of rental bond Qld? If the answer is NO, that's a big red flag.
Tips on How to get your bond back in Qld
Don't use your bond to pay a water bill or rent still due. As soon as you tell your property manager to "take it out of the bond," You've kinda stuffed things for yourselves. Because when your next reference comes around and the question is asked, did they get all the bond back and the answer is no, it makes it harder to be approved.

Leave the place better than you found it. What the? Yep go on do it. If you have that attitude, you are bound to get your rent back in full Caching. We can't legal request this, but it certainly makes sense.

Get a copy of your entry condition report. Can you remember way back when you moved in? The property manager would have done an entry condition report that you checked and signed. Get a copy of that and have a good long look through it. This is your benchmark of what the property manager is expecting how you will return the property to them.

A cleaning guru. Get experts in. Us normal humans can't clean as elite bond cleaners do. Have you see the size of the arms on those people. Wow. They have an eye for details. They will clean the tracks in the windows, shine all the windows, and even scrub the toilet with a toothbrush is they need to. It is coming for 2 bond cleaners to spend 6 hours on a property to make it shine. That would be like us humans spending 3 months on getting the same result. So yeah, spoil yourself and get in a bond cleaner. You'll be glad you did.


Gardeners. Are not so intense as bond cleaners, but that can do the weeds, trim the plans, do the edges for a surprisingly affordable price. You might even need them to throw down some new mulch.

Air Con Filters need to be cleaned.

Mould under the eaves needs to be high pressure cleaned. Sometimes even the entire house needs a good wash.

What about the carpets? Professional carpet cleaners are the way to go. Again they really don't cost that much. We can't legally ask that you have the carpets professionally cleaned, but if you've had pets or been at the property for some time, it the way to go.


If you have a pet, you also need to do a professional pest stray, which in Qld is legislation.
Professionals we use and recommend:
TIP: Book them, early as they are busy
0434 298 498 Carpet Cleaning – Richard
0466 842 069 Bond Cleaner – Bree
5317 1017 Pest Spray – Bundilla Pest
0420 376 362 Paint touch ups – Nino
0421 923 845 House & driveway clean – Mick
0420 376 362  Gardens – Nino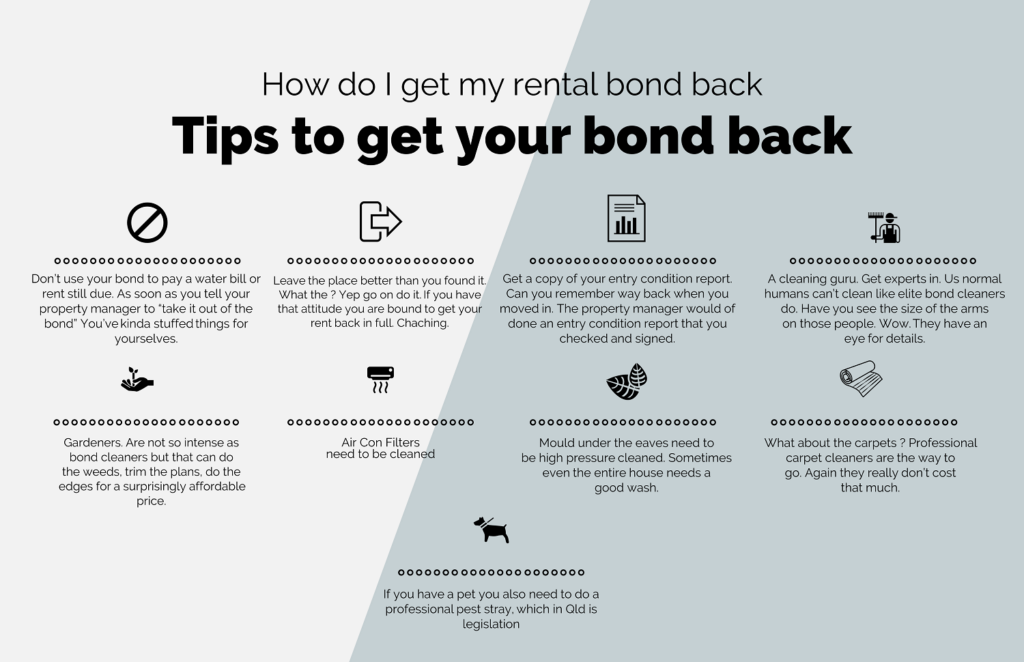 Here is a more comprehensive guide that you should follow
GENERAL CLEANING – How to get your bond back in Qld
Vacuum and clean all sliding door and window tracks.

Sweep or mop all uncarpeted floors, removing any marks.

Clean Carpets by registered Carpet Cleaner to Australian Standard. Supply paid invoice copy.

Fumigate for Fleas – by registered Pest Company, if pets were kept at the property.

Supply paid invoice copy.

Clean light fittings – gently remove light fittings and clean.

Clean marks off walls, ceilings, and light switches.

Clean curtains and blinds. Refer to Agent for method advice.

Remove all cobwebs and insect marks and nests.

Clean skirting boards, windows including frames, sills, and tracks, above cupboards, picture rails,


Architraves and both sides of all doors, all other fittings, and insect/security screens, etc.
KITCHEN CLEANING
Clean inside and outside of all cupboards and doors.

Clean both inside and outside and around the stove.

Clean inside and outside of oven, griller, doors, trays, racks, glass. Also

Clean inside, outside and behind refrigerator and dishwasher and microwave space.

Clean sink, especially drain holes, drainers, and tapware.

Range hood exhaust and filter- filter can be removed and cleaned.

Clean curtains and blinds. Refer to Agent for method advice.
Bathroom
Vacuum and clean all sliding door and window tracks.

Clean all cupboards and drawers internally and externally.

Clean toilet, bath, shower recess, remove soap residue on tiles and shower screens, clean sink,

tapware, towel rails.

Clean water outlet in the shower 

Bath of hair and soap build-up.

Clean in wardrobes, shelves, drawers, and mirrored doors. Remove scuff marks.

Shower curtain washed with bleach or replaced if applicable.
Laundry
Clean behind, inside, and around washing machine space.

Clean equipment and filters if applicable.

Clean in and out also behind the dryer. Remove lint.

Clean inside and out of laundry tub, do the same for cabinets, shelves, drawers, tapware.

Clean up all walls and floors, ceiling.
Garage, Carport, Driveway
Sweep out and remove any oil residue from concrete, pavers, paths, driveways.

Empty Council bins and place bins out on footpath for next collection

Close and lock the garage door, if applicable.
VERANDAHS / DECKS / OUTDOOR AREA
Sweep and mop, clean railings, glass, and light fittings.

Remove all cobwebs etc.
Air Conditioners
Clean all air conditioner units and filters.
Gardens & Lawns
Mow the lawn, trim all edges, weed gardens, general garden tidy, remove all rubbish.

Return pool to the condition as per condition report at the start of the tenancy and supply.
Pool
Pool Test report to Agent – Report to be completed on the end of tenancy date.
Complete your exit report
You can obtain an exit report from the Qld RTA here. You need to fill this in, all tenants on the lease need to sign for it. Then supply it to your property manager. Your property manager will then do an inspection, take many photos, and then compare it against your entry condition report when you moved in. 
Check your entry condition report
When you moved in, you would have been given a copy of this. But if you can't find it, ask your property manager for a copy. It's the ultimate guide on how the property needs to be left, how it was given to you. These look the same as the exit report. Ideally, ask the property manager for a copy of the photos taken too.
Bond Refund request from the RTA – How to get your bond back in Qld
As of 2020 you can no longer you the old rental bond refund form Yep, which you can do this here. Now the only solution is doing rental bonds online.
Before you start this online process, you will need the following
Tenants
your QGov login details (or create a QGov account)
a bond number for a current tenancy
the handover or vacate date (if applying for a full bond refund)
unique email addresses for all tenants
your bank account details.
What if there is a dispute.
Alert, alert, alert. Nasty. You really want to avoid this. We all do. Remember, we do want to give you your bond back. If you claim all your bond with the RTA and your property manager doesn't agree, then your property manager will lodge a dispute with the RTA. As soon as this happens to reach out to your property manager to see why and see if you feel that's fair. If the dispute with the RTA proceeds, an RTA mediation meeting will be booked. This is done over the phone with you, the property manager, and the RTA. They will discuss the disputer and try and mediate an agreement with all parties. Remember, these sessions need to be booked, so yep, a delay in getting your bond back has now been created. Yikes. What's worse, if an agreement can't be made in this mediation session, its escalated to the QCat claim where you need to attend a course hearing and again further delays. If a property manager disputes your bond refund, they will have a very good reason to do this. Remember, this is their job. They are not trying to rip you off. They want to give you back in full from your rental bond refund , but only if it's the warranty.
Recently a guy I work with moved out of a large beautiful home managed by another agency. Our advice gets a bond clean. He didn't, and now he has a bond claim issue that's dragging out.