CORONA PANDEMIC AND SUNSHINE COAST REAL ESTATE, HOW WILL YOU BE EFFECTED AND WHAT CAN YOU DO.
Last week Asset Agents had its first case of a tenant infected by the virus. They are OK in self isolation and the owners of the property have been informed. But yes the virus is now on the Sunshine Coast, with around 80 reported cases. Yesterday I was out getting essential services and it's a shock how many people are not practising social distancing.
Asset Agents staff are now all working remotely from our homes, for the safety of ourselves and our clients. The truth is Asset Agents started as a virtual agency. In fact one of the first virtual agencies in Australia, so we have extensive experience how to operate very efficiently remotely. For us our doors are still open and it's business as usual. We are still doing sales & rental appraisals, are listing properties for sale & buyers are still enquiring. Same with rentals. We are still performing routine inspections, tenants are still enquiring about vacant rental properties too.
Obviously we all need to take this very seriously. We sure are and taking all the precautions as possible. But what about you ? What are you options with real estate on the Sunshine Coast ?
YOU CAN JUMP TO AN AREA OF INTEREST HERE
Current Tenants Who Can't Pay Rent
REAL ESTATE OWNERS SELLING
Yes you can still sell your property. We have just listed our first two homes during the pandemic. We will have a video walk through and conduct private inspections. To me this feels very similar to the Global Financial Crisis. Where we still sold properties, but it took longer, we showed considerable less buyers, prices were impacted but not by the 20% you might be hearing in the media.
POSITIVES ABOUT SELLING DURING THE CORONA PANDEMIC
Borrowing money is now the cheapest it's ever been & may get even cheaper.
With less properties on the market buyers will have less to choose from
We can now hold open homes with the restriction of allowing 6 people inside homes at one time including the sales agent.
As agents we will have more time to work much harder for our sellers and buyers who enquire
If you are selling and buying in the same market, you won't be impacted
BEST METHOD TO SELL?
Offers Over, Fixed Price or no price ?
When the market started cooling, we liked to launch a property with no price for 7 – 14 days, get price feedback then price the property. This ensured we where not under pricing the home, but as the Corona Pandemic sets in sellers will need to consider a more active approach. I expect more sellers will need to move to the Auction process. Interestingly in the global financial crisis, nothing was selling, so we had no choice to offer the Auction process. Asset Agents was selling over 200 priorities a year, mostly via Auction. Interestingly I have not yet met any sellers that likes the Auction process, but I now know hundreds of sellers  that are glad they did Auction. There are myths and miss conceptions around Auctions that sellers need to be educated on.
While we can't hold auctions in a group, we are now offering Auctions via bidtracker.com.au. Twenty years ago I was the General Manager Di Jones Real Estate  a large agency in the eastern suburbs of Sydney and we were the first company in Australia to live stream Auctions to the world. Back then there was a 10 second delay time and we had ex pats from around the world on the phone bidding. It was ground breaking and we got a lot of press and made lots of sales through it. From memory it also use to cost us around $3,000 in transmission fees each time.
Here on the Sunshine Coast we use Gordon McDonald. Gordon does a large number of auctions every week and has now been using bidtracker.com.au for these since the government changes. With Auctions you have an opportunity to sell prior to auction, on the day or afterwards. The only addition investment is Gordon's fee of $770 inc GST. In a market like this Auctions often end up costing less than selling with a price as the home is on the market for a shorter time.
WHEN TO SELL? NOW OR IN 2 YEARS TIME
Experts are saying this will probably effect as for at least 2 years. Yes 2 years. It can be a bit  confusing because the government and banks are planning for the next 6 months only. But this will not be over in 6 months time. At this stage they will just plan for the next 6 months.
So when selling you need to ask yourself. Do you want to put your life on hold for the next 2 years or get on with it, now ? Selling and buying in the same market neutralises any potential loss. So if your property is now worth a little less, the property you are buying will be worth a little less too, so it evens it out.
Of course, if you are happy to wait another 2 years. Then do that. Don't sell & let's speak in 2 years time. If that's not the case, reach out to us we can give you some quality advice that's not based our own need for income & greed. That said many agents will now be like that, they will be desperate for a sale and they will say whatever they need to convince you to sell with them so be wary.
WHAT WILL THE MARKET LOOK LIKE IN 6 MONTHS TIME?
I expect some investors will need to sell, and the market could possibly be flooded with investors having to sell. We will have to wait and see.
FINDING TENANTS FOR YOUR RENTAL PROPERTY
This week I have had over 20 enquires on rental properties. I have had 7 applications. 3 of which have been approved and these tenants will be moving in. Yes the tenant enquiry has slowed down. It seems at this stage if you have an investment property that needs to be tenanted that's still possible.
SHOWING TENANTS PROPERTIES
1st May the Qld government announced we can return to open homes, but with a few small limitation of a maximin of 6 people in a home at one time including the real estate agent. So we have now returned to advertising open homes for our rental properties.
Of course, we are doing video walk throughs but we were doing these anyway. We have good photos and a floor plans too. Everything we were doing previously. Expect open homes
We open all the doors, turn on all the lights, and practice social distancing. Tenants do not need to touch anything and the inspections are fairly quick.
LEASING TO PEOPLE FROM INTERSTATE
We already offer this. The ability to lease a property sight unseen. You can read all about it here in another article of mine. I am now speaking with people that want to get out of the city and move where there is less people and less corona cases. Even though the boarders are closed, people can still cross the boarder if moving home.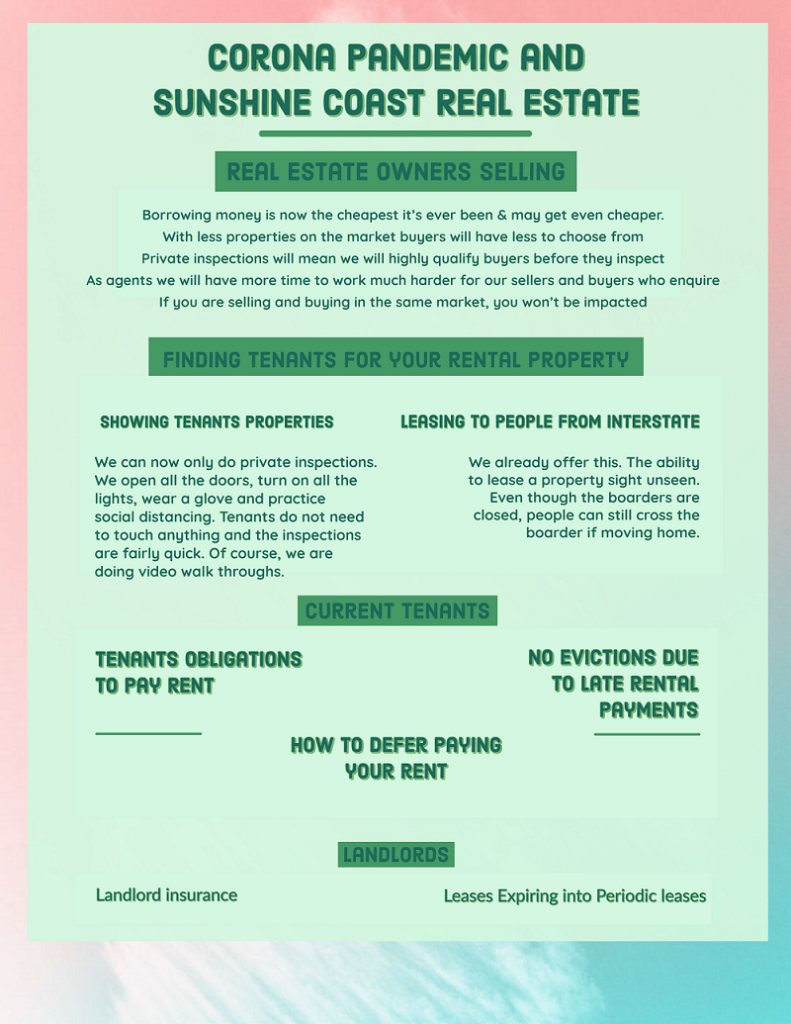 CURRENT TENANTS WHO CAN'T PAY RENT
TENANTS OBLIGATIONS TO PAY RENT
Late on April 23nd 2020 Qld Government agreed to pass new changes to the regulation for Residential Tenancies. While this is not yet law. It soon will be.
The government tabled a draft regulation for Residential Tenancies you can look at via this link: https://www.parliament.qld.gov.au/…/Table…/2020/5620T640.pdf
In response to COVID-19, they are introducing a range of measures to support the residential rental sector:
tenants in financial distress due to the impact of the coronavirus who cannot meet their rent commitments cannot be evicted or listed in a tenancy database for rent arrears.
fixed term agreements due to expire during the COVID-19 pandemic will be extended to 30 September 2020 unless the tenant requests a shorter term.
cap break lease fees for eligible tenants – household income reduced by at least 75% and savings of less than $5,000.
owner obligations for routine repairs and inspections have been relaxed but regulatory obligations to ensure tenant safety in the rental property continue to apply.
tenants may refuse physical entry for non-essential reasons, including routine repairs and inspections, particularly if a member of the household is a vulnerable person. However, tenants must agree to virtual inspections if physical inspections are not agreed to.
tenants and property owners should work together to reach agreement. If agreement cannot be reached, parties are required to undertake conciliation to resolve disputes which aims to achieve conciliated agreements which form part of the tenancy agreement.
DO YOU QUALIFY TO HAVE A PORTION OF YOUR RENT DEFERRED TO A LATER DATE?
A person is suffering excessive hardship due to the COVID-19 emergency if any of the following apply:

one or more tenants or residents are afflicted by COVID-19
they are subject to a public health direction to stay at a place
a public health direction has closed their employment or restricted their employer's trade or business
they are self-isolating because they or a member of their household or a someone they are a primary carer for is a vulnerable person
they are unable to work because of a travel restriction
they have been prevented from returning to Australia; AND

the person suffers a loss of income of 25% or more, OR
the rent payable is 30% or more person's income.
The Residential Tenancies Authority (RTA) can provide information and support tenants and property owners to reach agreement. They also offer a free dispute resolution service if you need further support.
If you need help with your tenancy, talk to the RTA. Text "Hi" to 0480 000 782
It's important everyone realised while banks are allowing investors to defer their loans, the interest will still be payable, just at a later date. Landlords rely on the rental income to pay this interest.
NO EVICTIONS DUE TO LATE OR NO RENTAL PAYMENTS
The government has announced that for 6 months tenants can not be evicted for late rental payments. Tenants need to realise this does not now mean rent is free. It's still to be paid and if a tenant has financial issues now and are not able to pay your rent in full, you'll still owe it at a later stage. So it's best to keep your rent paid up to date as much as you can. The further you fall behind the harder it will be for you to recover.
REQUESTING A RENTAL REDUCTION OR DEFERRAL
The challenge for landlords with offering a rent reduction is that the banks are not offering the same. The banks are offering landlords to defer their loan payments for up to 6 months. But they will have to pay the interest that is accruing, after the 6 month period ends. Because of the banks,  the best most Landlords can do for a tenant is offer the same. A deferral on the rent. So an example might be you are paying $550 pW now, the landlord agrees for you to now pay $400 PW, deferring the balance of $150 PW until another time. It's important for tenants to realise this $150 PW deferral is still payable, just later. Which is exactly what the banks are doing with landlords loans. So if you do this for say 25 weeks, you'll now have a bill of $3,750 which will be payable for the rent you've deferred.
To be eligible  defer rent you need to supply evidence . You need to get a separation certificate from your employer, which you can access here. You also need to make a jobseeker claim, which you can read all about here. You'll need to supply all this evidence to your property manager or landlord.
Luckily there are other alternative instead of deterring your rent for another time. Tenants need to consider a more long term solution like, breaking lease & move to a more  affordable home, or moving in with family, or getting a house mate.
GOVERNMENT ASSISTANCE FOR TENANTS TO PAY RENT
Right now the State Government has not announced any official assistance for paying rent for tenants or landlords. However tenants still have several options to assist with rental payments.
QLD STATE RENTAL GRANT OF $2,000
The government has just announced a rental grant for tenants who have lost their job. It's for a maximum rent over 4 weeks with a maximum of $500 PW. You can apply this this here. Or call  Residential Tenancies Authority on 1800 497 161. (8am to 8pm Monday to Friday, 9am to 5pm Saturday and Sunday).
JOBKEEPER ALLOWANCE – TO HELP PAY YOUR RENT
Speak  to your employer about being eligible for jobkeeper. The government would prefer you stay employed. Your employer maybe eligible for $1,500 a fortnight to keep you in your job, which will be issued from first week of May and back dated when this was announced. If you have been stood down from the 1st March your employer could still be eligible to claim.
Your employer can register their interest for job keeper here
JOBSEEKER ALLOWANCE – TO HELP PAY YOUR RENT
If you are now out of work or your work has dramatically decreased you can register for JobSeeker. You'll need a My Gov Account and you can register for JobSeeker here.
This payment is made every two weeks ranging from $510 – $790
CORONAVIRUS SUPPLEMENT
An additional $550 every 2 weeks maybe payable to you by the government over the next 6 months, if you are already on jobseeker
You can find our more here on this  Australian Government fact sheet.
TENANTS MOVING IN WITH MORE PEOPLE
In the last 2 weeks I have already seen a change with people now moving into rental properties with additional family to spread the overheads. But you can't just have people move in. You need to have them added to the leases and approved by your landlord or property manager. Ideally they should complete a rental application form so your property manager or landlord can do reference checks. All the normal legislation is in place so if you have a few people move in without approval you will be breached and you maybe evicted. So instead go through correct channels for approvals.
MOVING OUT EARLY
While the government will not let a tenant be evicted due to rental arrears. It's money a tenant will still owe, later. So discuss with your landlord or property manager the option to move out early ( break lease ). This may help you move in with family or friends. A break lease fee may apply. This is usually 1 week's rent and any marketing cost, but consider this is far better than the alternative of not being unable to pay rent now, but still owing it some time later.
I recently did this for 2 flat mates. They could no longer afford the rent, so they had to just pay a break fee of 1 week's rent and we found a lovely husband and wife to move in, in less than a week. The previous tenants here very released we could move this fast for them.
WHAT LEGISLATION HAS CHANGED?
Right now just one. You can't be evicted for non payment of rent. Everything else is business as usual. Of course I say that with tongue in cheek, because it's all changed. Our routine inspections are being delayed due to people being unwell. We are limiting contact as much as possible and even our agency now all work from home.
CONSIDER YOUR LANDLORD
I understand. You've just lost your job, your partner has lost their job. You have no money and can't pay rent. But think a minute about your landlord. They may have also lost their job, they have their own mortgage to pay plus the mortgage of the investment property you are renting. The banks are not letting your landlord off they still want their interest, just later. As always it's the banks that will win.  You need to contact your property manager or landlord and work out a compromise. How much can you keep paying if anything, can your landlord still service the loan at the reduction being suggested or do you need to break lease and move in with friends or have them move in with you. It's a discussion we all need to be involved in, to help each other. We are all in this together
QLD ONLINE HUB FOR FURTHER INFORMATION
Qld government has developed an online hub with all the latest information. You can access this here
LANDLORDS
Late 23rd April 2020 the Qld Government have agreed on new legislation that will become law very soon. I have out line the detail above under the tenant section about being unable to pay rent. Other than these changes its business as usual. The government tabled a draft regulation for Residential Tenancies you can look at via this link: https://www.parliament.qld.gov.au/…/Table…/2020/5620T640.pdf
Our recommendation to landlords is if your tenant is unable to pay rent and qualifies for a rental deferral that you grant this 4 weeks at a time.
LANDLORD INSURANCE
If you do not have this now you can not get it. If you do have it, see what your policy says about paying for lost rental income. What I do know is it will probably not cover up until all this is over.
If a landlord is lenient on a tenant with a rental reduction, this will impact your landlord insurance claim & you may make it void.
LEASES EXPIRING INTO PERIODIC LEASES
Many of our tenants are now not keen to sign a new lease when their current lease expires. The biggest concern for a landlord is without a lease the tenant can leave with 2 weeks notice, leaving very little time for us to find a new tenant. Landlords have a few choices under the current pandemic situation.
Let the tenant move to a period lease, knowing the dangers.
Give the tenant a notice to leave ( 2 months notice ). Have them move out and we find a new tenant ( yes you can still do this )
Have the tenant sign a lease for a lesser term, e.g. 3 months, or 6 months.
You can read more about periodic leases in my recent blog article here. 
There is an opinion that many landlord insurers will not protect a landlord if the tenant is on a periodic lease. But this will depend on your insurer and their policy so I recommend you call them and discuss. When I spoke to Terri Scheer earlier this week, they said they will cover landlords who are on a periodic lease, but you should do you own research on this.
So what do you do if your current tenant is not prepared to sign a new lease? If your landlord insurance will protect you on a periodic lease agreement due to the current virus pandemic issue that is sweeping the world, offering your tenant a periodic lease might be your best option. The alternative is you ask the tenant to leave and you find a new tenant who will sign a lease, but under the current circumstances this may be challenging.
Before you agree to your tenant being on a periodic agreement ;
Have they been a good tenant and are you happy for them to stay
Have you spoken to your landlord insurer to confirm you will be covered on a periodic agreement
Do you understand the tenant can leave with just 2 weeks notice potentially exposing your to a vacant property
TENANTS NOT PAYING THEIR RENT
Right now we have a small number of tenants who just can't pay their rent. They are waiting for Jobkeeper or JobSeeker. We are working with them and suggesting other alternative life moving in with family at lease so we can find another tenant tp take their place. While we are working with tenants, tenants need to realise that rent will need to be paid back at some stage.
TENANTS VACATING AT END OF LEASE
We have some tenants using the opportunity to not bring the property back to the same standard as the entry condition report, stating financial duress. of course financial duress needs rot be proven. But this is also a very dangerous approach for tenants to make , as it potentially could impact their ability to rent a property in the future. When property managers doing reference checks one of the things we ask past property manager is would they rent to that tenant again. If a tenant has been challenging and unreasonable, during this time this is going to impact their future ability to be approved on rentals.
QCAT & RTA POSITIONS AS OF 15TH APRIL
Contrary to what you've read on line or watched on TV below is the current position of QCat and RTA
QCAT's site states this….April 15th Current Status of QCAT Residential Tenancy Disputes Residential tenancy disputes are dealt with by QCAT under the Residential Tenancies and Rooming Accommodation Act 2008. In regional Queensland, the Magistrates Court deals with these disputes, acting as QCAT.
QCAT is currently receiving many enquiries about the rights of tenants and landlords in relation to evictions under the Act following recent announcements of a "moratorium" on tenancy eviction proceedings.
In that regard, it has been reported that the National Cabinet agreed to a moratorium on evictions over the next six months for residential tenancies "in financial distress who are unable to meet their commitments due to the impact of the coronavirus" (Prime Minister's Media Statement, 29 March 2020).
Notwithstanding this announcement, no Queensland laws relating to the rights and liabilities of residential landlords and tenants have been repealed or amended at this point in time.Accordingly, QCAT continues to apply the law as it stands, and QCAT's process for tenancy matters has not changed. If and when new laws come into effect, QCAT will immediately apply them as appropriate.
We will notify you of any changes as soon as possible and keep you updated as further information comes to hand.
Sourced from QCAT website 15th April 2020
RTA site states this….April 23rd 
New: Visit the Queensland Government's COVID-19 Residential Rental Hub
New: RTA forms for COVID-19 general tenancy and rooming accommodation tenancy variation agreements.
The Queensland Government met on 22 April and agreed measures which will soon become law. These measures will support sustainable tenancies in the residential rental sector during the COVID-19 pandemic.
You can learn more about the proposed measures by:
• visiting the COVID-19 Residential Rental Hub
• calling our information hotline on 1800 497 161 from 8am to 8pm, Monday to Friday, or from 9am to 5pm, Saturday and Sunday
• texting (SMS) "Hi" to 0480 000 782.
Please note: Due to the ongoing coronavirus (COVID-19) pandemic, the RTA is currently experiencing longer wait times across our customer and support services. We thank you for your patience.
QLD ONLINE HUB FOR FURTHER INFORMATION
Qld government has developed an online hub with all the latest information. You can access this here
CONCLUSION
I will update this as things change. Plus comment below with your thoughts or questions as I too am keen to hear from everyone and assist the Sunshine Coast Community as much as I possible can.
Are you a tenant or landlord in distress ? Email me direct for free assistance byron@assetagents.com.au