I often have tenants call or email me to ask "Do you have to view a property before renting?"
TO RENT A PROPERTY WITHOUT VIEWING IT FIRST YOU WILL NEED TO
Find with a property manager that offers this service
Have a fully completed rental application.
Have the property manager send you some photos taken with their phone.
Have the property manager send you a video taken with their phone.
Look on google maps, and test destinations on how far away it is to walk and drive to various locations.
Look on google satellite to see what is nearby.
Be prepared to sign a disclosure form that you agree to lease the property unseen.
SOME PROPERTY MANAGER INSIST DO YOU HAVE TO VIEW A PROPERTY BEFORE RENTING?
Last week we tenanted a rental property to a women from Melbourne and she has not even viewed the rental  property. Lots of tenants ask me can they apply for a property prior to viewing it or are they able to send someone else instead of them to view it or can they rent a property without seeing it. With Asset Agents the answer is yes you can. The answer for other property managers will vary. Many property managers do not allow tenants to apply if the rental property has not been seen by them. I suppose they do this because processing applications is time consuming and to do this and then have the tenant view and not like the property would be a big waste of the property managers time. What about renting the property without seeing it ? That too can open a whole can of worms and potential problems for the tenants and because of this most property managers do not allow tenants to lease the property unless they have seen it themselves in person.
ASSET AGENTS ALLOWS TENANTS TO RENT A PROPERTY BEFORE VIEWING IT
Asset Agents attitude is totally different. We encourage all our tenants to apply prior to viewing the property. As property managers we want to do two things. Help out tenants get approved as fast as possible and help our landlords find a tenant as fast as possible too. So by doing this it helps speed things up for for everyone involved. The good news for tenants is just because you apply for a property does not mean you have to lease it. The only way to secure a rental is for you to do is sign a lease & pay a deposit. So with us you can apply for as many properties you like and once approved choose if you'd like to process. Of course keep in mind it does take us considerable time so please try and only apply for properties you have serious interest in.
WHAT ARE THE ADVANTAGES OF A TENANT APPLYING BEFORE VIEWING THE PROPERTY?
Mostly it gets you ahead of any other tenant applications. If a rental application comes in we will start to process it & if we are able to approve a tenant quickly there is no need to show further tenants the property.
It takes time to get approved as we need to wait for reference to come back. The sooner you apply and the sooner these come back if you are approve the sooner you can move it.
We like it because if you are approved quickly we can stop showing the property
If you are approved on one property it's likely you will be approved on all properties the agency has for rent in that same price range, so even if you miss out on the first one if you are pre approved you can apply for more that the agency has.
When you finally see it and like and want it. You've already applied, it's already been processed and if approved you can just take it. Compared to other applicants who would then need to apply and go through the approval process.
DISADVANTAGES OF APPLYING FOR A RENTAL PROPERTY BEFORE VIEWING IT
It takes times. You need to fill out lots of details in a form, supply lots of back up information, get it to the property.
You may not like the property once you see it.
CAN YOU RENT A PROPERTY WITHOUT SEEING IT, FIRST?
With Asset Agents, yes you can. With other property managers it will depend on their policy. Most will say no. Because of the potential issues and challenges it can raise. When we have a tenant that would like to lease a property without seeing it is.
At Asset Agents we do is a video with our phone and send it to the tenant. We try and show all the areas and any potential things they might be concerned about.
We take lots of photos with our phone too. We do this in the hope that the tenant can get a very good idea of what the property will be like.
If we see anything we feel maybe of concern, we will photograph or video that too. We want to put the tenant in the picture as much as we possibly can.
Give the tenant access to a floor plan so they can see room sizes.
DANGERS OF RENTING A PROPERTY SIGHT UNSEEN
Photography: Most of our rental properties are professionally photographed so yes there is a chance when you see the photos is not what the property looks like in person. It's the same as a Big Mac. Have you ever stood at the counter and stared at the photo of a Big Mac and when you opened yours it looked nothing like the one in the picture ? That's marketing 101.
Is it near a loud road or factory.
The home could be very close to neighbours
Is access via a sealed road or via a dirt road
Rooms might be smaller than you assumed
It might be much older than you thought
Do you have to view a property before renting? Starts with finding a property manager that will allow this. When you find a rental property of interest the best way to see if the property manager will allow this is by explaining why you are unable do view it. The best way to contact the property manager is
Call
SMS
Email
But I suggest doing all of the above
Once you find a property manager that allows you do rent a property without viewing it. See what else they have for rent.
IF YOU PLAN TO RENT A PROPERTY BEFORE SEEING HERE IS A LIST OF WHAT YOU SHOULD DO
Obtain a floor plan so you can see the layout and room sizes
Get the property manager to take some photo with their phone, as these will be more real
See if the property manager can they do a video with their phone
Have the property manager tell you what they think the condition of the home is.
Find out if the home is near any noise. Like busy road or factory.
Ask the property manager what the neighbours are like
Can you get a 6 months lease instead of 12
What are the terms if you arrive and it's not what you expected. Can you break lease with no fees.
Look on google maps, and test destinations on how far away it is to walk and drive to various locations
Look on google satellite to see what is nearby
Supply the property manager a fully completed rental application. You can read a guide about this here. 
HOW TO APPLY SIGHT UNSEEN
You will need to fill our a rental application. With Asset Agents you do this using 1Form. Which is a free service you create an account on. Other agencies might have a manual form use 1Form or With Asset Agents you will also need to sign a disclosure Form. Which is a simple form that acknowledges you understand what you are getting yourself into.
WHY DO SOME TENANTS NEED TO RENT A PROPERTY WITHOUT SEEING IT
Usually it's when people are moving far distance, like from Sydney to the Sunshine Coast. A tenant may has a job transfer and they simply can't take time off work to fly or drive to the new town to look for a rental property. Tenants sometimes are moving interstate and they need to secure a rental property before they arrive. Often a tenant is moving from overseas and they need to secure a property before they view it.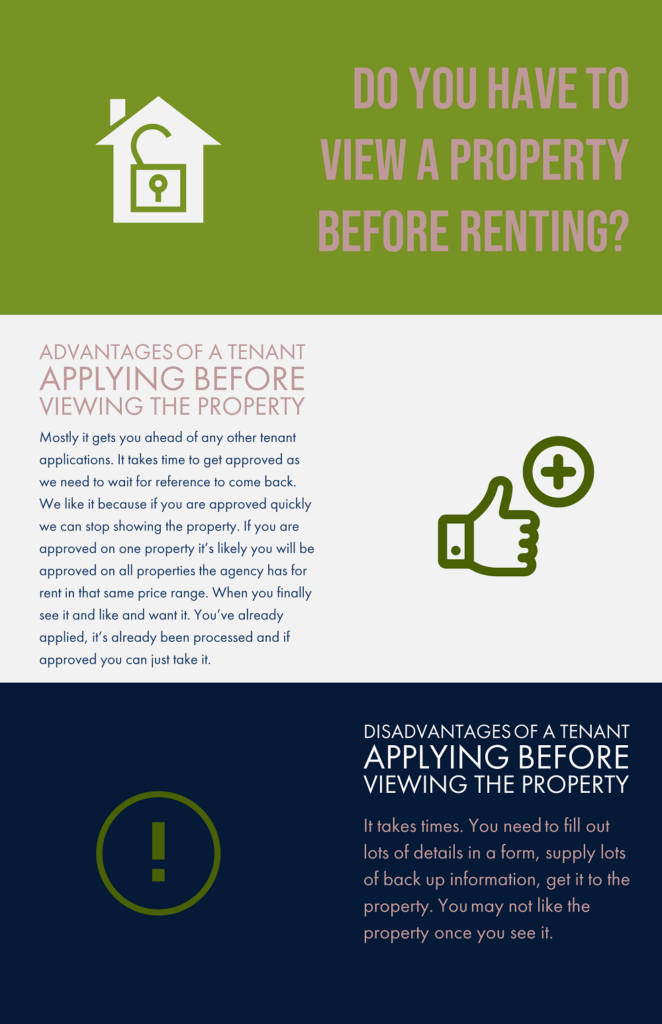 IN CONCLUSION
There are lots of advantages applying for a rental property before you see it. I highly recommend it. But you will need to speak to the property manager advertising the property first to see if they will accept that, if so obtain an application and get started. Ask all property managers if they use 1Form because the advantage is you just need to load all your  information once. At Asset Agents you can apply and lease a property without even seeing it.