WHO IS RESPONSIBLE FOR MOULD IN A RENTAL PROPERTY IN QLD?
Here on the Sunshine Coast Queensland Australia mould cannot be avoided. I even get mould on my shoes if I don't wear them for a week. But who is responsible for mould in a rental property qld ? The tenant or the landlord? Well, it depends.
Recently I had two mould issues. The first was a roof that leaked and caused mould on the ceiling. That is a landlord issue; the roof needs to be fixed. The landlord has to treat the mould and patched the ceiling.
At the same property, there is mould in the bathroom. That is a tenant issue. Because the tenant had not been keeping the exhaust fan clean and not keeping the window open and the room ventilated. Naughty naughty.
WHAT IS MOULD?
Before we look into who is responsible for mould in a rental property here in Qld Australia, what is mould. Mould is a fungus that grows due to moisture. It thrives here on the Sunshine Coast Queensland due to the very high humidity. It's hard to avoid, but every tenant needs to be aware of it. While it can almost grow anywhere, including my shoes, it mainly grows in bathrooms, kitchens, on gutters, under eves, and even on the ceilings of rooms that get little sun or ventilation. Mould can be air-borne or can even spread from one surface to another by contact.
Mould can indeed cause a state of despair at a rental property. This is also a breach of the residential tenancy agreement by the tenant or the landlord. Who is responsible for mould in a rental property in Qld will depend on the circumstances.
SINCE MOULD IS A COMMON ISSUE IN QLD AUSTRALIA, YOU NEED TO BE AWARE OF POTENTIAL HEALTH ISSUES MOULD CAN CAUSE
When it dries, spores are released that can cause illness. It could exacerbate current health issues like respiratory infections, asthma, itchy eyes, or skin irritation. It can also cause structural issues to the investment property.
Mould can also cause odours and damage building materials, contents, and the structure. If left untreated, it can easily grow, in-ceiling cavities, behind walls, in and behind gyprock and under carpets and floors – which can potentially damage the structure.
If you want to find out more and maybe freak yourself out a little, you can read more on this Qld Government site.
Most people will be OK with mould, but some can be affected fairly badly, which is why the article below will help.
WHAT MOULD SMELLS LIKE?
I've smelt enough mouldy homes now that I am now well familiar with the smell of mould. It smells a bit like my shoes. It is not an unpleasant smell, but it is subtle, and most people may not even realise they are, in fact, smelling mould. Its very subtle and often you will see if before you sell it.
Some Sunshine Coast Mould specialist
There are companies on the Sunshine Coast Qld that specialise in treating mould. If you have  mould in any of your investment properties or your home, you can contact any one of the following specialists.
Essential Shield ( We use Essential Shield a fair bit )
Beyond Clean
Absolute Mould
Now, let us learn more about mould and who actually is responsible for moulds. Read more about mould at the RTA site.
It can occasionally be difficult to tell if a surface has mould spores, or if it is just dirty. To test for mould and mildew, put a few drops of bleach on the blackened area. If it clears up after one to two minutes, you have mould. If your area remains dark, you are most likely to have dirt. Phew.
HOW TO IDENTIFY MOULD?
Mould is not always obvious. It can start looking very faintly that you initially don't even notice. But once it starts to build up it will usually turn grey then black.  Mould has a musty odor , but often can't be smelt. Downy mildew mould is very common, which starts with tiny light spots, that often grow into larger colonies & turn darker. These are the black stuff that you see in the grout lines in your shower, on damp walls and outside on the surfaces of decking boards and painted flooring, especially in damp and shaded areas.
WHERE DOES A MOULD COME FROM?
Generally, mould grows in wet and moist areas, which lacks proper ventilation. The areas may include ceilings, walls, wallpapers, carpets, bathroom tiles, and wood and insulation material. There are various types of moulds, and each one has the potential to cause severe health problems.
Now, it is essential to address the mould issue as soon as you notice it. And, to prevent mould formation, the landlord and the tenant have to work together to eradicate the root of the problem.
Here are some common culprits of mould.
Poor ventilation
Leakage from rain through walls or roofs into your house
Rising damp
Boiling, cooking and showering without proper ventilation through open windows and exhaust fans
Indoor liquid spills
Indoor plumbing leaks
Clothes dryers without adequate ventilation
Storing large amounts of water-absorbent materials, for e.g., cardboard boxes and books in a damp space
THE ENTRY CONDITION REPORT
At the beginning of the tenancy, the landlord or property manager must take note of the cleanliness & report if there are any signs of dampness and mould. If there is mould it should be dealt with prior to the tenant moving in by the landlord or property manager.
EXTREMELY SERIOUS CASES
If the property you are renting has a serious mould issues, you can ask to break lease without penalty & if the mould issue can't be resolved quickly then this request should be granted.  But also tenants have the responsibility to look out for mould that arises and immediately report it to the landlord or property manager.
If it's a serious issue where you need to move out while it's being treated and plan to move back in you need to consider
Who will take care of the goods at the property?
How long you will be away while it's being treated
Who will pay for the temporary accommodation
THE LAW ON WHO IS RESPONSIBLE FOR MOULD IN A RENTAL PROPERTY IN QLD
The law on residential tenancy imposes on the owner a legal obligation to provide premises for rent that are suitable for living.
The landlord must provide the rental property in a reasonable state of cleanliness and in a state of reasonable repair.
In Queensland, the landlord must ensure that: the premises are a tenant (art. 185 (2) b) of the law on rental for housing and accommodation of rooms (Qld) of 2008).
It follows that if mould appears, the tenant must advise the owner to treat mould under the residential tenancy agreement because it affects the suitability for housing. And the owner should take steps to treat the mould and its source as soon as possible. In Queensland, a tenant can give notice of immediate termination to the landlord if the premises become totally or partially uninhabitable (other than due to the violation of an agreement) (art. 109 RTA).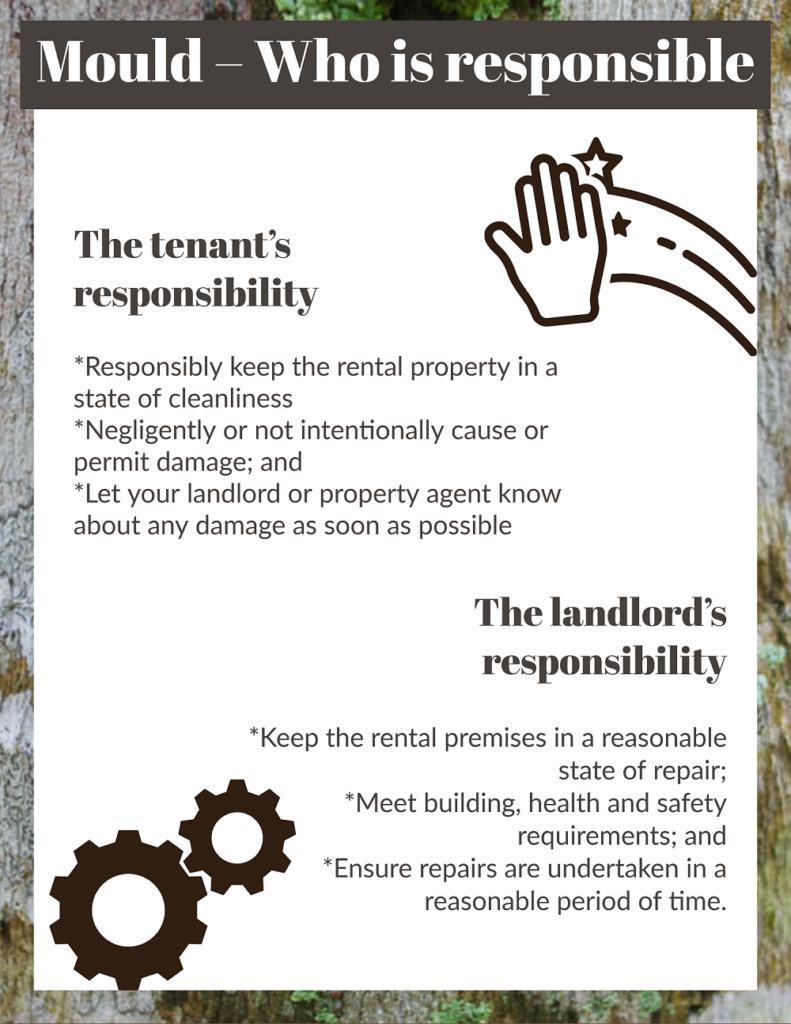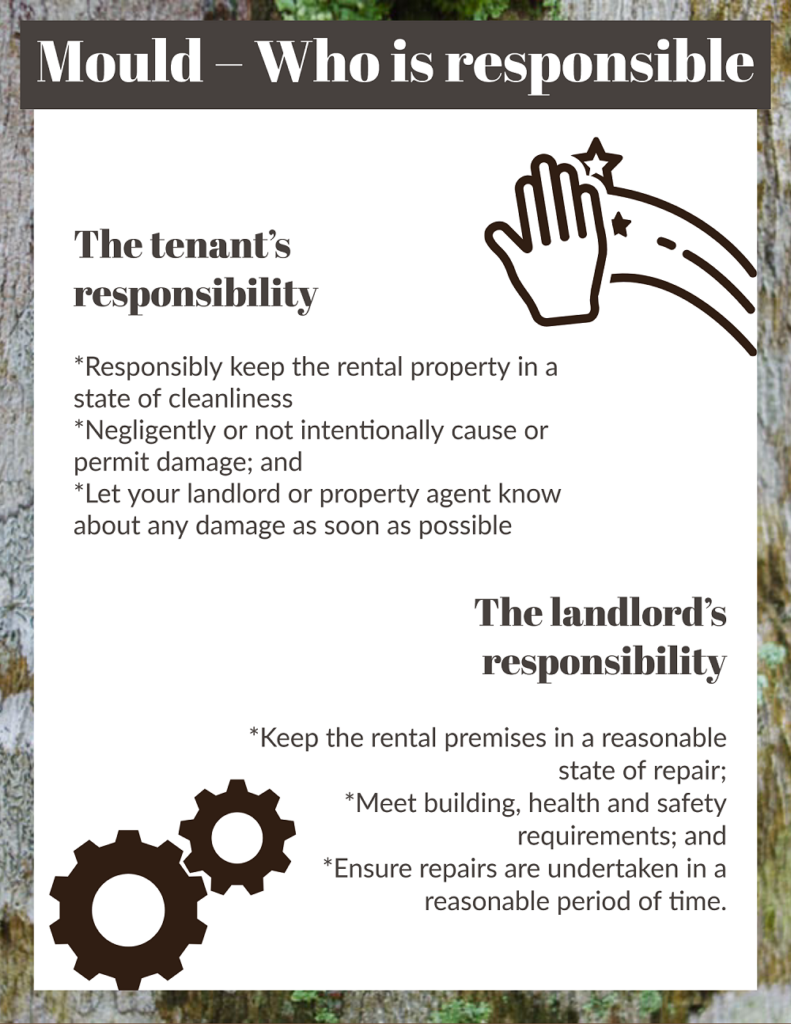 WHO IS RESPONSIBLE FOR MOULD IN A RENTAL PROPERTY QLD – THE TENANT
If you are renting a property on the  Sunshine Coast QLD, you must:
Responsibly keep the rental property in a state of cleanliness
Negligently or not intentionally cause or permit damage; and
Let your landlord or property agent know about any damage as soon as possible
As a tenant, you may be in breach of your rental agreement if mould develops because of you. Following may be the reasons for mould formation:
If you have got the carpet wet and failed to treat it or let it dry out properly;
If you didn't aerate the bathroom by using exhaust fans or opening windows;
If you have left pools of water on the tiles outside the shower and let scum building up; or
If you have dried clothes indoors and didn't air the room afterward.
Has mould damaged your premises or personal belongings? Keep in mind that even if your landlord may be at fault for causing the damage, you must make all reasonable efforts to ensure that you do not suffer any loss.
To understand mould and if you have it in the air at your home and where it's come from you can engage a company that assesses mould contamination. These reports can be expensive, but you need to isolate the cause of the mould and find out how safe your home is to live, they can be a good idea. You can access a sunshine coast company that can do these for you here.
If you wish to make a claim for items that you have lost or had to clean because of the mould, make a detailed list and be sure to include all invoices and receipts. You can read more about problem areas a tenant needs to look for in this article here.
WHO IS RESPONSIBLE FOR MOULD IN A RENTAL PROPERTY QLD – THE LANDLORD
Under tenancy law, property owners acting as the landlord must:
Keep the rental premises in a reasonable state of repair;
Meet building, health and safety requirements; and
Ensure repairs are undertaken in a reasonable period of time.
As a landlord, you could be facing a breach of the rental agreement if mould develops as a result of not attending to maintenance matters reported by the tenant, such as:
Damp walls caused by plumbing issues;
A broken exhaust fan or wall-mounted heating unit; or
A leaky roof, broken pipe, or flood damage.
KEEPING MOULD OUT
The key to keeping your rental property free from mould is common sense. If you are a tenant, keep your house reasonably clean and stay in touch with your landlord or property manager. Let them know in writing as soon as you notice mould in your home that cannot be easily fixed.
If your valuables are affected by mould, clean them quickly, and put them in a place where they will not be damaged. For example, you should remove your clothes from a wardrobe where mould is growing.
Tenants should keep windows open, fans on, and exhaust fans clean.
HOW TO TREAT MOULD
If it's a small issue caused by the tenant, you can buy mould treatment products from Bunnings. Wiping mould with water or spray and wipe does not kill the spurs which is why you need mould specific treatment.
If it's not an issue caused by the tenant, the landlord may need to engage a pro like one of these.
If mould is a health hazard, this can be considered urgent, as mould makes the property dangerous. Tenants must support their request for urgent repairs by providing proof that the mould is dangerous and/or causes a health problem. Examples include:
An assessment report by an environmental health professional or occupational hygienist. Some local councils are also able to provide these assessments
A medical report, if the tenant has an existing health issue such as asthma.
IF BOTH THE PARTIES ARE NOT AGREEING
If a tenant and landlord cannot agree on who is responsible for mould and who should treat this serious problem, either party can apply for a determination from VCAT.
CONCLUSION
As a tenant you need to keep an eye out for mould on daily basis. If you see any mould you need to ventilate and remove it wth specific chemicals. If you have done this and the mould returns contact your landlord or property manager as it maybe a bigger issue.
If you are have any queries related to the mould affecting your rental property, you can seek help from us at Asset Agents. We can give you free help and advice on how to handle these situations.
Mould is quite common and can happen at any time. However, if ignored, it can lead to serious health issues.
There is certainly some grey area around who is responsible for mould but reach out to us here at Asset Agents if you ever have any questions. It starts with the tenant talking responsibility first and going from there.
YOU MAY ALSO FIND THESE OTHER ARTICLES I HAVE WRITTEN HELPFUL TOO
Home Spring Cleans for Tenants
Tips to Prepare for a Rental Routine Inspection