BUY, DON'T SELL
When I left Sydney in 2005 for the Sunshine Coast Qld, my mum gave me one bit of advice. She said, "Whatever you do, don't sell your Sydney property. So we didn't, we hung onto it. At the time, the Sydney market was not doing too much. At that time, we wanted to be doing a few more things in our new hometown on the Sunshine Coast, so after a while, we sold that property in Sydney for around $440,000. My mum was right. If we had kept it, it would now be worth approximately $1,000,000. I learned from my mistake and want to share real estate investing tips I've learned as a real estate agent.
When you talk to any professional real estate investor, that's truly wealthy, most say the same thing. Once you've secured an investment property, don't sell. Instead, look long term and use the equity you gain through capital growth as a deposit to buy another.
During the global financial crisis, the real estate market on the Sunshine Coast took a real hit, and for around 3 years, the market did nothing. People panicked and sold for losses. But once that was over, the market started to move again, and everyone who held onto their properties is finally benefiting from that. So buy, don't sell.
BUY BLUE-CHIP
You can't go too wrong buying anywhere on the Sunshine Coast. Over the next few years, the Sunshine Coast Qld has some very exciting, significant things happening; you can read more about that here. Just like the stock market, you are better off long term buying in blue-chip areas. It's worth paying market value for a better property in a top suburb than it is to get a lower price for a property no-one else wants. Very cheap properties also attract very reasonable tenants. There are always better-performing suburbs that retain their value from decade to decade. When you do your research, you'll find though that the entire sunshine coast is a relatively stable and consistent area to invest.
You can consider buying near the train line, buying near the beach, or buying near large infrastructures like hospitals, shopping centres, and the airport.
IT'S TIME IN THE MARKET, NOT TIMING THE MARKET THAT COUNTS
It's impossible to time the market. By the time we notice the market has turned and is going up, we would have already seen the bottom. So if you are keen to buy now, do it and get on with it. Even if you buy now and the market goes down for a little longer, over time, it will correct, and you'll benefit from the capital growth. Keep in mind real estate is a long term. Don't try to be a millionaire overnight, time, and capital growth is the most prominent, most natural ways to build wealth in real estate. The best way to remember this one, from my list of tips for real estate investing in Australia, is "set & forget." The real secret to wealth is compounding your investments. Aim for consistency.
GO AGAINST THE GRAIN
So many people have an opinion. It's incredible how many people have ideas on how to start investing in real estate that has never even done it. If you are thinking about investing in real estate in Australia, just get started. I mentioned above that it's not about timing the market. If the market is falling and people are selling, it's probably an excellent time for you to buy. Right now is the perfect time to buy on the Sunshine Coast because the market has slightly slowed. Less is on the market, they are on the market for longer & I am sure if you look around, you'll be able to secure a property for a price you're happy with. Consider doing the opposite of what everyone else is doing. Buy when everyone sells; sell when they buy. Please don't listen to negative people telling you that you're doing it wrong.
DON'T FEAR THE GEAR
Recently we had the federal election, where if Labour had been elected negative gearing may have been at risk. Luckily, that didn't happen. If you have a high-income negative gearing, an investment property is a fabulous way to reduce your tax and build wealth at the same time. I'm a real estate agent, not an accountant, so don't listen to me get advice from your accountant. You can also read more about negative gearing in the ATO site here.
BE PASSIONATE ABOUT YOUR INVESTMENTS
Get excited. One of our residential real estate investing tips is to have fun & be enthusiastic about this exciting endeavour. Believe in your investments. It will feed your drive and keep you focused over the coming years with what's possible. Part of this is looking at small improvements to the property, not only to increase the property's overall value and monthly rental value but also to attract better quality tenants. Consider new paint, new carpet, improvement to the gardens, or adding a shed or carport.
BE DRIVEN
Drive enables you to take risks that very few others would make and get you to where you want to be faster. Continuously focus on the results of your investments. Create a spreadsheet and estimate compounding capital growth over the next 5 or 10 years. Then based on that estimate when you may have created enough equity to make your next purchase. Capital growth is something that can sneak up on you with real estate. Possibly the first year you may experience little growth, but that may dramatically catch up to you in the following few years.
I know people who have bought their first investment and to their surprise within less than two years have been in a position to buy their second.
KEEP REFINANCING
As a part of Property investment tips, here is a case. Just this week, I saved around $7,000 in interest PA through refinancing. But here's the thing, I didn't even change banks. I asked them if they could do any better. It seemed they were prepared to make only minimal adjustments, so we pushed them. It's fantastic when they find out they may lose a client with lots of loans what they can suddenly do. About an hour ago, I got an email from my bank confirming the new rates have not been activated yet.
You need to see what your current interest is, what else is available from other banks, then speak to your bank again and talk to the loan discharge department. This will get them moving. Even if they make a small immediate adjustment, it will allow you to do a bit more shopping around.
STICK TO YOUR STRATEGY
Work out what works for you. Once you develop a strategy, stick to it. You need to stick to it long term. Its time and compounding capital gains where big money is. Over the last few years the Sydney and Melbourne markets have been falling, but previous month they grew. Plus over the next few months, some significant positive changes are happening with lending that will give buyers access to more money & the word is interest rates will slightly fall. People that held property through this tough time will start to benefit.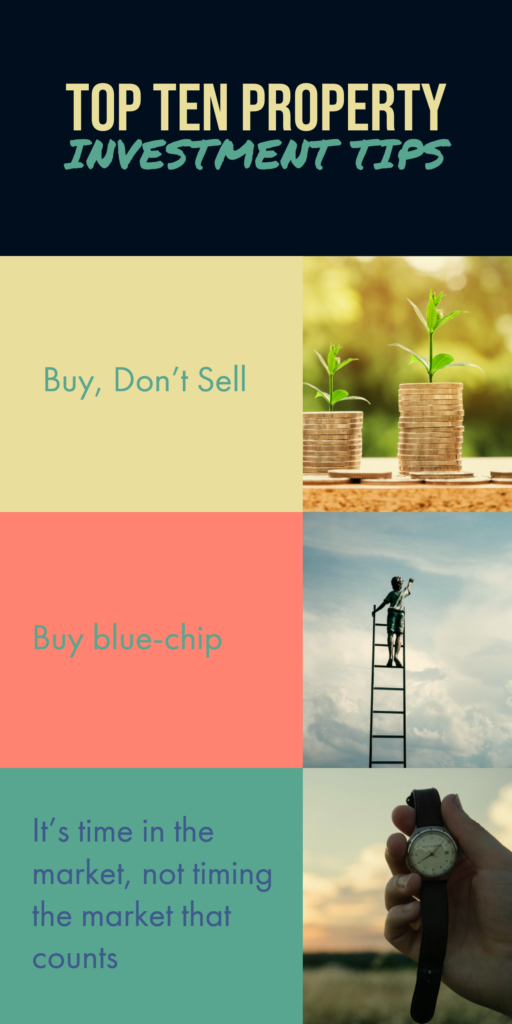 DON'T RETIRE ON PROPERTY RENTS
Many people think you've got to pay the property off as quickly as possible and retire on rental income. But it's usually the capital growth that makes real wealth. If you've generated $200k in equity, through capital growth, you can use that as funding to buy another investment, then repeat until you have a portfolio of properties all benefiting from long term capital gains. The last of our tips on real estate investing is to focus on equity and capital growth, and not just on paying off all of your property.
BONUS TIP
Always consult the professional experts in their field to assist and guide you with advice. Speak to a qualified accountant to endure. You've got things structured correctly. I once rented a property I had lived in. It had a small loan, and I was earning $800 PW rental income. My wife and I thought this was fantastic until we did our tax to find that most of that $800 weekly income was seen as an additional income on top of our regular income. We ended up with a large income tax bill. If we had discussed this with our accountant in the first place, we would have done things differently. This one is a bonus tip as real estate investing tips for beginners.
A large part of property investing is tax minimisation which is also why its crucial you have a tax depreciation report done on the property too. You can read more about those here.