Home loan interest rates are now at an all time low. Last year the government reviewed how banks would lend Money. What they found was scathing . So banks dramatically tightened up who they would lend money too. The real estate industry was sent to a grinding halt as a result. Many people could no longer get loans, which greatly affected the Sunshine Coast housing market. In fact, I had to sell many properties 4 times, because the first 3 buyers weren't approved for finance. As an agent, I saw numbers from open homes fall from 10 buyer groups to between zero and 3. Basically, we lost around 70% of our buyers. 
Things are starting to change. Interest rates have dropped to a record low. You can now get a home loan with under 3% interest. Yes, under 3%. 
In Oct 2019 the government reduced rates even further , plus banks are finally loosening up their lending criterial.
HOME LOAN INTEREST RATES LEADING TO BIG SAVINGS
So how did I save $7,000 a year in interest in 10 minutes? I had spoken to my bank and asked if we could discuss lower home loan interest rates. I do this several times a year. Often they will come back with a small .15% adjustment, or sometimes a simple no. I wanted a better outcome.
So this time I did something different. Kath and I sat down with a mortgage broker. They had a look at our situation and, frankly, was shocked at the rates we were paying. So, they rang our bank, explained who they were, and that if they can't make some dramatic changes, we'd need to take our business elsewhere. They completed everything in less than ten minutes. 24 hours later, we had new mortgage interest rates that were active in 48 hours. We saved a total of $7,000 per year in interest. That's like a nice holiday or a very large Christmas present, every single year. 
Since I posted this they has done a second review & adjusted things further so we are now saving even more.
So, you should do the same. At the very minimum, speak with your bank today and tell them you need to discuss lower mortgage interest rates. To increase your chances, I highly recommend you speak with Paul. Sure, you can speak to your own broker or another broker. I don't get anything from promoting Paul, besides helping you. I have found Paul really cares and really over-services his clients.  Call Paul or text Paul on 0414 752 235
WHY YOU CAN NOW BORROW MORE THAN YOU COULD IN 2018
There is more good news than interest rates under 3%. Up until very recently, banks had to do a stress test on borrowers' serviceability if interest rates were around 7.5%. If they were unable to service the loan at 7.5%, they would decline the loan. But now, they have relaxed these regulations. For example, a couple earning around $100,000 a year combined will be able to borrow around an extra $60,000. The new serviceability buffer is now around just 2.5% above current rates. 
This really changes things. Buyers who previously could only borrow $520,000 could now possibly borrow $580,000, which is a totally different home. 
WHAT'S THE BIGGEST MISTAKE BUYERS MAKE IN THIS MARKET?
This is going to sound so basic. But the biggest mistake people are making is not getting a proper pre-approval letter from a bank through a mortgage broker. I'm still surprised how many buyers tell me their broker said getting financing wouldn't be a problem, only to not get financing approved. The only way for you to know for sure is to get a pre-approval from a bank through a broker. These are valid for about 3 months. This is the best way to get an accurate idea of current home loan interest rates. Many brokers aren't prepared to do this, as they don't get paid for it. So, find a broker that will. Like Julie.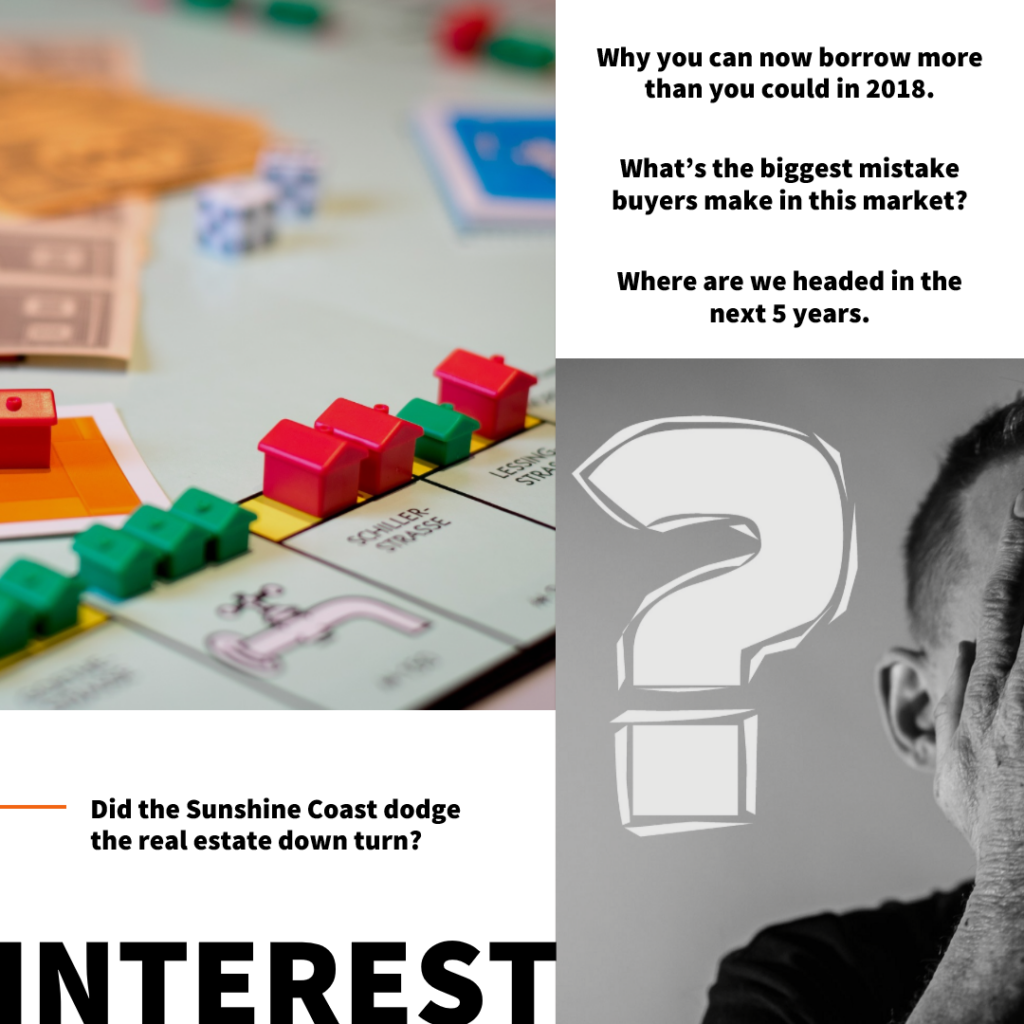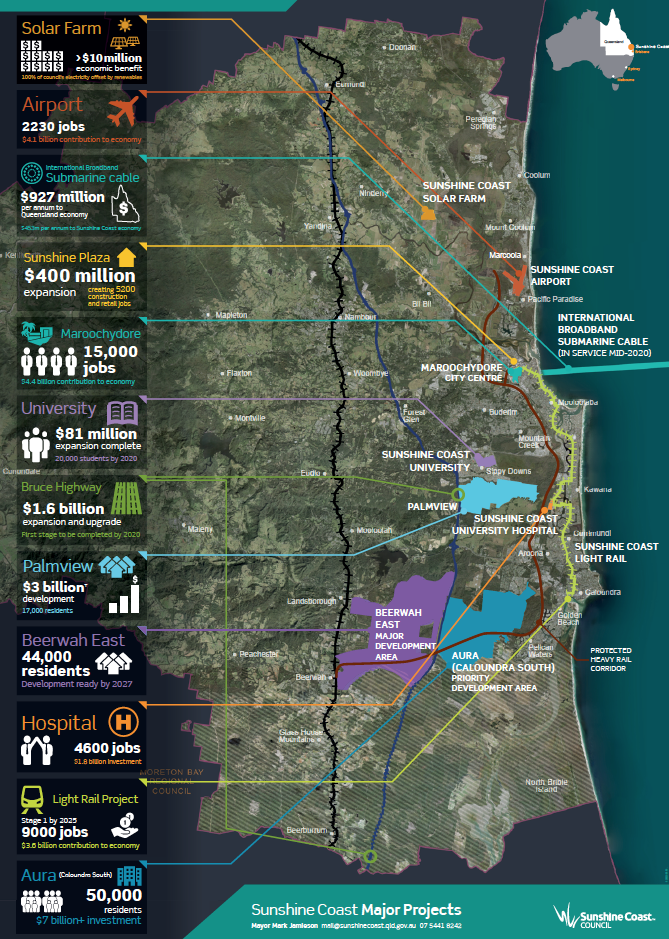 If you make an offer on a property and supply a pre-approval letter with that offer, there is a much higher chance the bank will accept your offer. The same is true if your offer is with 14 days finance and not 21 days. A proper pre-approved finance letter from a bank will make all of this so much easier. If you have a proper pre-approval letter from a bank, this will all be much easier.

Banks are now looking at 4 months of bank statements and analysing borrowers' spending habits, like if they buy alcohol often, or eat out regularly, etc. So, you need 4 months of very clean spending & saving. 
WHERE ARE WE HEADED IN THE NEXT 5 YEARS?
Check out this Sunshine Coast Council diagram to give you an idea.
No crystal balls here. I'm just a real estate agent, so I don't have any real expectations of where the real estate market will go. But what I do know is that over the coming years, the Sunshine Coast has some very large projects that the world will notice. The international airport, the Big Pineapple being developed, the high speed cable coming from Asia straight into the new Maroochydore CBD. You can read more about it in my previous blog here.
DID THE SUNSHINE COAST DODGE THE REAL ESTATE DOWNTURN?
About 12 months ago on the Sunshine Coast, buyers left the market. Properties became much harder to sell, prices slightly softened, and it became more of a buyers market. You can see in the graphs below how many of the suburbs on the Sunshine Coast's median house prices were affected. Mostly, the market was impacted through winter then picked up again mid spring, but some didn't. 
While the Sunshine Coast housing market still did well, it did well despite having markedly less buyers, which meant properties took longer to sell and agents had to work harder to maximise their clients' sale price. 
As a whole over the last 12 months, the Sunshine Coast Region's median house price grew around 6%, which is an outstanding result considering how hard the downturn hit Syndey and Melbourne. 
Drilling down to individual suburbs, not every suburb fared so well. For example, in Calounda the correction was around ~5%, Peregian Springs had a very small increase of around 1%. But other suburbs like Buderim performed outstandingly, with a growth of around 8%. This is with 6% growth in suburbs like Palmwoods, Bli Bli, and Nambour.

Below there is a small selection of suburbs on the Sunshine Coast with the last 12 months of median growth and the number of houses sold, which gives a snapshot of the Sunshine Coast housing market. The graphs really tell the story where you can see the flow of prices. For example, Sippy Downs' pricing tracked downwards from March to Nov in 2018 before recovering.
The Sunshine Coast region, as a whole, had a median house growth of around 6%.
Disclaimer: I'm just a local licensed real estate agent. These figures were obtained through RP data. You need to do your own research and seek individual professional advice.
Buderim around 8%, with 615 Houses selling in the last 12 months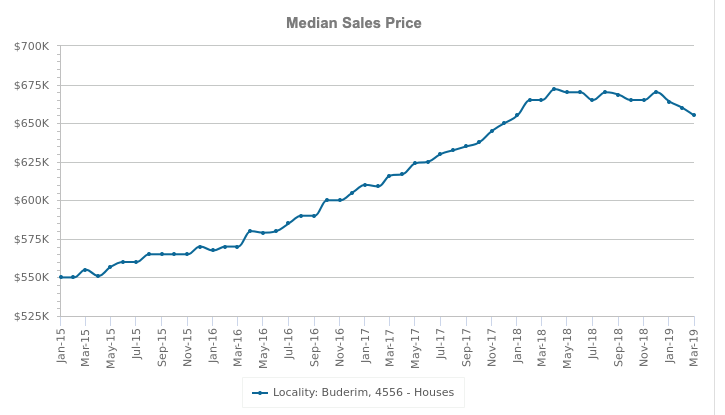 Bli Bli around 5.96%, with 168 Houses selling in the last 12 months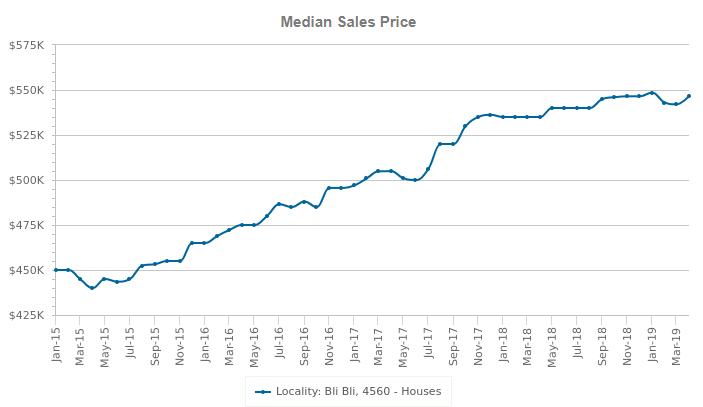 Maroochydore 8.77%, with 199 Houses selling in the last 12 months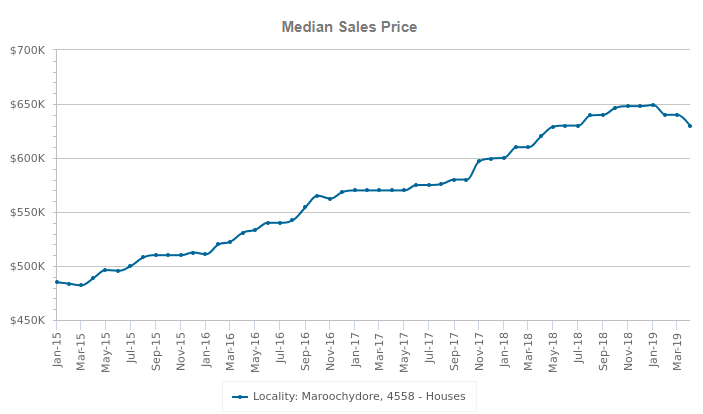 Sippy Down 3.49%, with 190 Houses selling in the last 12 months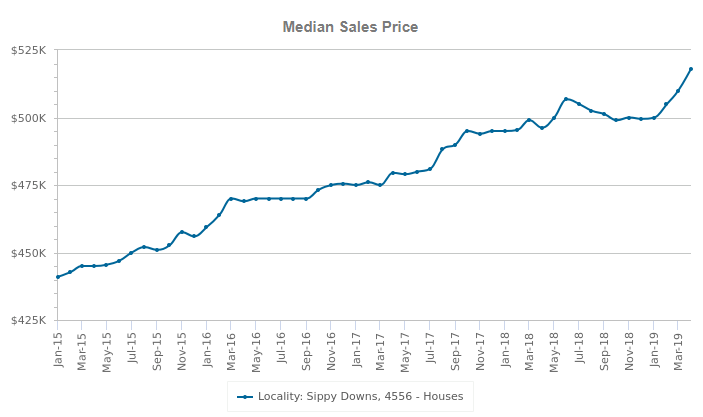 Twin Waters 7.74%, with 85 Houses selling in the last 12 months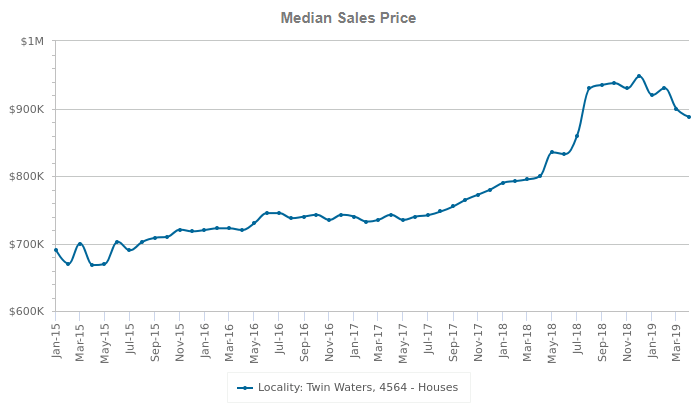 Peregian Springs around 0.81%, with 249 Houses selling in the last 12 months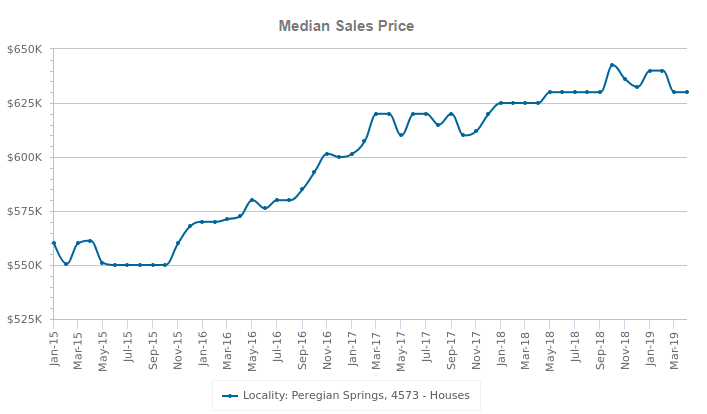 Caloundra  -3.22%, with 40 Houses selling in the last 12 months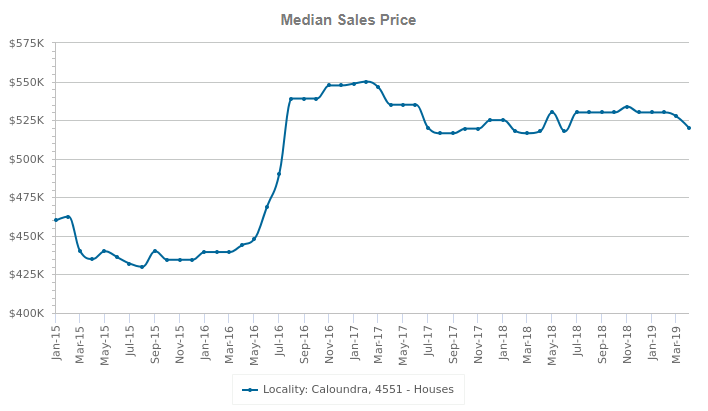 Palmwoods around 5.94%, with 127 Houses selling in the last 12 months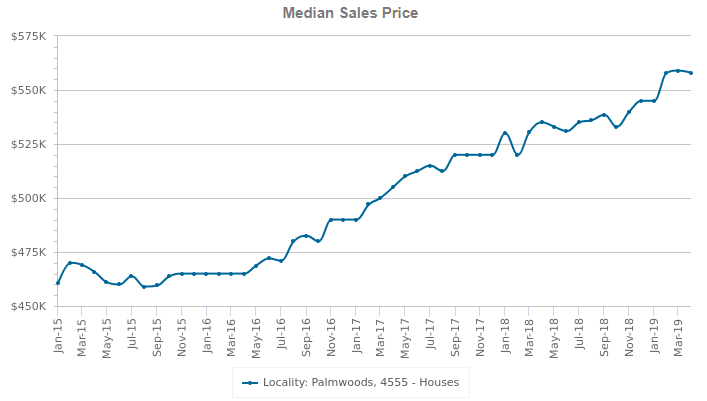 Nambour around 5.56%, with 250 Houses selling in the last 12 months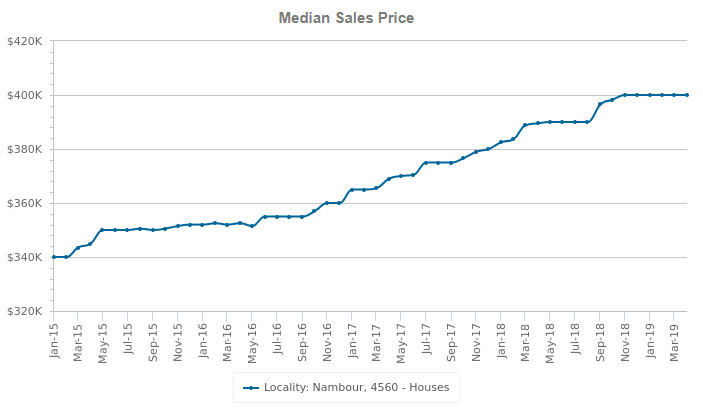 Wurtulla 9.14%, with 122 Houses selling in the last 12 months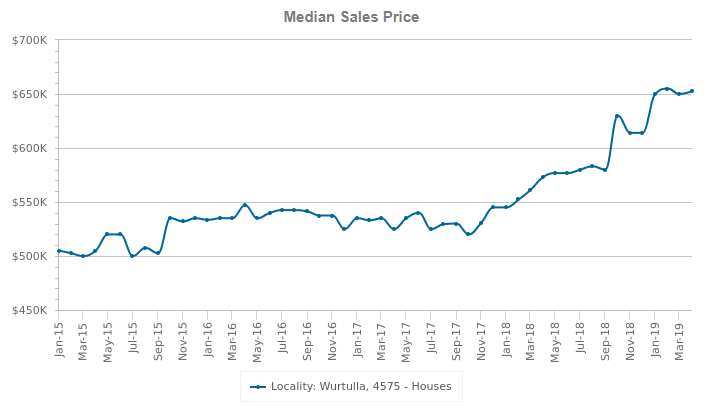 Birtinya 9.4%, with 58 Houses selling in the last 12 months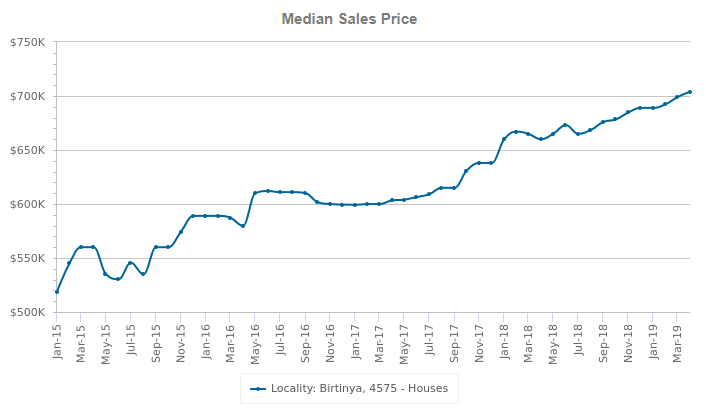 Buddina 11.84%, with 66 Houses selling in the last 12 months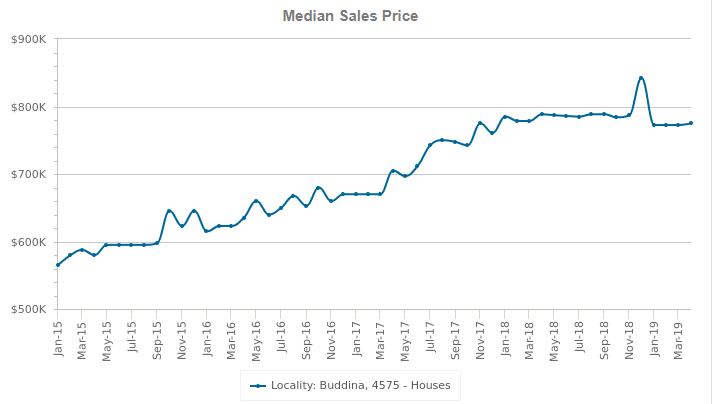 Coolum 14.29%, with 152 Houses selling in the last 12 months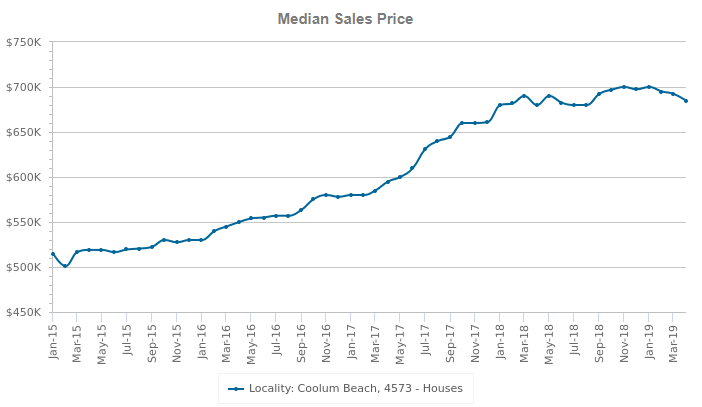 Noosa Heads 12.86%, with 138 Houses selling in the last 12 months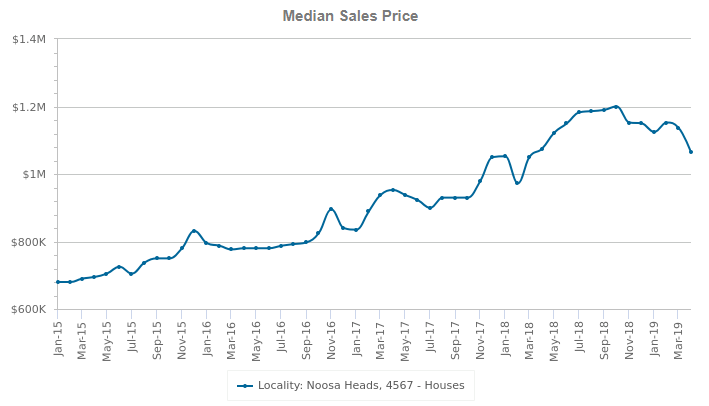 Cooroy 13.33%, with 121 Houses selling in the last 12 months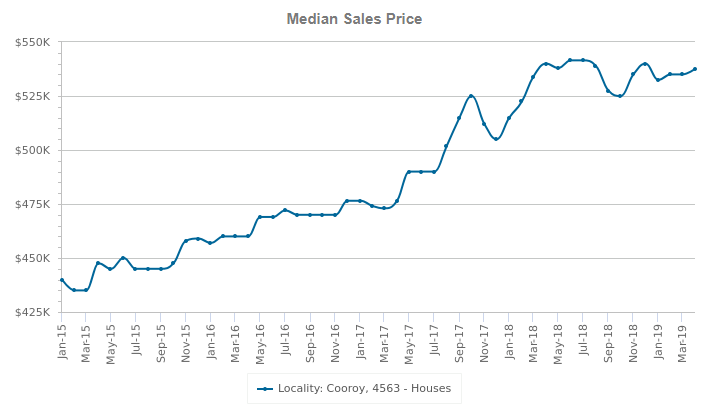 Montville 19.92%, with 26  Houses selling in the last 12 months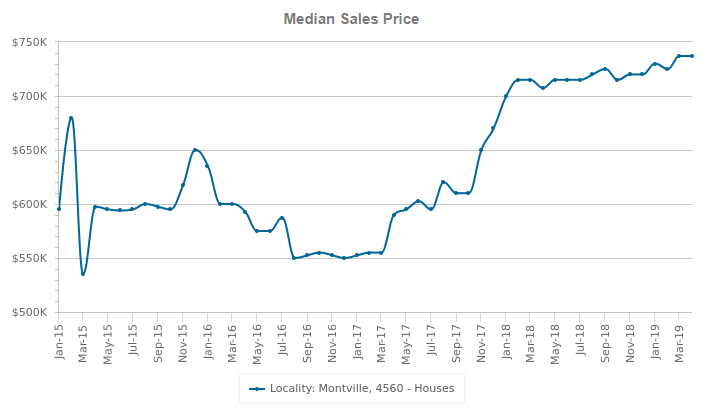 Disclaimer: I'm just a local licensed real estate agent. These figures have been obtained through RP data. You need to do your own research and seek individual professional advice
Byron Miller is a local real estate agent on the Sunshine Coast. In 2018 he sold 49 properties & was ranked in the top 6% of real estate agents in Australia