Recently I saw an article that outlined the 3 things property managers do for landlords:
Place tenants
Collect rent
Maintenance
THE WORKS OF PROPERTY MANAGERS FOR LANDLORDS – THE ULTIMATE GUIDE
While that's kind of technically correct, this list seems so simple it's no wonder landlords can think property manager charge too much. As a property manager, I feel the opposite. We really should charge more. You can read a bit more about the property manager's fees here.
The 3 things property manager do above is just a summary. It sounds so simple and easy. Doesn't it. In fact, if that was the case, why do investors even need property managers.
The truth is we, as property manager QLD do a load more than that. This list doesn't even mention protecting the landlord's investment and helping the landlord build wealth. After all, isn't that why you bought an investment property in the first place?
This is the ultimate guide to what property managers do, and I hope it blows your mind.
Let me start with a few examples. Recently we took over management that was a new build. The owner lives out of the area, so I bought timers and soaker hoses to ensure the fresh grass receives water daily. I would arrive in the morning, put the timer on for 2 hours then return in the afternoon to repeat. The grass now looks excellent.
With the same property, I am now sorting out NBN, which was never installed by the developer. The property has 2 dwellings, the developer paid for one connection, so I am currently sorting out the second, which might take up to 6 months.
Another one we took over, I'm co originating to get the property up to scratch; today, I am meeting appliances online at 7:30 am so they can install a dishwasher.
WHAT DOES A PROPERTY MANAGER DO WITH THE PROPERTIES TO BE TENANTED?
I know what you're thinking. The tenants are ready to go. Let's just whack a tenant in. Which you can do. It just depends on what type of tenant you want.
We just took over a property where the owners live out of the area. The house was looking a bit tired, so we organised quotes for a home wash, bond clean, tap repair, soap dish repair, railing repairs, gas certificate, smoke alarm compliance. I also attended the property to oversee the delivery of a new dishwasher.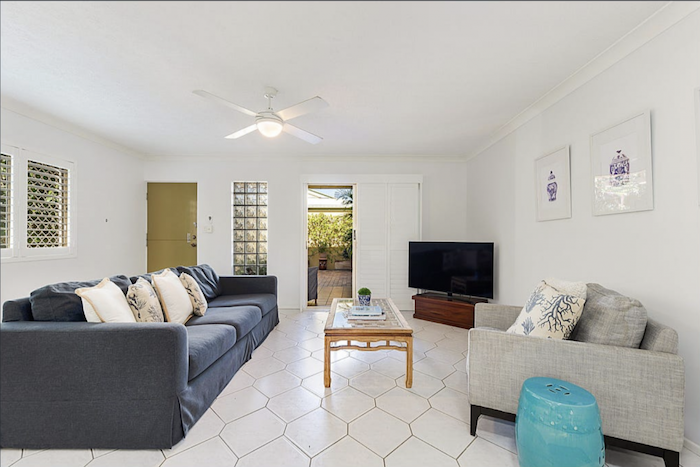 That's just one example. Yes, some properties are ready to go, but others need things done to help maximise the rental return and protect the landlords' investment.
RECOMMENDATIONS TO MAXIMISE RETURNS
I've mentioned this before. Investment property ownership is all about building wealth. Right? Same reason people buy shares. So it makes sense every investor should be maximising their returns.
BUT HOW CAN YOU?
Well, let's start with some basics. Here on the Sunshine Coast Australia, it gets warm. So tenants today expect some luxuries. Like fans in every room, fly screens on all windows, at least one large air conditioner, but preferably more, dishwasher because our lives are very busy. Now we are also seeing big interest from tenants for properties with solar to help tenants reduce costs.
On top of all, that fresh carpet and a new coat of paint create a new car smell, which will also attract more tenants prepared to pay more. How about storage? I put a large shed at the back of one of my investments as sheds are now in demand.
Wanna get super carried away? New quality oven, and cooktop. I recommend quality like Bosch as they appear to be better quality and last longer. Tenants love these and will pay more rent to use them.
Can your property accommodate dual living for a young adult or elderly parents? This dramatically boosts rent.
On the other side of things, many people don't think of is a tax depreciation report. The right ones last 40 years and will increase the amount of tax you can claim yearly. Every investor needs one of these. Making your property water-wise is also smart as it allows you to then on charge the excess water.
Even building in garden maintenance will help. You can charge extra rent, but your gardens will always look good and adds immense value to your property.
COMPLIANCE
If you have a pool or a spa, you need a pool safety certificate. These last 2 years, so if you had one, it may be out of date. If you have gas, you need a gas certificate. Smoke alarms and blind cords all need to be compliant too. Then once all this is sorted out, it needs to be documented and tracked. So when a new lease is signed, or every 12 months, the smoke alarms need to be checked and cleaned again and tracked.
SAFELY ISSUES
Loose railings, damage boards on decks, broken windows, gas cooktops that won't light all need to be fixed to ensure the property is safe to occupy.
FINDING A TENANT
Finding a tenant is fairly easy. Finding a good tenant is a little harder. Done right, this is a significantly time-consuming process. Recently we had 18 applicants apply for a property, and when we drilled down on them, all only 3 where suitable. But then again, we are relatively particular on who we place into our properties as property manager for landlords.
We start with excellent photography and a floor plan. We then email this out to our tenant database, which at the time of writing was around 1,600 tenants. When we launch it onto https://www.realestate.com.au/rent/, we invest in larger ad sizes, so more tenants see the property. We load it onto FaceBook Market place. We like to hold 3 open homes a week, 2 through the week, and 1 on Saturdays. We also allow tenants to apply online before seeing the property using 1Form.
Tenants enquire about via Email, Facebook, Messenger, Phone calls & SMS. We have multiple people to answer online inquiries.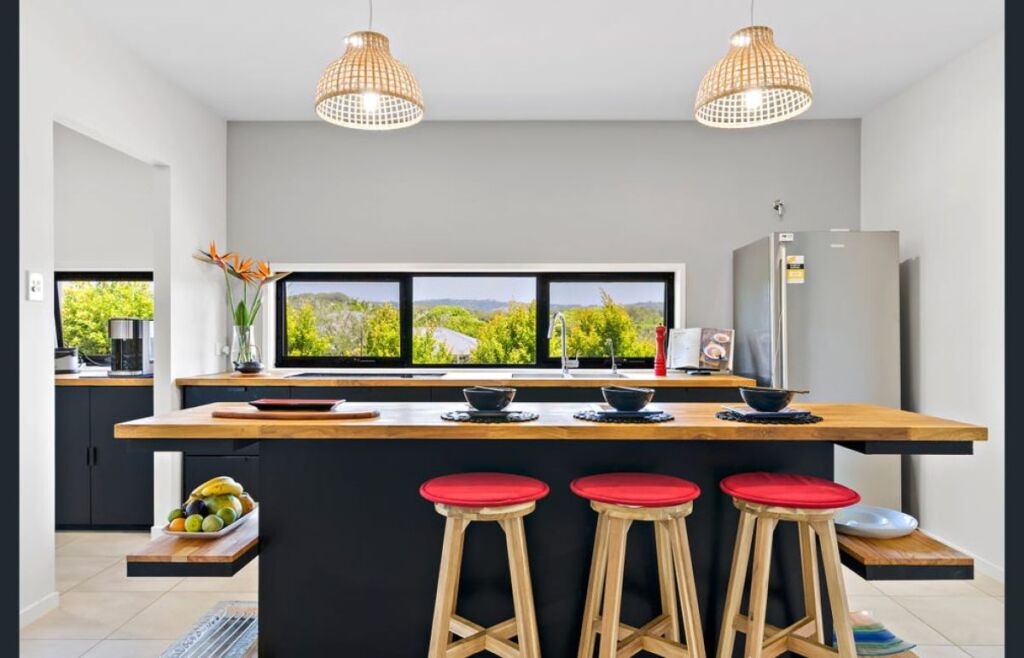 PLACING A TENANT
When a tenant applies, we have a detailed application selection process that is probably a bit more comprehensive than other agencies. We then present the tenant's details to the owner, and the owner says yes or no. Then the tenant needs to do 2 things to take the property off the market. They need to sign the lease and pay 2 weeks rent. Only then do we mark the property as leased.
ENTRY CONDITION REPORT
When a new tenant moves in, we do an entry condition report. Takes around 2 hours, and we carefully go from room to room, taking photos and making notes of the condition of the property. This includes outside too. The tenant then receives this report, where they have 3 days to add anything we may have missed and returned the report to us. This report is the foundation of how we expect them to keep the property and return it in the same condition, less fair wear and tear when they move out.
EXIT CONDITION REPORT
When a tenant leaves. We spend around 2 hours, doing an exit report. We move through the property room by room, taking photos and notes. It's time-consuming to do this right. It's all done through our online software portal. We then compare this report to the entry condition report that was done when the tenant moved in. If there are "issues", either the tenant needs to fix them or the costs to repair them needs to be deducted from the bond refund.
BOND LODGEMENT
In Qld Australia, tenants are required to pay 4 weeks rent as bond, which is lodged with the RTA. This now needs to be done through their online portal.
BOND REFUNDS
When a tenant vacates, they want their bond back. But we need to agree to it. To get their bond back in full, they need to have their rent paid up to date, all invoiced paid, and the property returned in the same condition when they moved in subject to wear and tear. Only then do they get all their bond back.
BOND TOP UP
When rent increases. The bond the RTA is holding is now too low. Often by small amounts like $40. So the tenant needs to now top their bond up by paying an additional amount to the RTA. We monitor and chase this has happened.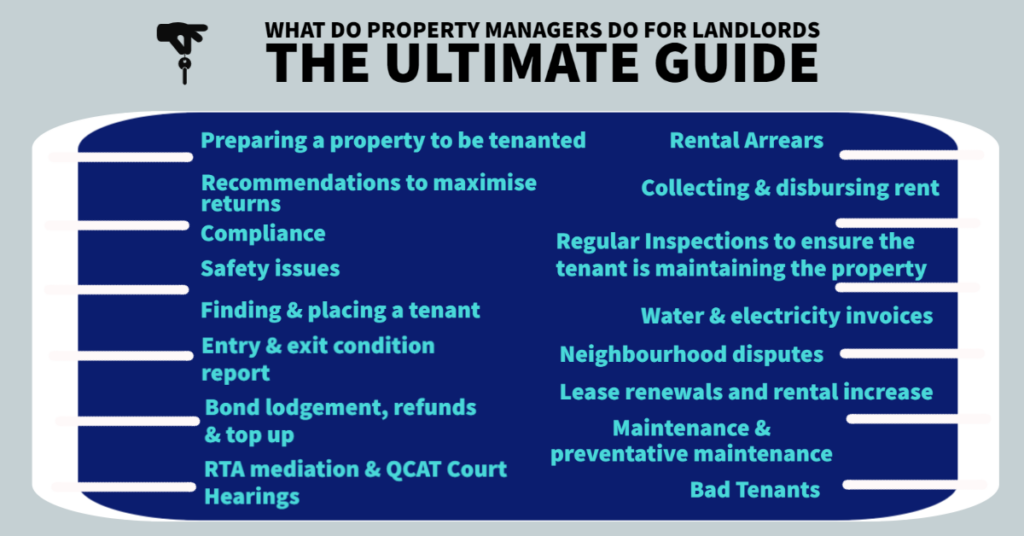 RTA MEDIATION
If there is ever a dispute with the tenant and us or the tenant and the landlord. Usually, the first thing is to organise phone mediation session with the RTA. The RTA Qld is fantastic. I used to have to call them multiple times a day. Ha. Luckily for us, we rarely need to get the RTA involved with mediation, but on the rare occasion, they are very helpful. If a resolution can't be agreed upon, then the next step is to lodge a claim with the Qld Courts.
QCAT COURT HEARINGS
When we make a QCAT claim, we need to gather a considerable amount of information. It takes hours & hours. Then we need to supply them with about 4 copies of everything and pay a fee at the court. For non urgent matters, the court will take about 2 weeks to write to us with a hearing date which can be months away, that we need to attend. The court decision on the issue is final, and if the agency and landlord win, the tenant is given instructions they need to follow.
COLLECTING AND DISBURSING RENT
Yes, we collect rent. Straight into our trust account. Every single day our trust account reconciliation happens & tenants receive a rental receipt. Every single day. Then the income needs to be disbursed to the landlords, after fees, and any other costs like maintenance. Most agencies do this once or twice a month. We do it weekly every Friday. There's a lot of property manager responsibilities, and it's a lot of work for us, but we feel that the money is no good to our landlords in our trust account, so we should make an effort to get it to our landlords sooner. So we do this weekly.
RENTAL ARREARS
Some people think tenants need always to pay rent in advance. This is not correct. They need to pay their rent up to date. If a tenant gets behind, we chase them on days 3, 5, and 7. Then on day 8, we send them an official breach notice. We legally can't breach them sooner. We have a no-tolerance policy, and even if a tenant is paying on day 9, a breach still goes out on day 8.
Because of our no-tolerance policy, we have few tenants that have arrears.
REGULAR INSPECTIONS TO ENSURE THE TENANT IS MAINTAINING THE PROPERTY
Here in Qld Australia, we can legally do 4 routine inspections a year. No more. We do the first one around 6 weeks after the tenant moves in. What this means is weekly; we are doing routine inspections somewhere. These are a quick visit; they take about 15 minutes. We take photos of every room and write basic notes. It is just a quick check. If we see the tenant does not care for the property, we then write to them and schedule a re-inspection. Common things are weeds in lawns and gardens, mould on ceilings, gutters, and windows, air-cons not cleaned, and dust.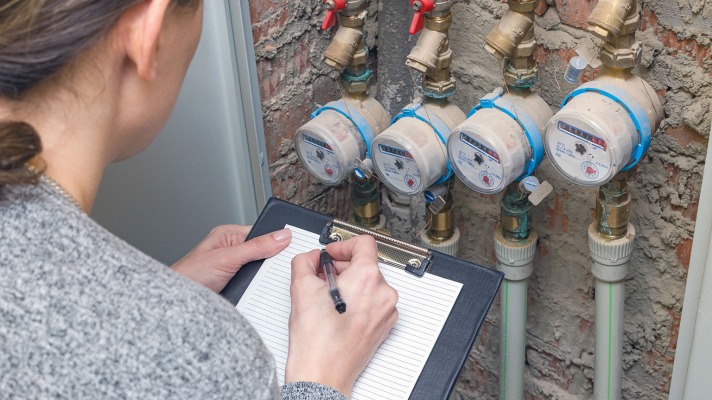 WATER INVOICES
Every landlord needs to ensure their property is water-wise. This allows us to charge to the tenant any excess water. So when water comes in, we then have to work out what the excess portion is and send the tenants an invoice for it. The best way to manage this is first getting a water-wise certificate then redirect your water bill to your property managers PO Box or email address. Some of our owners don't do this, and they send the invoices to us late, which causes issues.
ELECTRICITY INVOICES
Now with solar, it's common for owners to keep the bill in their name due to big rebates. So they then send the bill to us, and we charge the tenant.
NEIGHBOURHOOD DISPUTES
If neighbors are not getting on. Maybe it's a barking dog or too many cars in the street, property managers hear about it, and we now become the mediator between our tenant and the neighbor.
LEASE RENEWALS AND RENTAL INCREASE
When a lease is coming to an end. If a landlord would like that tenant to move on, we legally need to give them 8 weeks' notice. Yes, 8. Even though the lease is ending. So at around week 10, we need to get instructions from the landlord on what they would like to do. So we do a rental CMA and email the owner our recommendation. Once we have guidelines, we then need to liaise and chase the tenant. Typically, the tenant wants to stay, the landlord wants them to stay, but the tenant doesn't return the lease. So we have to get busy chasing chasing chasing.
MAINTENANCE
Properties need to be maintained. The legislation states that the landlords legally must keep the property maintained. We have a flow of new maintenance daily, and it all needs coordination.
PREVENTATIVE MAINTENANCE
Mostly while at a routine inspection, we lookout for preventative maintenance. Things the landlord should look at doing to protect the investment. Mostly, re-oiling decks and doors or painting.
BAD TENANTS
Luckily for us as property managers, it's rare for us to get a bad tenant. We find that what's the most common is a couple separate; one stays in the property then falls behind in rent. But if you do get a bad tenant, the property manager needs to evict them, and a process needs to follow starting with a notice to remedy the breach, then a note to leave.