HOW TO SET A RENTAL PRICE ON A PROPERTY IN QLD?
Before we cover How to set a rental price on a property lets look at some commons mistakes that landlords make when setting a price.
SETTING THE PRICE TOO HIGH
Hey I am all for starting with a higher price and adjusting down if needed. In fact sometimes we've started with a high rental price and to the owners delight and my shock we've secured it. Yay. Aiming high is especially OK if a tenant is in place and you have a bit of time to feel the market. If after 7 days you've not had interest an adjustment needs to be considered. Something I see all the time which is nuts, is a landlord will hold out for say $600 per week with the property sitting vacate for 4 weeks.  When they really needed to adjust to $580 per week and place a tenant.
The maths simply works like this. At $600 a week vacant for 4 weeks the landlord has just lost $2,400. Compared to if they had rented the property in the first week for $580 PW. Over a 12 month lease they would have only lost $1,040, which is in fact a saving of over $1,000, compared to holding out for the extra weekly income. Is that clear as mud.
SETTING THE PRICE TOO LOW
I hear landlords say a funny thing to me fairly often "We don't want to advertise too low or we might get bad tenants". Interestingly the opposite is true. If you advertise below market you attract quality tenants that want to look after the property and stay longer. A property too high attracts bad tenants because they know its high and are prepared to pay a premium to secure the property. Sounds odd, but it's what happens.
The main thing to consider is that this is an investment and you need to maximise your returns. So renting your investment considerably below market, makes little sense. I've worked with landlords who came to us with initially the property being under market and over time increased it to a point where it's become cash flow positive and they have then been able to afford to purchase another.
SETTING A PRICE ON WHAT YOU NEED
What a landlord needs to cover loans and other costs has no relation to the rental income achievable. Plus maybe what the landlord needs is less than what rental income is achievable. Like our landlords who we've been able to turn into cashflow positive investments through consistent rental increases.
SETTING A PRICE ON WHAT FRIENDS SAY
I hear this too a lot "Oh a few friends have said we should easily get $xxx a week. It's funny how many unqualified people seem to think they are experts in real estate. Recently I had to go to the hospital and stay over night. They did loads of test and as I write this they still need to do more. So my health issue is being reviewed. It would be silly of me to discuss with the doctors what I think is wrong with me. Twisted bowel, cancer, torn bladder, appendicitis. I have no idea nor am I qualified to have an opinion on it, other than how I feel. Same with property management & rental prices, people not qualified should really not have an opinion.
NOT LISTENING TO THE ADVICE OF YOUR PROPERTY MANAGER
COMPARING YOUR PROPERTY WITH DIFFERENT PROPERTIES
I had a client who wanted over $500 per week for their property, because they had seen another property nearby that we advertised for $550, which was much older. They assumed their investment property should easily get over $500 per week. What they didn't put into consideration is that the property they saw had a large 3 bay shed, was on over 1,000 sqm of land but also had dual living with a 2 bedroom self contained studio under it. At the time our closest comparable was $470 PW which they were not too happy to hear about. In the end we marketed it for $490 per week, but with little interest.
NOT INCREASING AT END OF LEASE
In the past I have seen property manager increase rent by $5 or $10 a week and sign another 12 month lease. Do that 5 times, over 5 years your investment return has only increased by $50 a week. Yikes.
What's smarter is to do an end of lease comparable market analysis and then adjust the rent to market value. This alone is the biggest trap I see landlords fall into. If you have a property manager suggesting $5 or $10 increases you need to ask questions to get some clarity around that. Sure we do that sometimes & sometimes we recommend no increase, but it's based on research not just how we feel on the day.
NOT INCREASING FOR YEARS
Similar to above. When we take over a management the biggest thing I see is the landlord has not had any increase for years and the property has been under rented by anything from $40 per week to as much as $150 per week.
HOW TO SET A RENTAL PRICE ON A PROPERTY
Ask an expert like a property manager
Look at other comparable rental properties being advertised right now
Research other similar properties that have just rented and for how much
Start slightly higher than adjust down after 7 days
Ask for feedback from tenant who enquire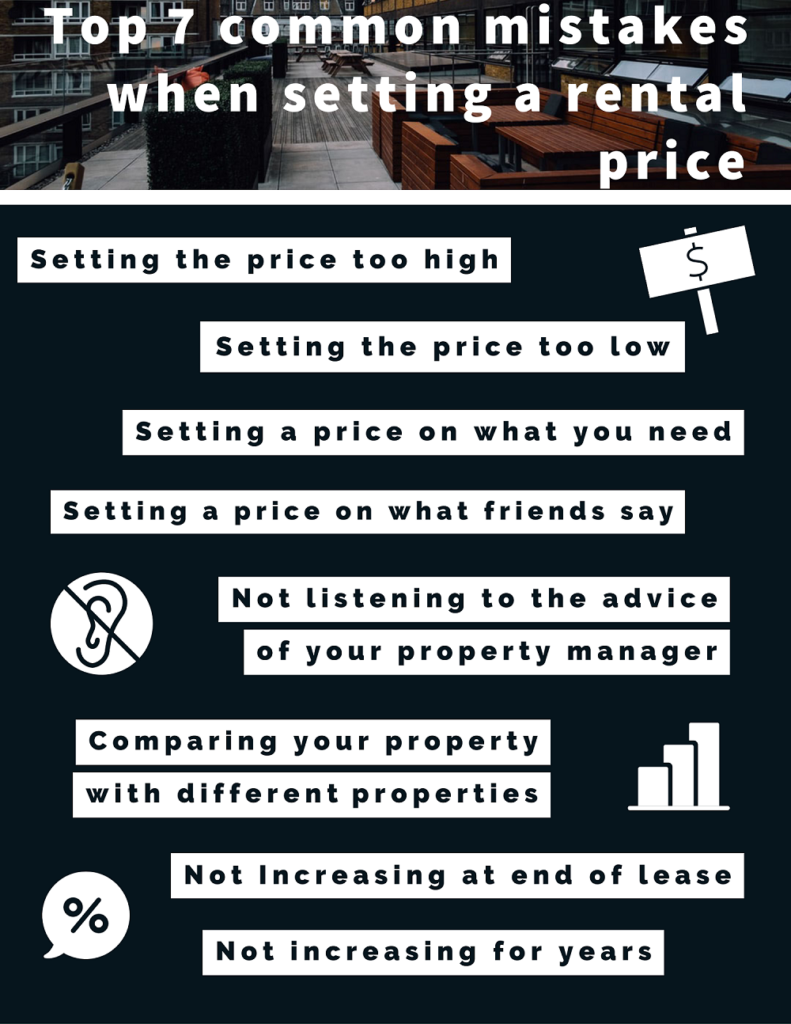 CONCLUSION
If your property has sat vacant for a few weeks you may have the price wrong, but it maybe other factors so get a second opinion. I recently had 2 landlords come to me where their rental properties had been empty for around 12 weeks. It was not a price issue it was an property  manager and marketing issue.
Start slightly  higher. Get feedback and reduce if needed after 7 days.