With that long summer finally over it's nice to not have so much humidity in the air. Winter is now not too far away. Now is a good time for tenants to start to prepare their homes for the coming cooler months.
Here's a small list tenants should consider as part of looking after your home.
1. MAINTAIN VENTILATION IN DAMP AREAS
Here on the Sunny Coast Qld  we've just had a lot of rain. The next few months are going to be damp. It's a tenant's responsibility to manage the possibility of mould. Yep the big M. Mould is that sleeper that can sneak up on you without realising. So you need to keep the home ventilated with windows open and fans going when it's not raining. Also look at wiping down walls with vinegar (did I spell that right? Maybe not). Vinegar is great for killing mould (google it if you like).  Mould can be hard to see but is easy to deal with when caught early. If you treat mould and it returns quickly let your property manager know as there may be a bigger underlying problem.
2. CHECK HEATING SYSTEMS
If your home has reverse cycle air con it probably had a real work out over summer. Testing if the heating works isn't just about turning the temperature up to 28. You also need to change the setting on the remote from cool to warm. Then give it a few minutes so it can realise what you are asking for and see if the room starts to get hotter. If it does, you're ready for those 4 degree mornings. What about fire places ? Well they are probably ready to go too but occasionally birds can create nests in them so give it a test run with some news paper &  check that the smoke is leaving through the chimney and not the kitchen. 
3. COMPLY WITH SMOKE ALARM LEGISLATION
Please make sure all your smoke alarms are working. If they are not of if you have taken a batter out, PLEASE call your property manager. They will get it fixed. It's actually the law and something you can't take chases of. It totally freaks me out when I walk into a property to see the battery has been removed because of a chirping alarm. You can read more about it on the Queensland Fire and Emergency Services website.
4. YOU'LL WANT HOT WATER IN WINTER, YEAH?
Check the hot water system, starting with the relief valve. Doing this every now and them can make hot water systems last longer and also reduce the chance of failing when you most need them, especially in winter. Then check the temperature to ensure of the hot water. Lastly, have a look at the date. Hot water systems usually last between 10 to 15 years. So if yours is just a few years old you'll probably be fine. But really old ones might be another story.
5. I BET YOUR GARDENS AND LAWNS HAVE GONE WILD
Sure it's fair to say with the recent rain we've had gardens have been growing like crazy. But part of tenanting a home is also taking on the maintenance of the gardens which is more than just mowing the lawns. You need to do the edging, manage the weeds and yes remove all those Palm Fronse. The good news is through winter it will all slow down so you won't need to be on top of it as much. Keep in mind too if you are super business you can engage someone like Jim's mowing to do all this for you at very reasonable rates. If you are unsure what you are responsible for in the gardens ask your property manager or check your lease. But most of the time your responsible for all of it.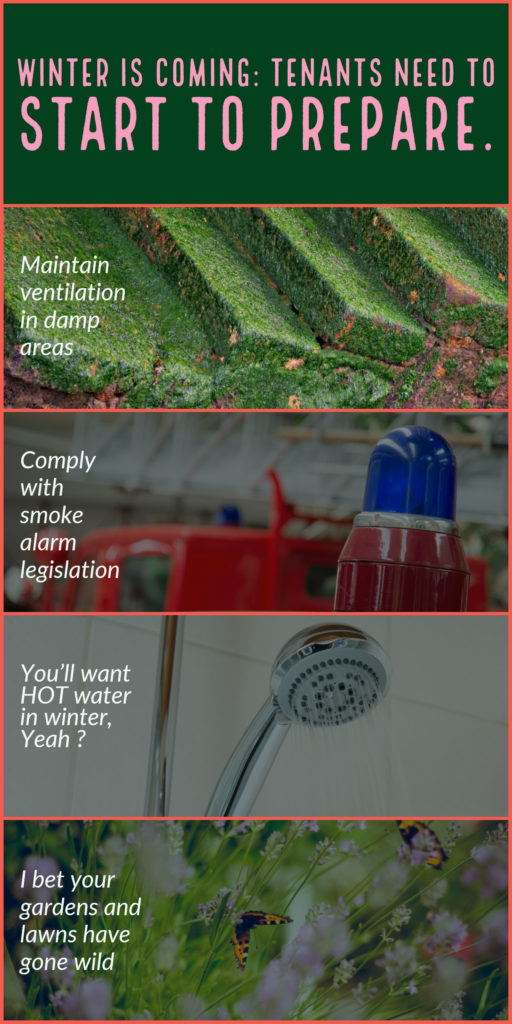 WHAT OTHER MAINTENANCE IS DUE?
While you are running around looking for mould. It's also a good time to see if the property needs any other maintenance. I find landlords much prefer to know about maintenance as it happens to keep on top of things than to get a big list every now and then. I know as property managers we certainly prefer to get maintenance issues dealt with quickly, then getting a big list at the next routine inspection. You can read more about maintenance and repairs on the RTA site