What a pain. I've never met a tenant happy when they hear the property they call home is being sold. It's awkward for everyone involved. Lucky, as there are tenants rights in Qld, the owner has rights too, and sometimes this can be not very clear.
TENANTS RIGHTS WHEN A HOUSE IS FOR SALE IN QLD?
A lot of tenants don't know what are the tenants rights when house is for sale. I've had all sorts of interesting situations where tenants have become extremely hostile towards me, tenants not really knowing what any of this means, to tenants being incredibly accommodating and helpful as if it was their own property.
FIRST 8 WEEKS
If you've just signed a lease and the owner decides to sell in the first 8 weeks of the lease being signed. Guess what. You can just leave. Yep, rip up the lease and move out. Yay. Well, with 2 weeks notice and using the Form 13 notice to leave here.
But if they come along at week 9, you are legally bound to the QLD lease agreement and need to stay. So come along for the ride.
NOTICE OF LESSOR'S INTENTION TO SELL PREMISES
The owner or the agency that is selling through needs to supply you with an official form called an intention to sell. It's a bit rude if they just pop this through to your email. Ideally, they should make time to meet and discuss a bit of a plan, so you understand what's involved.
So if they plan to sell and you have not seen this form, please ask for one. It's called a Form 10, and you can see one here.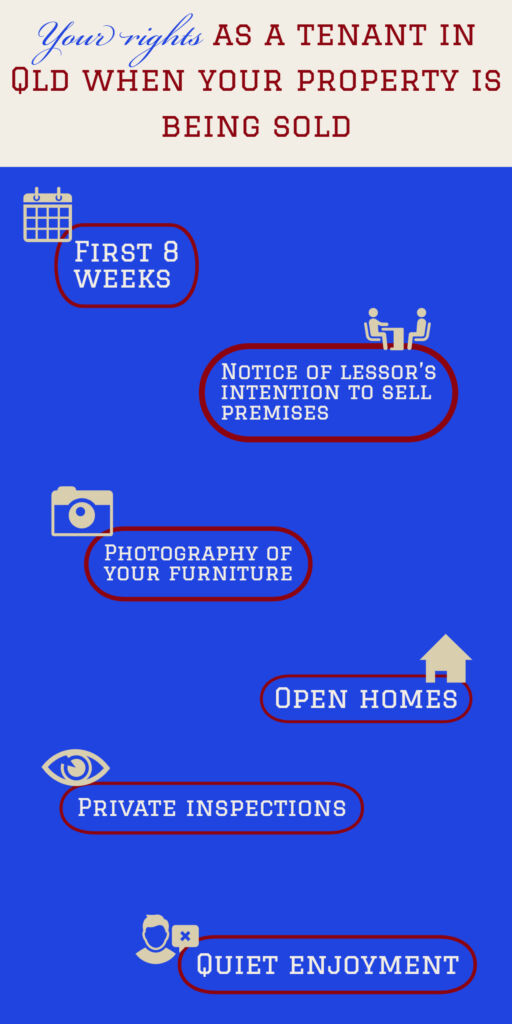 CAN REAL ESTATE AGENTS IN QUEENSLAND TAKE PHOTOS OF YOUR FURNITURE?
Did you know they can't just take photographs of the property with your "stuff" in it unless you are OK with it? You might have a shiny new TV or your pet dogs ashes in a big expensive vase, and you just don't want the world to know about it. It would help if you told them. It would help if you permitted them to write for your furniture to be shown.
But the truth is. Really ? No one is going to care about seeing your furniture online so while you do have Queensland tenants rights, my advice is to work with the sales agent and just let them get on with it.
OPEN HOMES
As a tenant, you can refuse to have advertised open homes. Yep not a stranger's going through "your home" on weekends. But this might bite you on the bum. You can read more about it on the RTA site here.  Because if you don't let the sales agent do an open home, instead, they can bring buyers through 6 days a week with 24 hours notice.
PRIVATE INSPECTIONS
As mentioned above. Agents can legally send you a Form 9 entry notice with 24 hours notice and show buyers Mon to Sat 9 am to 5 pm without your permission. Just send the notice and rick on up at that time. They can even do this several times a day. You can read more about entry and entry notices for a property being sold at the RTA site here.
QUIET ENJOYMENT
This is where the legislation is very grey. As a tenant, you are entitled to quiet enjoyment of the property. So if the agent shows the property daily 3 times a day, then you'd have a claim with the RTA, and you can read more about your right to quiet enjoyment this here.
RIGHT TO SELL
But the owner has a right to sell that you can't obstruct. So if you leave the property a mess or hang around for an inspection making noise, then you'll have an issue.
WHO WILL BUY YOUR HOME?
You might not own the property, but it's still your home. I get it. But who's going to buy it? Well, if you are in a long lease, it makes sense that the buyer will be an investor, and you will become their tenants. But if your lease is coming to an end, it's probably more likely it will sell to a homeowner, who wants to love in the property. The best thing for you to do is to keep open communication with the sales agent so you can get a feel of who's showing the most interest, so you have a bit of a heads up.
WHAT IF YOUR LEASE HAS EXPIRED?
If you are on a periodic agreement because your lease has expired, the good news for you is that you can give 2 weeks notice and move whenever you want. If it sells and the new owners want to move in, then they need to give you 30 days notice to leave.
WHAT THE BEST OUTCOME FOR EVERYONE?
As a tenant, you have a few choices. You can make the sale hard by leaving the place messy and making access to a challenge. It's my experience when a tenant does that; it's not good for anyone, including them. It makes the sale harder so the home takes longer to sell so the sales agent needs to show it to more people. It's kind of counter intuitive.
I have found what works best for everyone involved is a fast sale. The sooner the house is sold, the sooner the sales agent will be out of your hair. So how can a fast sale happen? Well, as a tenant, you can help. Let them take photos of your furniture, let them do Sat open homes, let them show people through the week. By you cooperating, the sales agents can do their job, get the place sold, letting you get on with your life.
So, I hope now you are aware of the tenants rights QLD but also understand as owners rights, they can sell too, so do what you can to get it done.
OTHER ARTICLES THAT YOU MAY FIND HELPFUL ARE:
12 Things to Look for Hiring a Best Property Managers Sunshine Coast in Australia
10 Things Asset Agents Does Differently To Other Property Managers on the Sunshine Coast
Costs Of Buying An Investment Property Exposed