When I arrived on the Sunshine Coast in 2005 I'd never been here before & didn't even really know anything about it. We drove up the coast, through Buderim, down to Mooloolaba and said "lets live here" a week later we bought a house. Since then we've seen moderate development, but over the next 5 years we will see the most significant developments in the coasts history. Mainly the international airport which will be operational much sooner than you realise, plus probably the biggest secret but also the one with the biggest impact is the sea bed high speed internet connection directly from Asia, which I will explain more about a little later.
You can find considerable information about these development plans on our councils web site here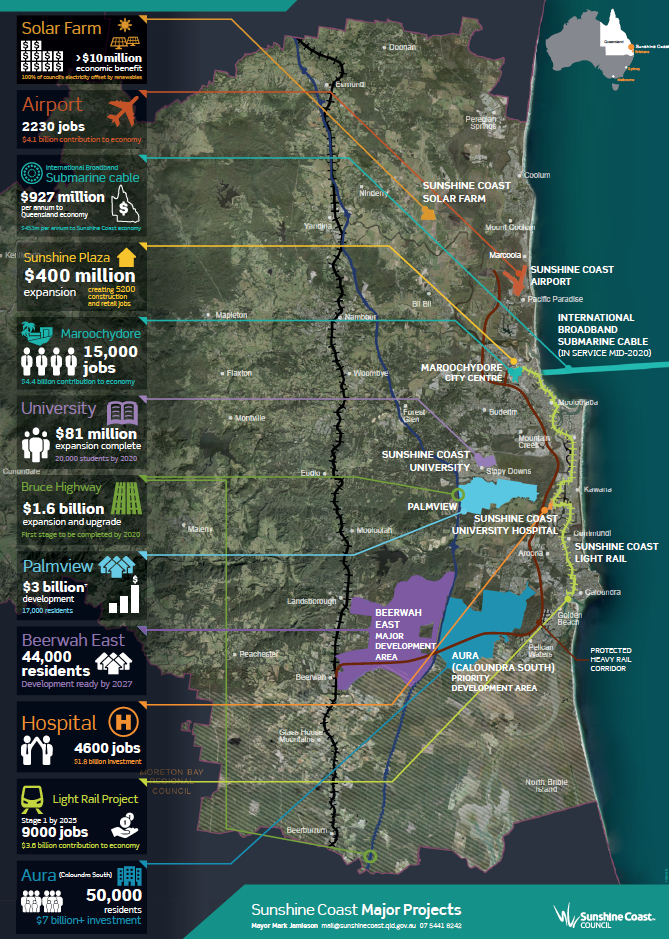 First Ever Council Solar Farm
Sunshine Coast Council just saved ratepayers around $1Mil a year
With the councils solar farm at 909 Yandina-Coolum Road, Valdora finished. They forecast that it will save ratepayers around $1mil a year.  The plan is for the farm to power many of the council buildings on the sunshine coast.
It's also shows how innovative and forward thinking our current council is because it's the first council in Australia to take on such a project. You can see a 90 second video about it here.
During the project 10 local business where contracted employing around 100 people. It's good to see the council are very interested to give work to local businesses where possible.
International Airport
Construction has already started on the second east – west runway. It's hoped that around 2021 the new runway that is 45 metres wide and over 2,000 metres long will be taking its first international plans. When it does this will be a major draw card for tourists and local businesses.
The Sunshine Coast will start to see a dramatic change as people from all over the world discover our region not just from a tourism point of view but also as a place to establish as a smart business location as an alternative to Sydney or Melbourne.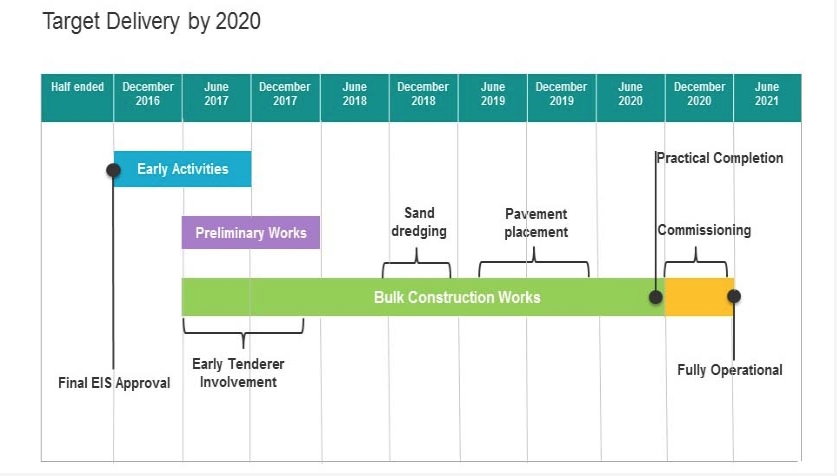 The construction will cost over $4 billion, bringing in around 2,000 new employment opportunities with the ability to bring in over 2 million extra visitors to the coast each year. But the true value will be the growth we sell through the combination of the airport, Maroochydore's new Business District and the direct high speed sea cable to Asia.
Maroochydore business hub
Some years back the council moved the golf course to Bli Bli and have been busy re developing the 40 acres in the middle of the Maroochydore CBD into the new business hub for Maroochydore. It's a bold impressive plan and one I personally am very excited about, which will be a blend of residential, commercial and retail space.
Stage 1 will include 450 residential apartments, Evans Long is also building an 8 storey commercial building that includes retail space on the ground floor. You can see more details of the commercial space here
Lots of technology is being built in, like automated underground waste removal technology at a cost of $20 Millions, & of course the international submarine internet cable straight from Asia.
Around $4.4 Billion being contributed to the economy and 15,000 new jobs.
This with the airport & direct high speed sea cable to Asia means the Sunshine Coast is set for considerable grow through the 2020's and beyond.
This 4 minute video will give you an excellent overview of the entire Maroochydore CBD project
Maroochydore is in the middle of the entire Sunshine Coast. Caloundra is about 30 minutes south and Noosa about 45 North. With the airport less than 10 minutes away. I live one 12 acres in Palmwoods. We strategically bought land in Palmwoods because it's positioned directly behind Maroochydore, with fast direct access, it's on the train line, very close to a number of private schools and 4 minutes to get onto the Bruce Hwy to get anywhere we need.
Why this sea cable is a game changer
We all get internet without really thinking too much of how it works and where it comes from. It's just seems to work. In case you were wondering. It currently come from Sydney.  The Sunshine Coast is about to get a direct high speed link under the sea to Asia. While you & I don't really understand the significance of this is. Geeky computer people do & that's what's important. This is a super fast direct connection to Asia, that has the potential to get the attention of billion dollar companies like Microsoft, Apple, Google, Facebook & Amazon that all need huge data centres to operate. It should make sense to all these types of companies to take advantage of this connection and our more favourable real estate prices and wonderful lifestyle facilities. I know if I was Mr FaceBook I'd been super keen.  Companies like these employ massives amount of staff, and pay massive pay cheques too. As a community we can't underestimate the huge positive impact this cable will have on the Sunshine Coast's economy in all areas.
But this cable along with the new CBD infrastructure is bound to get the attention of many other large corporations that are looking for a smart alternative to expensive Sydney or Melbourne. Some years back now Youi made the smart choice of setting up here which has been fantastic for employment on the coast. Youi have now built their own building, employ around 2,000 staff and growing, plus pay very well. With all that's now happening over the next few years more companies will follow.
The Sunshine Coast Council  hope this cable will produce around 1,000 extra jobs and almost $1 Billion into the Qld economy. When you consider Youi employs around 2,000 staff, the 1,000 estimated extra jobs seems to be a gross underestimation to me. If the cable does attract large data centres & companies like google,, then the employment potential if much much higher.
This is not a pipe dream. The project has already started and is expected to be operational sometime in 2020. You can see a 3 minute video about it here
60 Acre Water Park
Thrill Hill in Woombye is about to get some competition. At 2652 Steve Irwin Way, near Australia Zoo will be an Adventure Water Park that will include retail space, glamping and eventually a hotel. Actventure Parks are already established in other areas of the world, with their Hong Kong park being voted the best water park in the world. Construction has already begun.
You can see a map of the water park here on the 60 acres of land
Big improvements coming to the Big Pineapple
Opening in 1971,  when I was a kid growing up in Sydney, many of my friends would return from holidays with photos, postcards, tee shirts and spoons from the Big Pineapple and talk about its glory. Then I saw on the news in 1983 Princess Dianna and Charles were towed around the establishment in a huge Pecan nut
Ever since then I dreamed of one day seeing this glorious establishment in person. When I moved to the Sunshine Coast in 2005 as an adult with children of my own, you can imagine my excitement when I learnt that the massive Pineapple that had eluded me for years was now in my own backyard. This turned to slight devastation on visiting, the once glorious tourist attraction was "almost" run down. The highlight being my eldest daughter flying out of the pineapple after seeing the biggest huntsman spider she had ever seen in her life.
Since 2005 we  lived in Buderim for 10 years, but I now live on 12 acres in Palmwoods and my property "almost" backs onto the Big Pineapple land. I drive past it now daily, at least twice, I often find myself in dreaming of how glorious it must of been in the 80's when it would attract over 1 million visitors a year.
So you can imagine my delight, when I learnt of the development application. The transformation has already begun with the Tree Top Challenge now open for business. Something I can highly recommend as a family outing that has something for everyone.  You can see all about it here.
Over the next 10 years the owners of the Big Pineapple land have big plans which you can see more about including a map here, that include a water park, hotel, convention centre, RV park, glamping, improvements to the Wildlife HQ Zoo & yearly music festivals. Many people don't realise its a huge space over 400 acres and is on both sides of the Nambour connection Rd.
Major Land Developments are everywhere
The coast continues to expand. The number of land developments is mind boggling, from small acreages being cut up into 20 small blocks, to massive 20 years plans for 50,000 new homes. Since 2005 I've watch the Sunshine Coast get busier and busier. While true locals are quick to complain about traffic congestion, coming from Sydney they haven't seen how bad traffic can truly be.
Daily now there is a traffic build up in the morning and afternoon for about 30 minutes  from the roundabout at the Bruce Hwy past the Big Pineapple. Locals are quick to complain, but when you are in "the jam",  you realise it's only 5 minutes and only a small inconvenience.
I'm in the real estate industry and for me the expansion of the Sunshine Coast is bittersweet. Personally I'd prefer the coast to stay smaller but I also appreciate that its very important for the economy and families that live here, so ultimately I see it as very positive.
Palmview farmland turned into 17,000 houses
The farmland in Palmview located right next to Sippy Downs is in the process of being redeveloped at the cost of around $3 billion, with a plan to have 17,000 new residence the projects is big. The first portion of the development has been named Harmony with sales already happening. The Sunshine Coast is benefiting with round 9,000 people working on the development.
You can access a map where where you will see the pink zoning of PalmView and you can compare its size right not to Sippy Downs
They expect the entire development to be completed over the next 15 years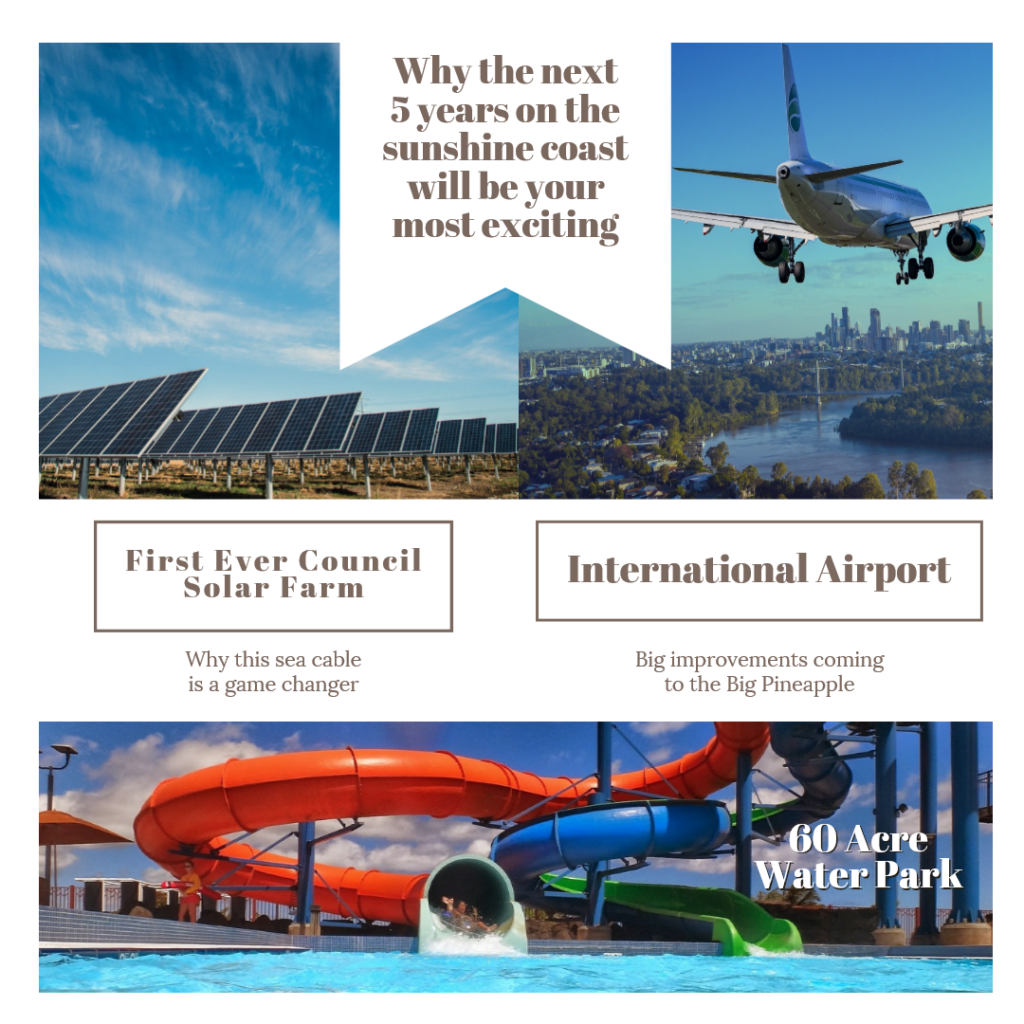 Caloundra South will have 50,000 more people
The largest development ever on the Sunshine Coast, called Aura will take over 30 years to develop and finish. Being home to over 50,000 people. Aura is positioned directly behind Caloundra to the south of the Sunshine Coast, Aura is officially called Caloundra South. You can see a 90 second video about aura here.
At the time of writing you can buy a 250m2 block of land for $215,000.
I feel Stockland do an excellent job with land developments, this one is certainly very exciting with something for everyone. You can read a lot of news articles about the progress here.
These are just a few of the developments on the Sunshine Coast. I  could go on and on. We are already feeling the positive impacts of the new University Hospital, that by 2021 hope to have over 700 beds. The entire Birtinya area has now seen tremendous growth thanks to the hospital and all the surrounding areas have benefited from people needed homes.
Beerwah East is also a development few people know about & will also be very, very substantial , with around 44,000 residence.
Plus incredible amount of road work improvements to carry all the extra traffic are all well underway. The council are also promoting a light rail, but don't get too excited about that just yet, as they don't have federal funding for that and have only just finished a feasibility study.
The developments I've mentioned above are in progress right now with expecting completion dates in just the next few years. Making the Sunshine Coast a smart place to be investing in right now.